A class catamaran
New project: A Class catamaran (2004 German Flyer / AUS849 / Saarberg)
Ian Johnson
Merricks Beach, VIC Australia
Saarberg skinny boards, Mackenzie Composite Carbon Rudders/Boxes, Harken Mainsheet System, Saarberg mast, Fiberfoam beams, Brewin big head sail, big beach wheels, bum pads, bags boat cover.
The easiest way to distinguish the German Flyers to the Auscat Flyers is in the beam connections. The front beam in the Auscat sits on top of the hull while the German one is flush.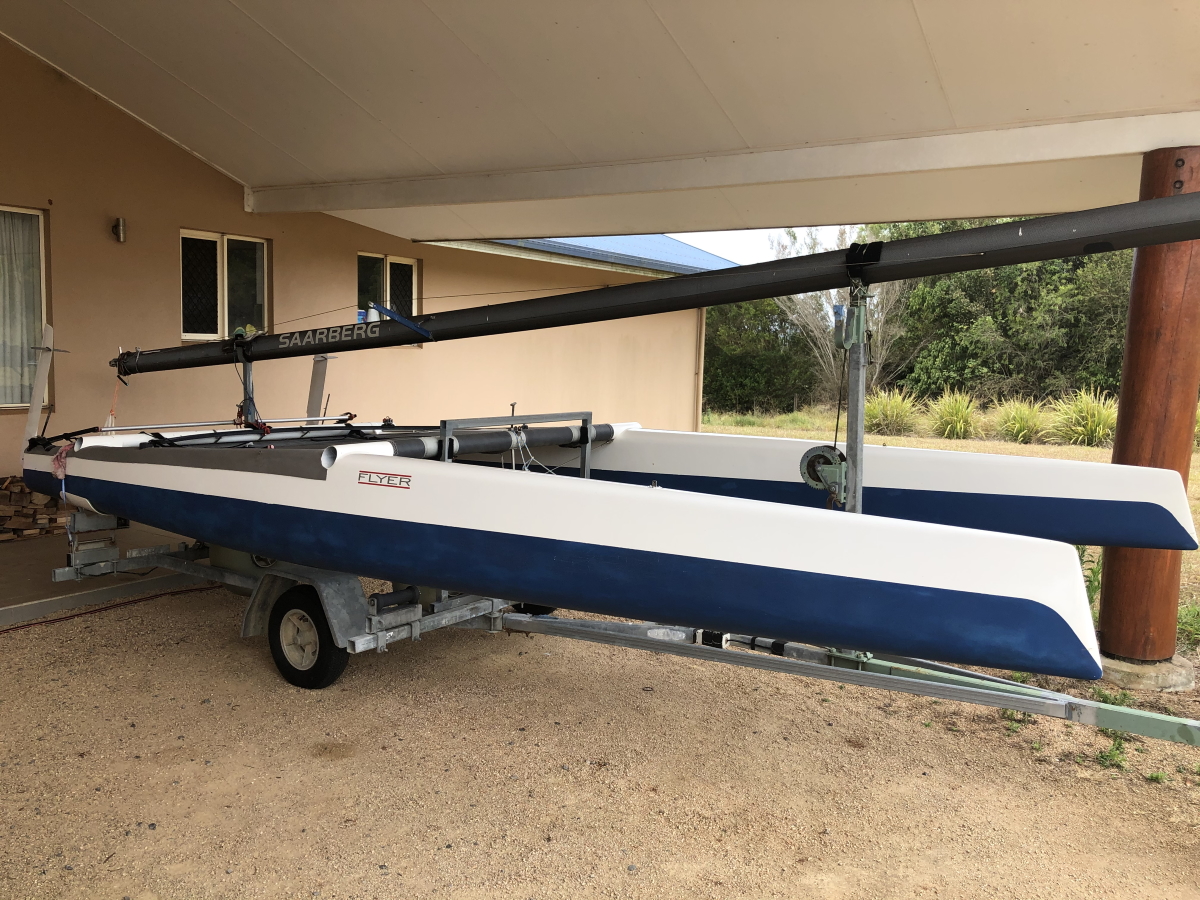 aclass002.pdf – Harken – A Class – 2015 Cascade mainsheet system
aclass003.pdf – Tips on Sailing the A Class cat
aclass004.pdf – Landenberger Tuning Tips – Mast Setup
aclass005.pdf – A class tuning guide v3 Greg Goodall
aclass006.pdf – Tying Fibrefoam battens
aclass007.docx – Brewin Sail Tuning, Care and Rigging
aclass008.pdf – How sails work by Paul Bogataj
aclass009.pdf – Nacra A2 A class catamaran Rigging and Tuning guide
aclass010.pdf – Very general info
aclass011.pdf – Tuning your DNA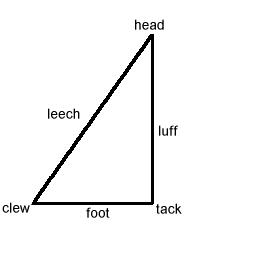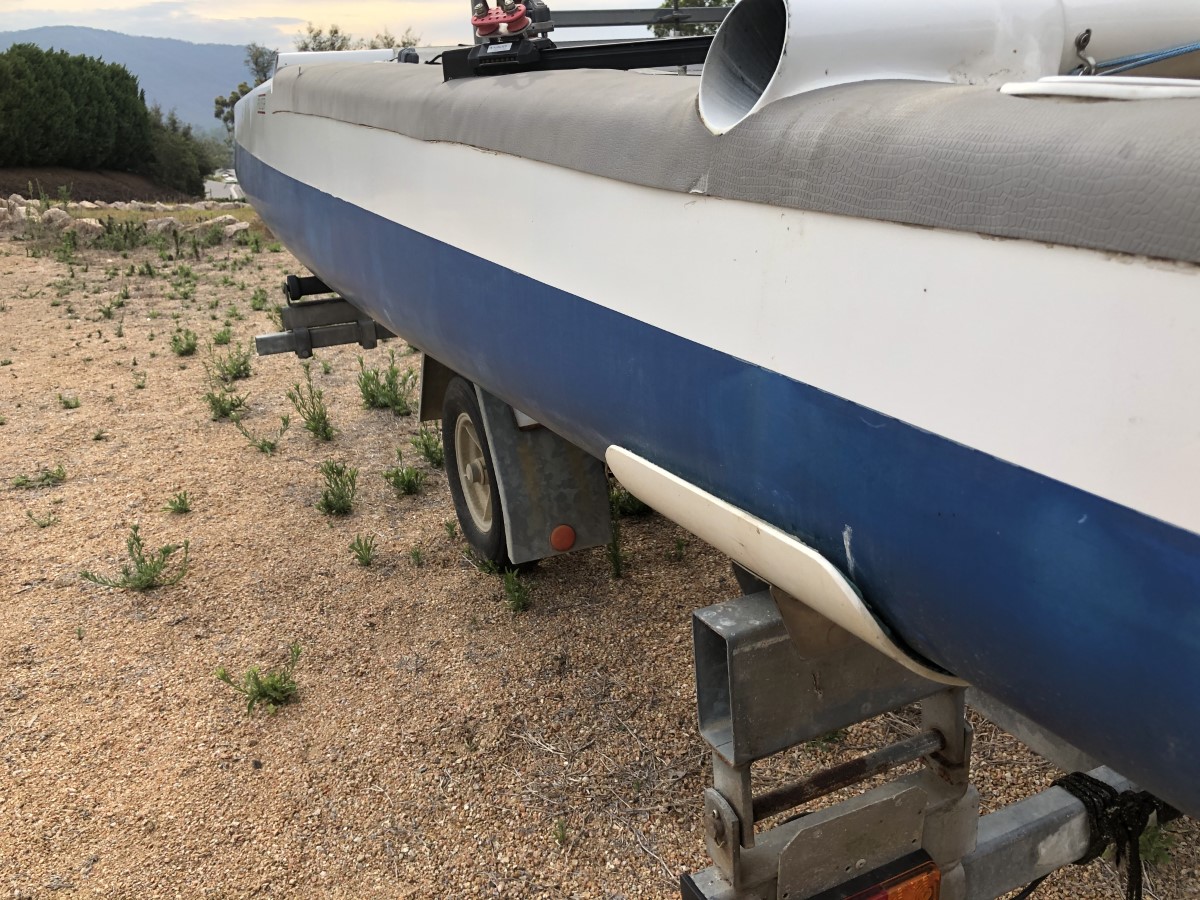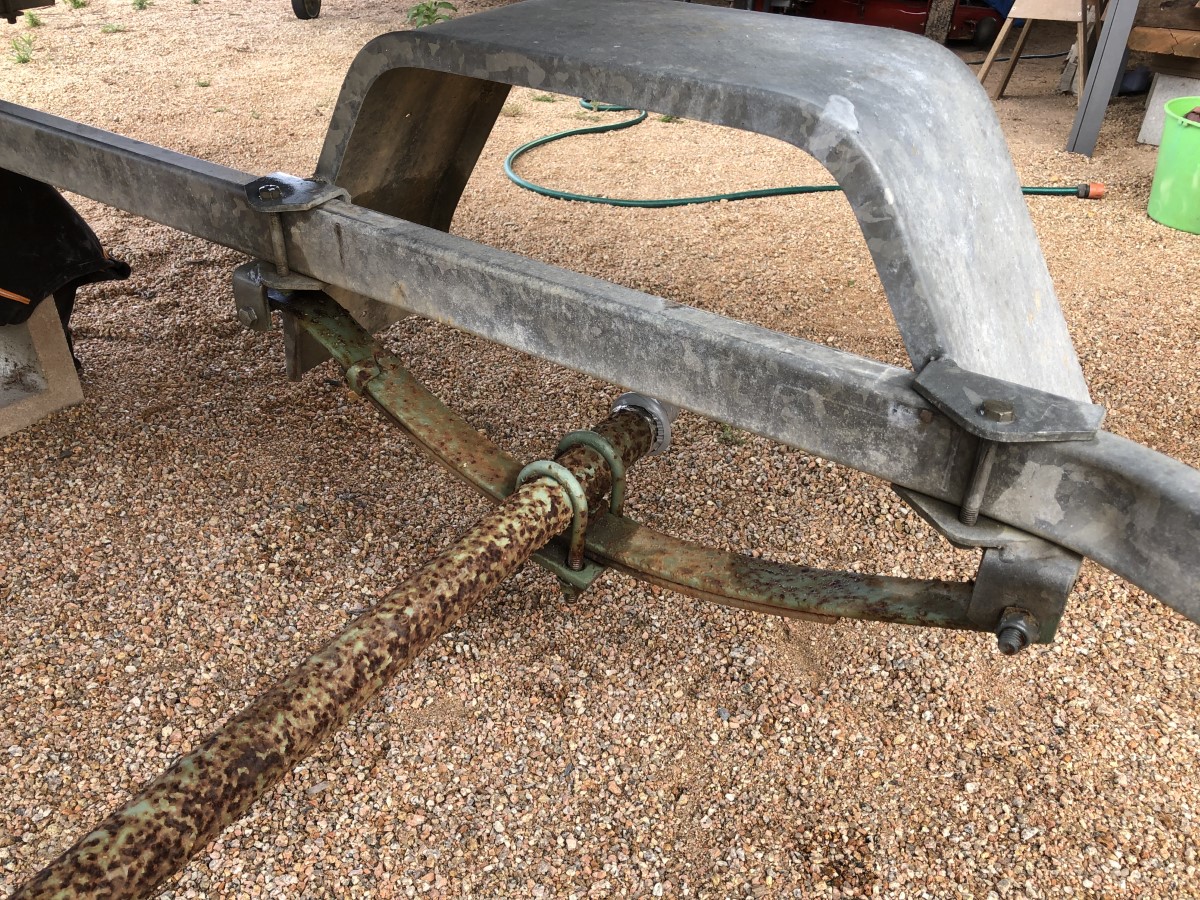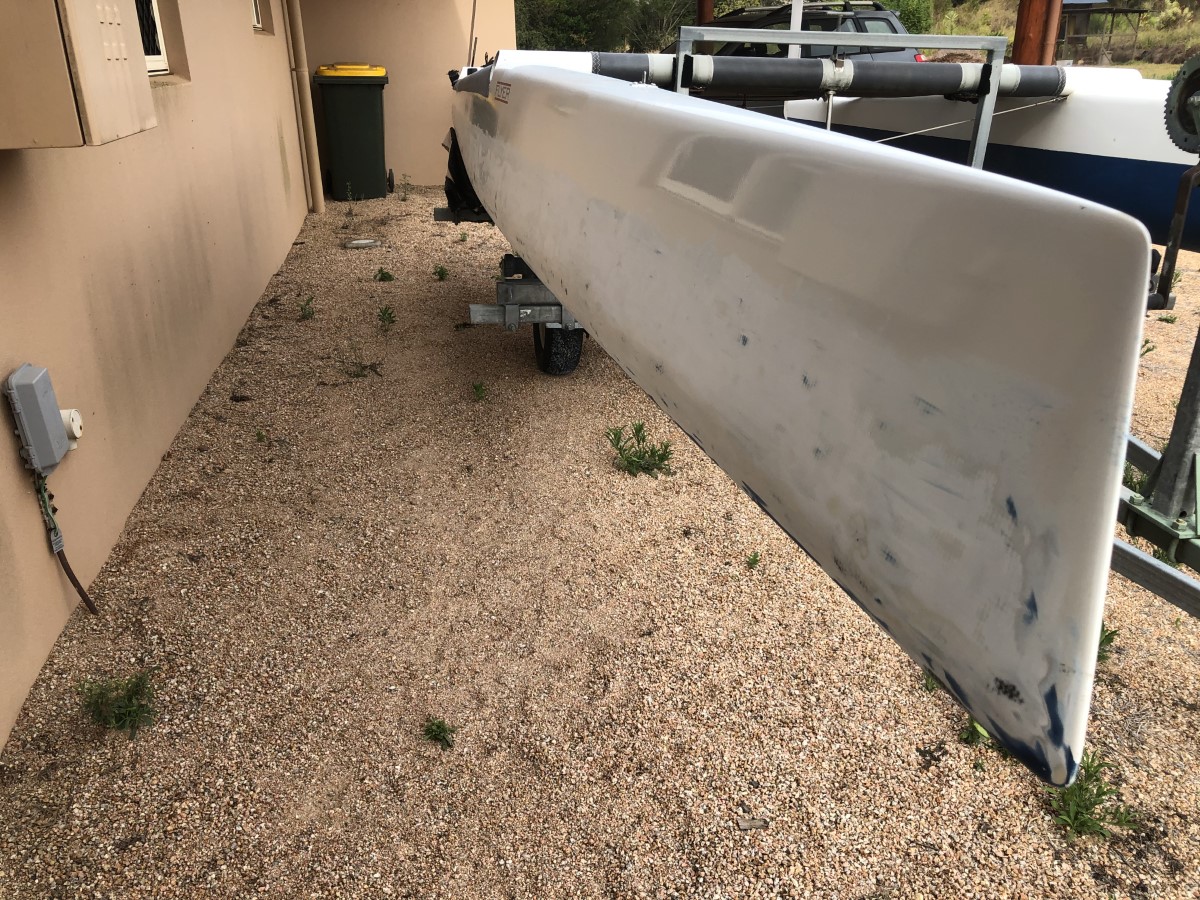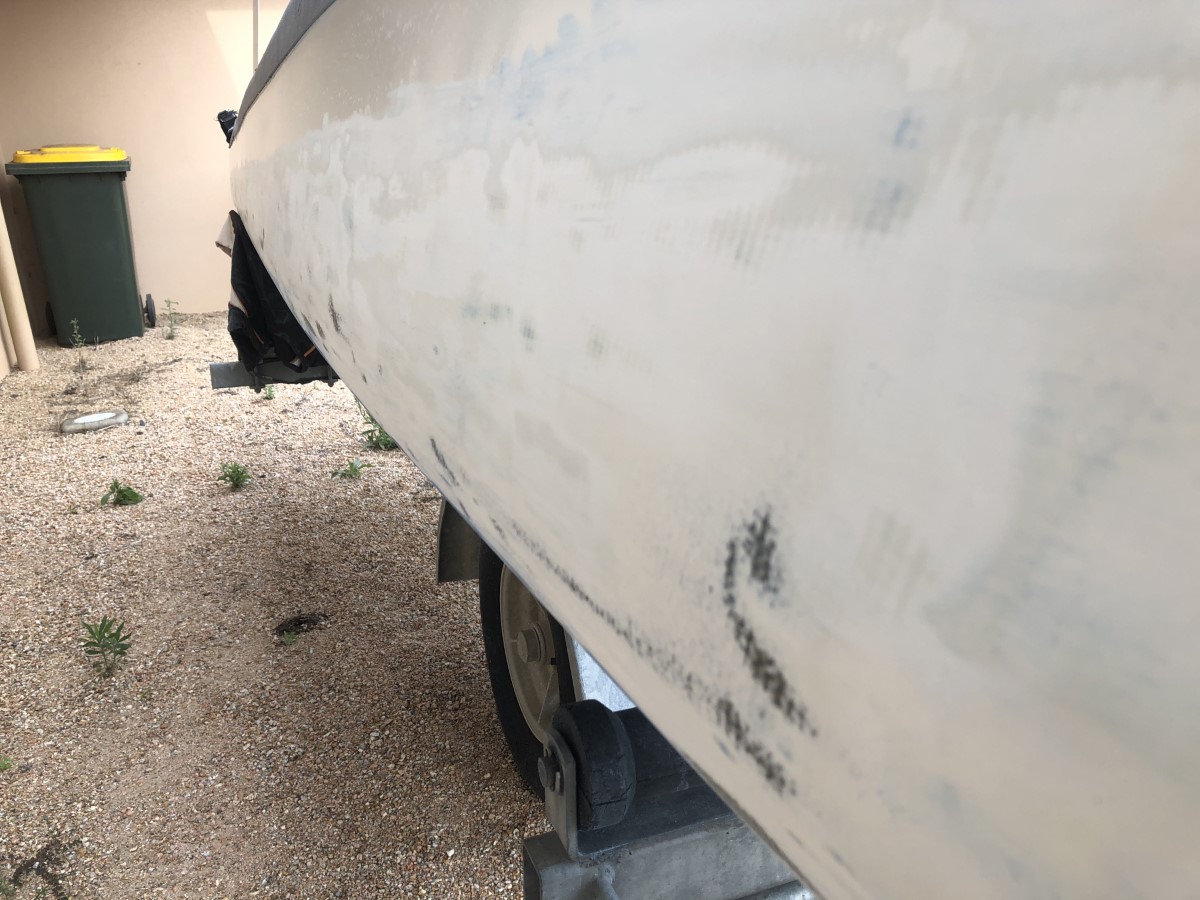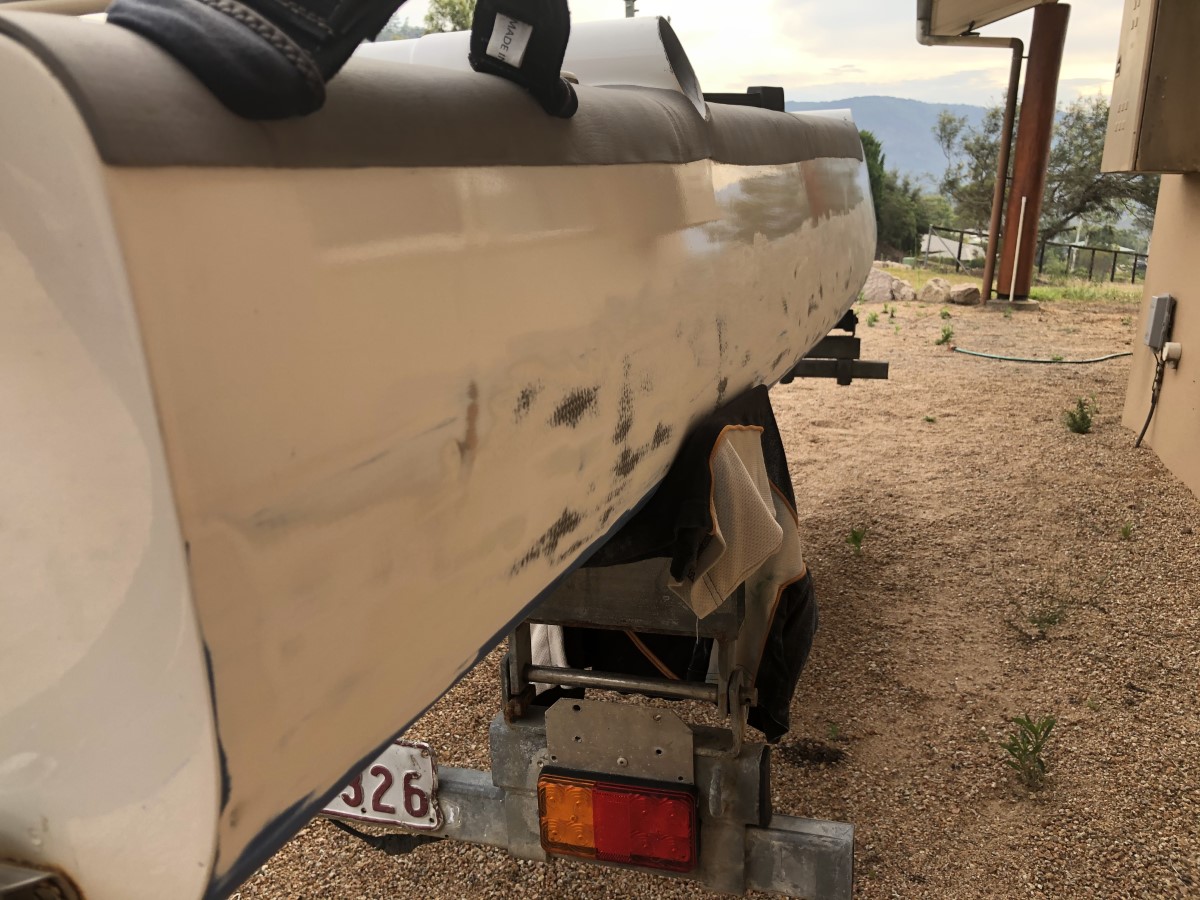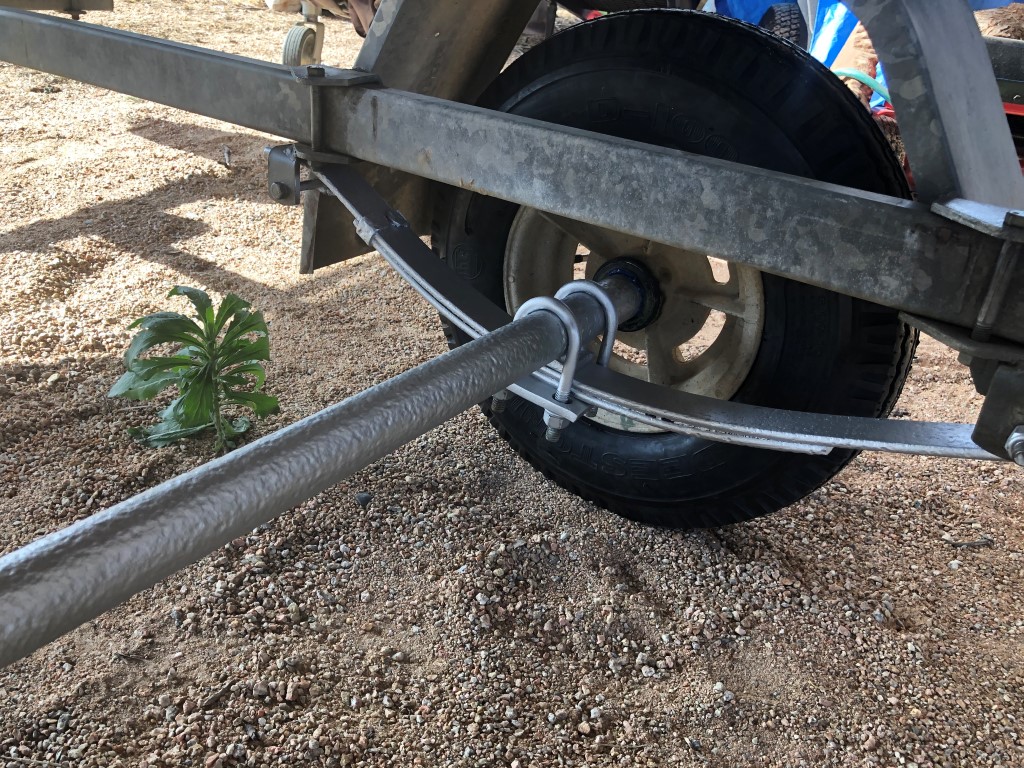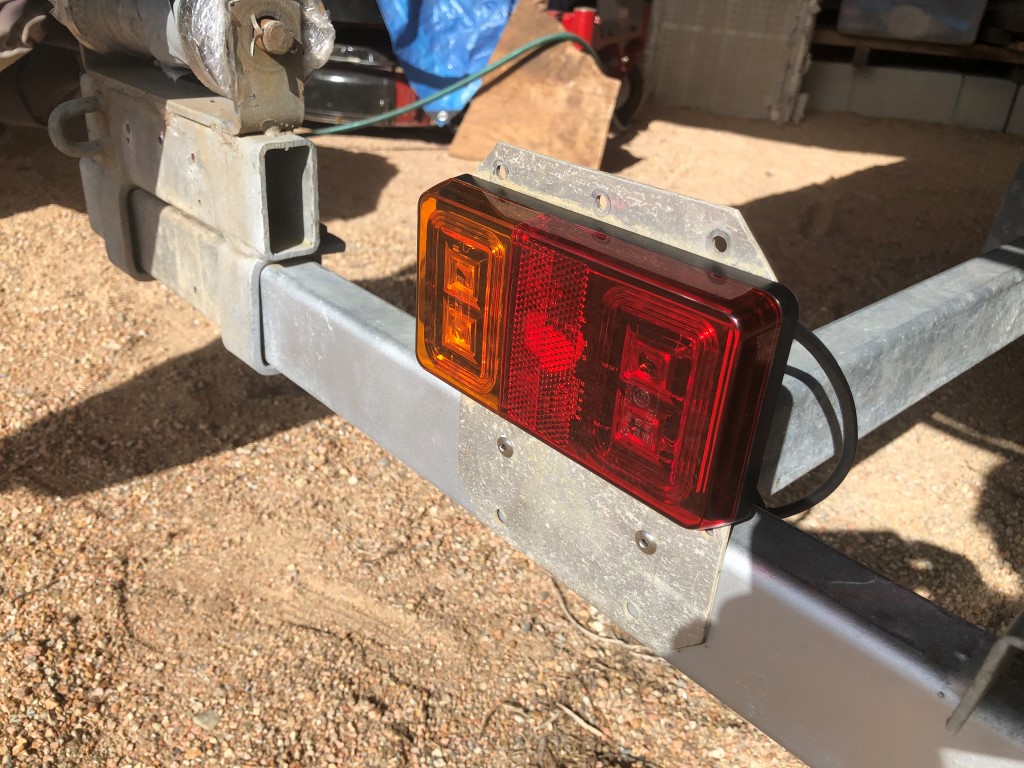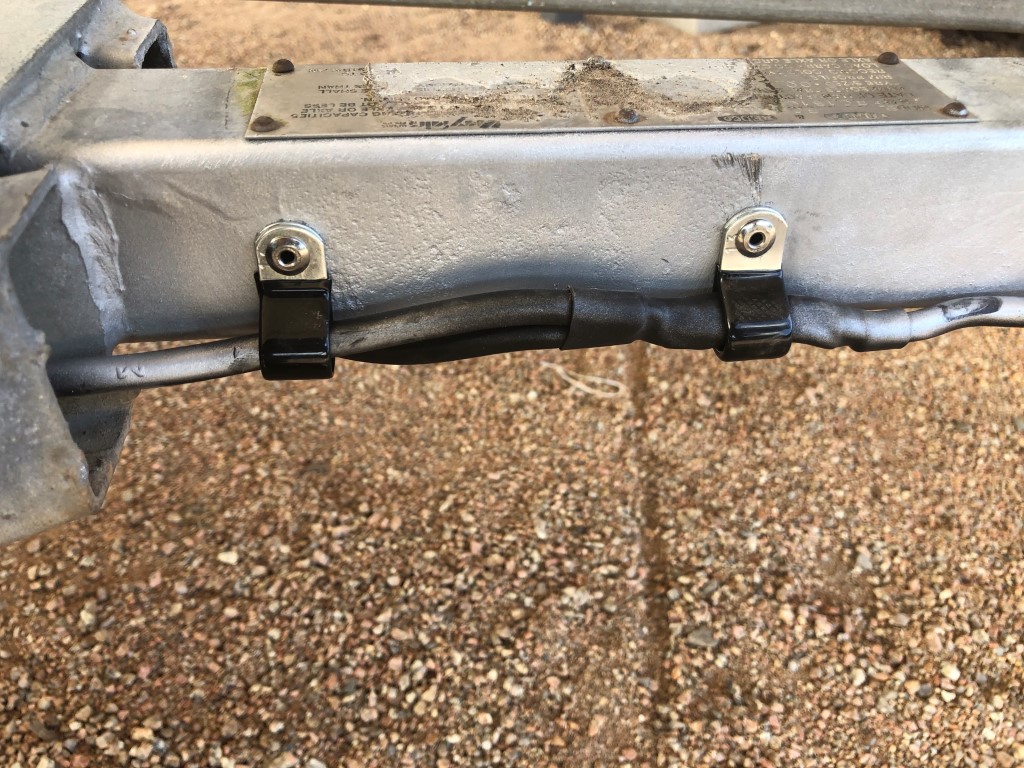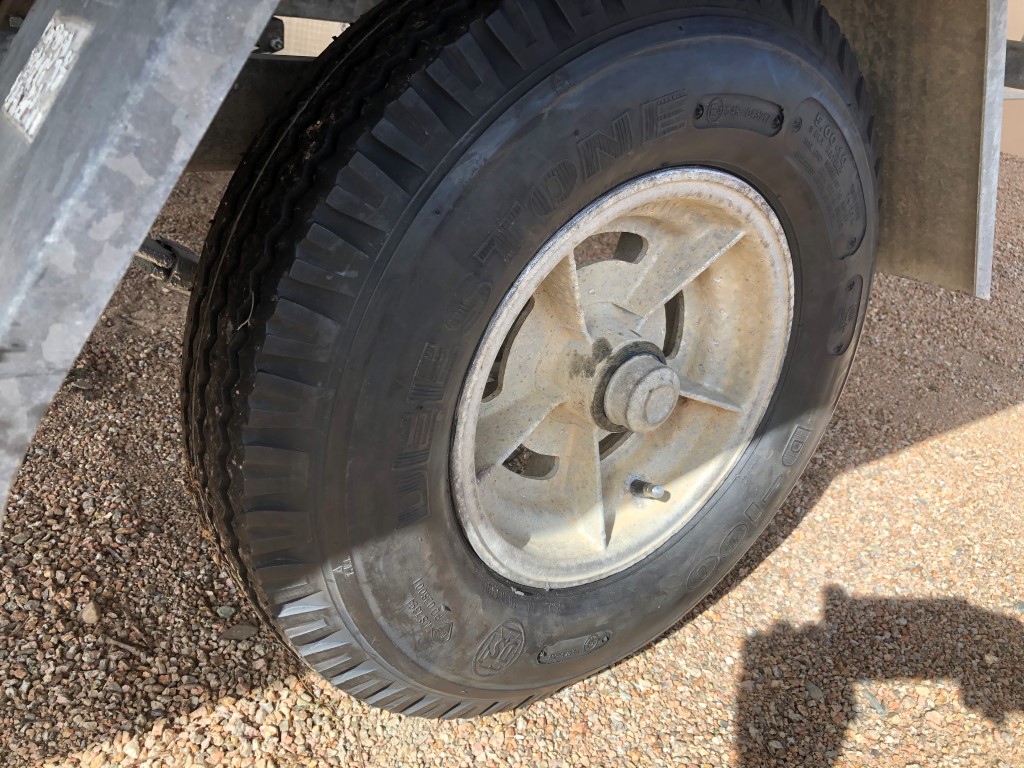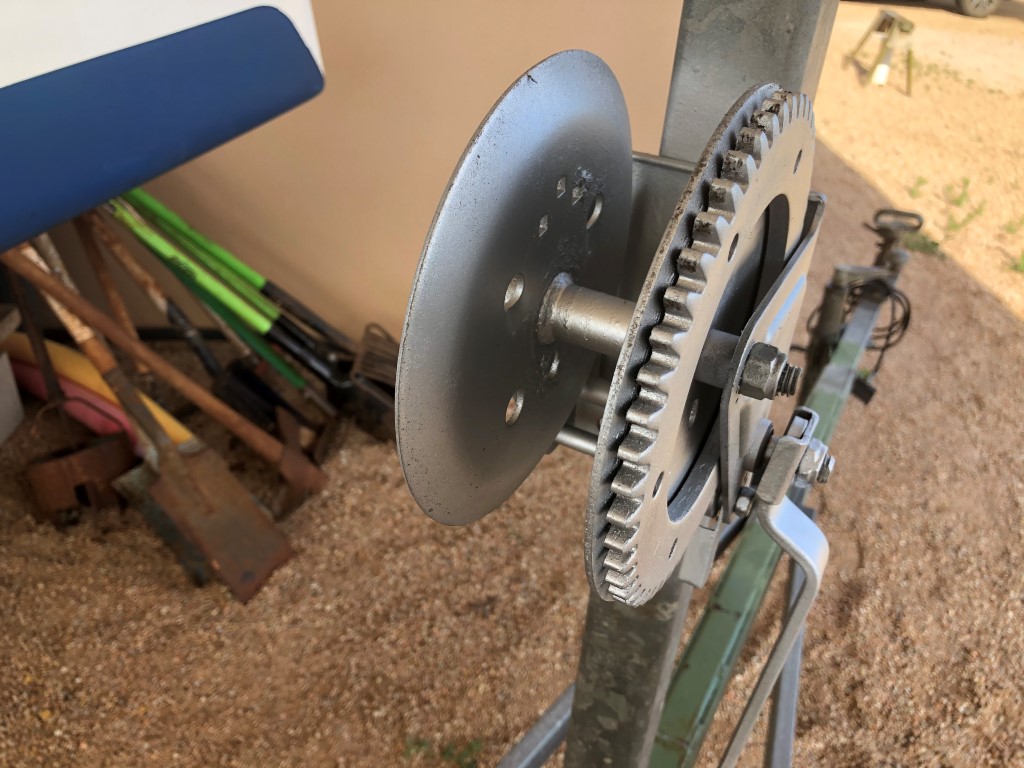 4m 4m 4m = 12m 5 wire
trailer plug
brown -> 2x tail lights
yellow -> 1x left turn
white -> 2x ground
green -> 1x right turn
red -> 2x brake
Rim: Velox 3.50B x 10 cast aluminium
Tyre: Duro HF249 5.0-10c Tubeless Trailer -> change to 145/10 or 150/10 mini radials
roller pin 240x16mm
Removing paint over gelcoat
Have started wet sanding with a sheet sander as the blue paint has to come off to reveal gelcoat that will be polished using 1000 grit and 1500 grit wet sanding.  Have started with 320 grit but that is too slow.  Got to watch out not to go too aggressive too fast.
If gelcoat was sanded prior to bottom paint application, sanding / polishing gelcoat is near impossible.
If the paint is already coming off than you have a good chance of restoring it.
Never use sandpaper any coarser than 320 grit to sand finishing materials between coats.
Never wet-sand any topcoat with less than 1200 grit wet/dry paper
Do not use any stripper containing methylene chloride (aka methylene dichloride or dichloromethane). It will attack gelcoat severely.
Gelcoat is a liquid that hardens to form a thick layer that's used to protect fiberglass and give it a shiny, smooth finish. … As gelcoat ages, it becomes porous. The more porous it becomes, the more easily it stains, the worse it looks and the harder it is to clean.  Wet sand with soapy water to lift the dirt.
don't use:
brake fluid
paint stripper
scouring pad
steam cleaner (boiling steam bubbles gelcoat)
heat gun (can blister and discolour exposed gelcoat)
orange/citrus stripper (leaves orange peel film)
soda blasting (leaves 60 grit finish).
dustless blasting (fine 40-70 recycled glass; leaves 100 grit finish)
pressure washer with paint stripper nozzle (damages gelcoat)
Although oxalic acid is the most common active ingredient, citric acid and phosphoric acid are used in some products.  Online advice suggests buying a tub of oxalic acid powder and mixing it with wallpaper paste to make your own treatment.  As with any chemical reaction, the results will improve the warmer the temperature (as long as it doesn't dry out)."
Lye, or sodium hydroxide, is one of the oldest used paint strippers.  Because lye can dissolve glue and make wood soft, it is generally not a very useful chemical unless you need to remove a particularly stubborn paint stain or you need to strip a large amount of paint from a very large surface.
The short version if you want gel coat to shine:
Easy off oven cleaner from Woolworths, spray on, cover with wax paper for an hour or two or three or more.  Contains Sodium hydroxide.  Use in ventilated area.  wear gloves, long sleeves and glasses.  Careful with overspray / exposed gelcoat.  Spray on the wax paper sheet instead.
Remove wax paper, pressure wash
Random orbiter sander -wet sand 320, then 600/800, then 1000, then 1500 grit… all this varies depending on progress. Do not be too aggressive with low grit sanding.
Essentially you want to start with least aggresive as possible to remove remaining ablative paint then progress to higher grit paper to remove swirl marks and start seeing gelcoat shine. The finer the grit the less compounding you will do.
Compound-I use 3M
Polish
Wax
1. vacuum sand with 180 grit on a 6″ DA to remove material only just to the point the white gel coat appears
2: sand with 320
3: sand with 500
4: sand with 800
5: Polish with Strata Cutting Creme
it is terribly toxic so full gear was worn along with Vacuum pick ups so no harm done to anyone
Grinder with flap disk sanding made quick work of removing bottom paint. You learn to move with a fairly light touch.