Carbon fibre lightweight 'A class' catamaran
New project: A Class catamaran (2004 German Aicher-Egner Flyer / AUS849 / Saarberg)
Ian Johnson, Merricks Beach, VIC Australia
Saarberg skinny boards, Mackenzie Composite Carbon Rudders/Boxes, Harken Mainsheet System, Saarberg mast, Fiberfoam beams, Brewin big head sail, big beach wheels, bum pads, bags boat cover.
5 Altona Street
The easiest way to distinguish the German Flyers to the Auscat Flyers is in the beam connections. The front beam in the Auscat sits on top of the hull (aluminium) while the German one sits more flush (bonded carbon).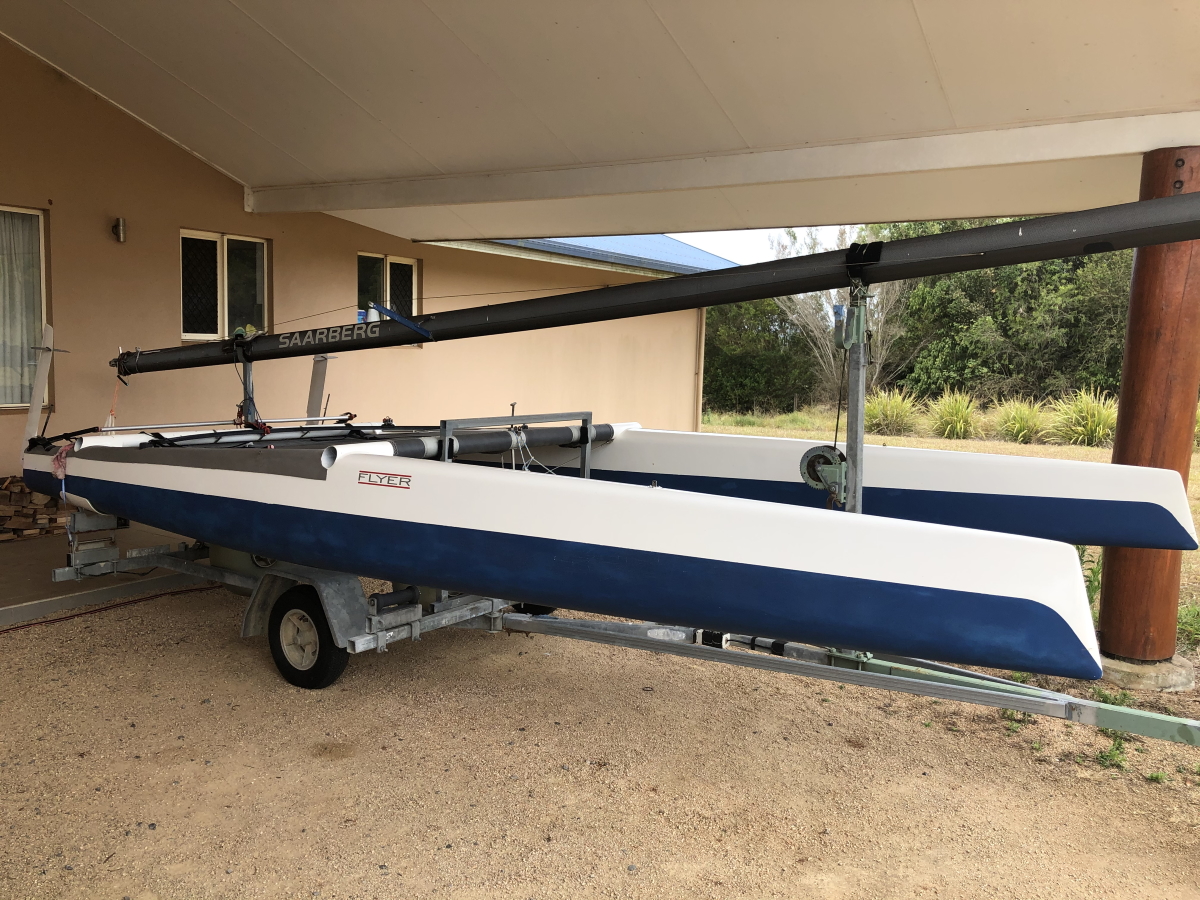 aclass002.pdf – Harken – A Class – 2015 Cascade mainsheet system
aclass003.pdf – Tips on Sailing the A Class cat
aclass004.pdf – Landenberger Tuning Tips – Mast Setup
aclass005.pdf – A class tuning guide v3 Greg Goodall
aclass006.pdf – Tying Fibrefoam battens
aclass007.docx – Brewin Sail Tuning, Care and Rigging
aclass008.pdf – How sails work by Paul Bogataj
aclass009.pdf – Nacra A2 A class catamaran Rigging and Tuning guide
aclass010.pdf – Very general info
aclass011.pdf – Tuning your DNA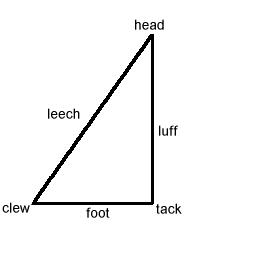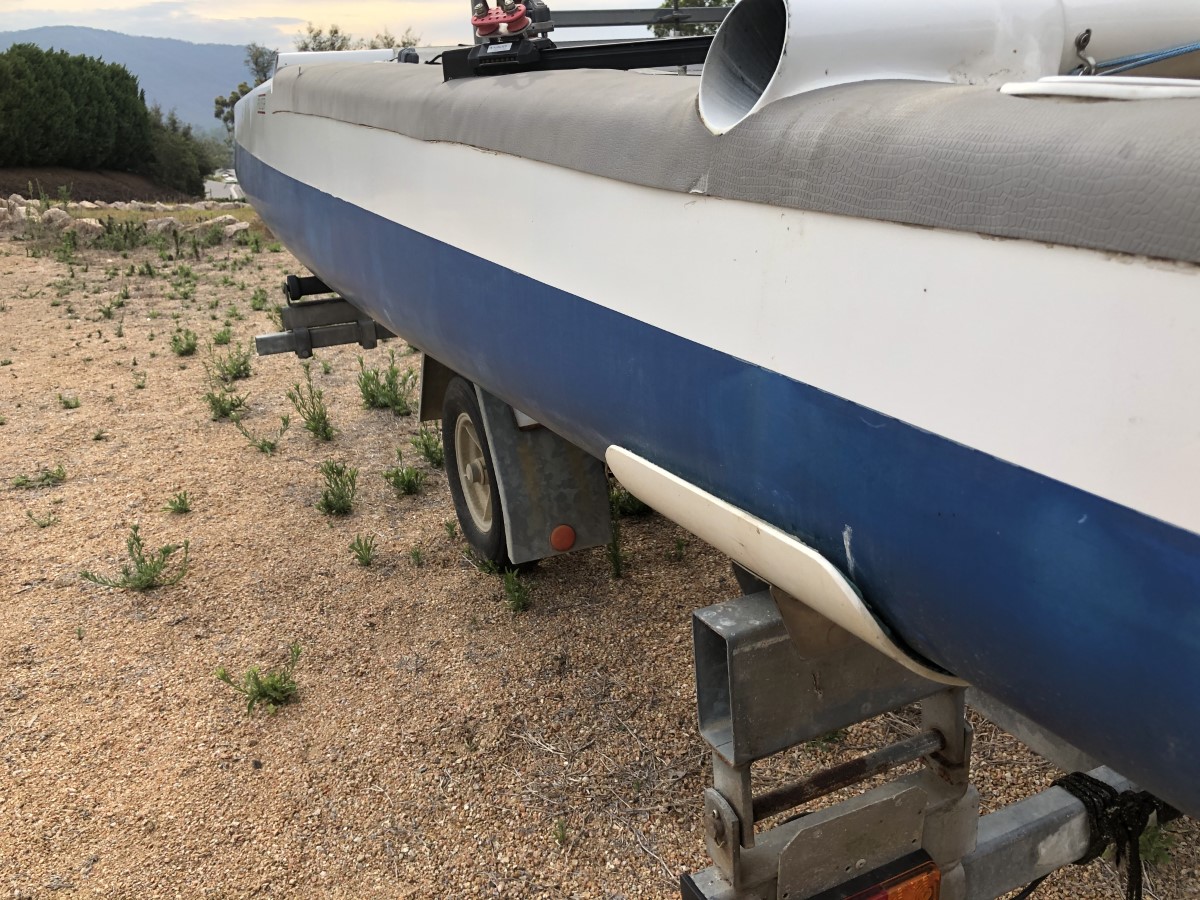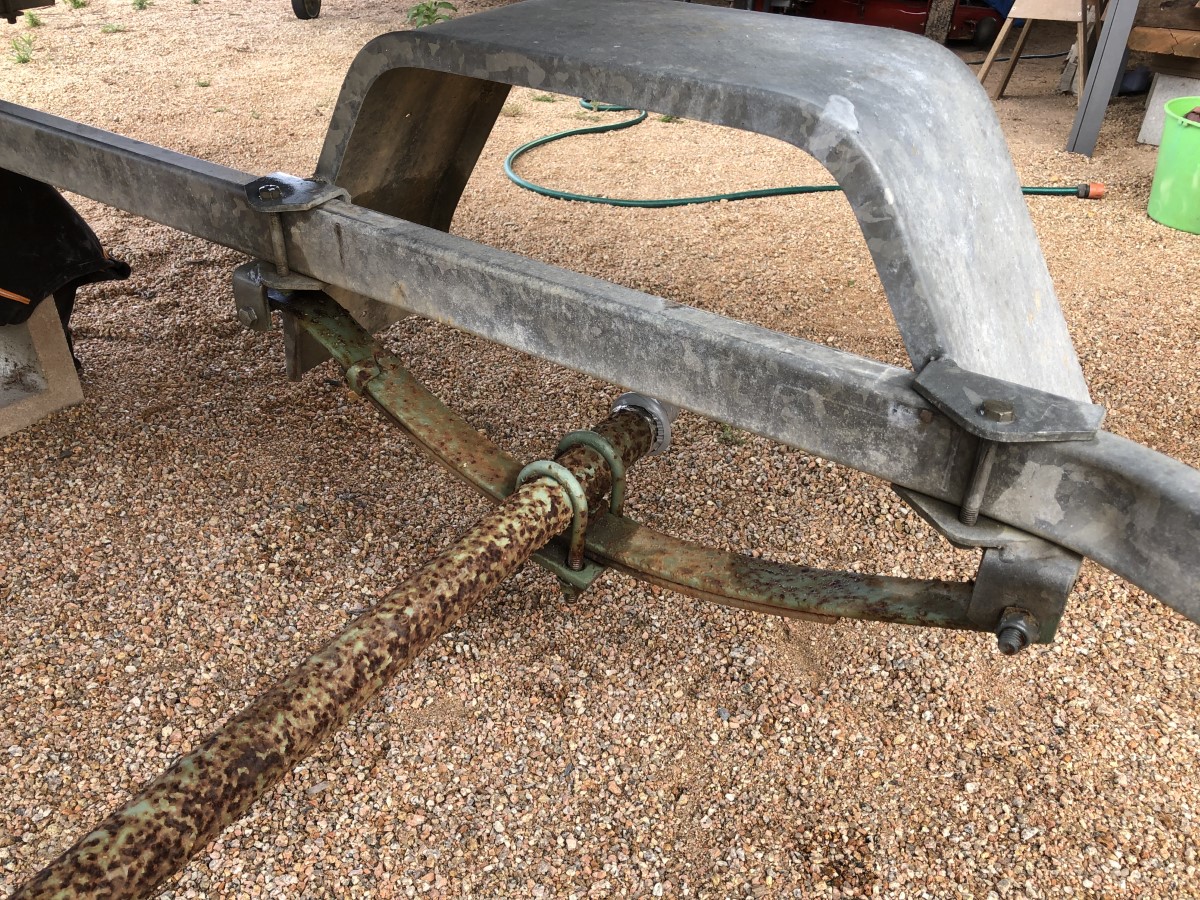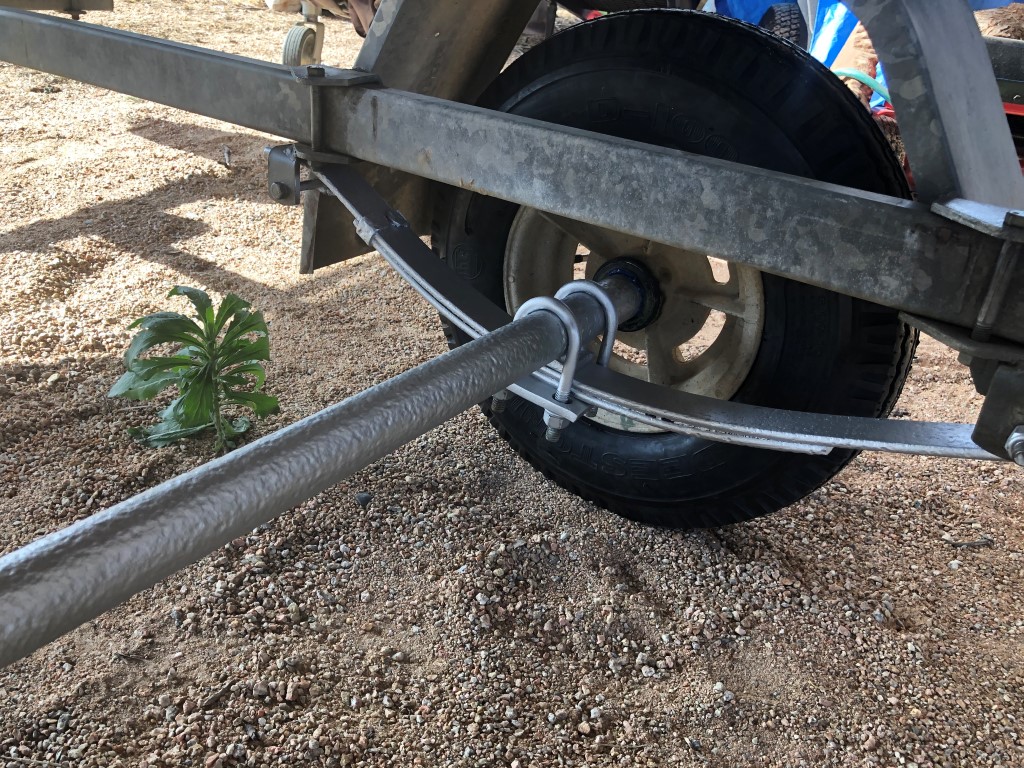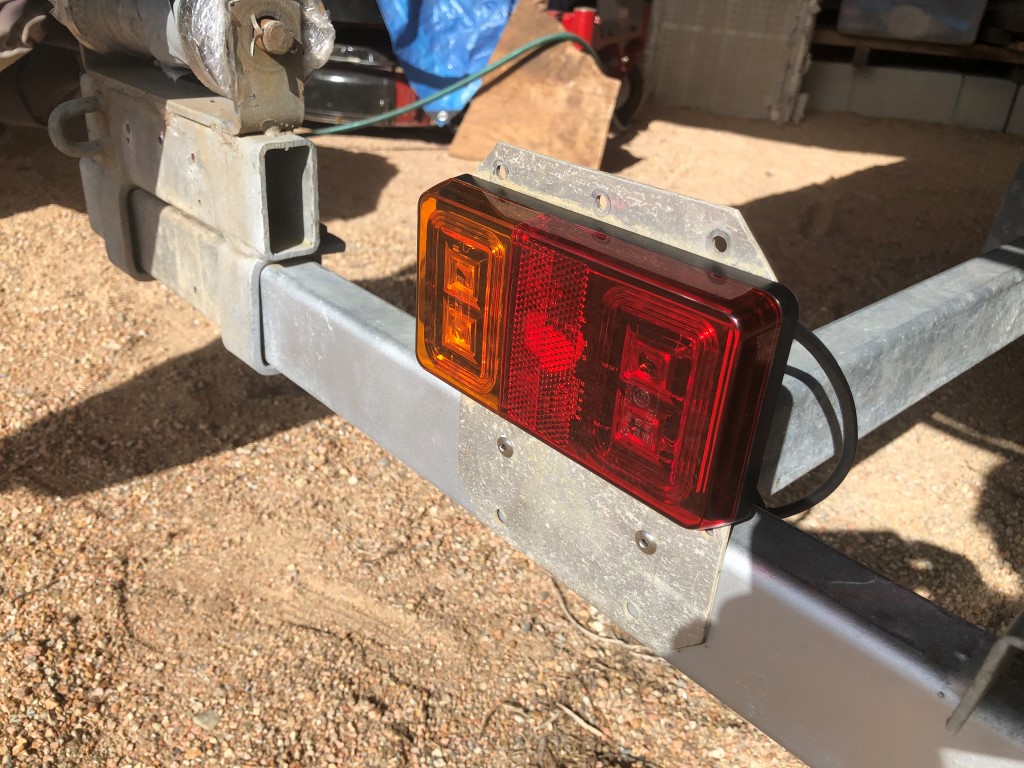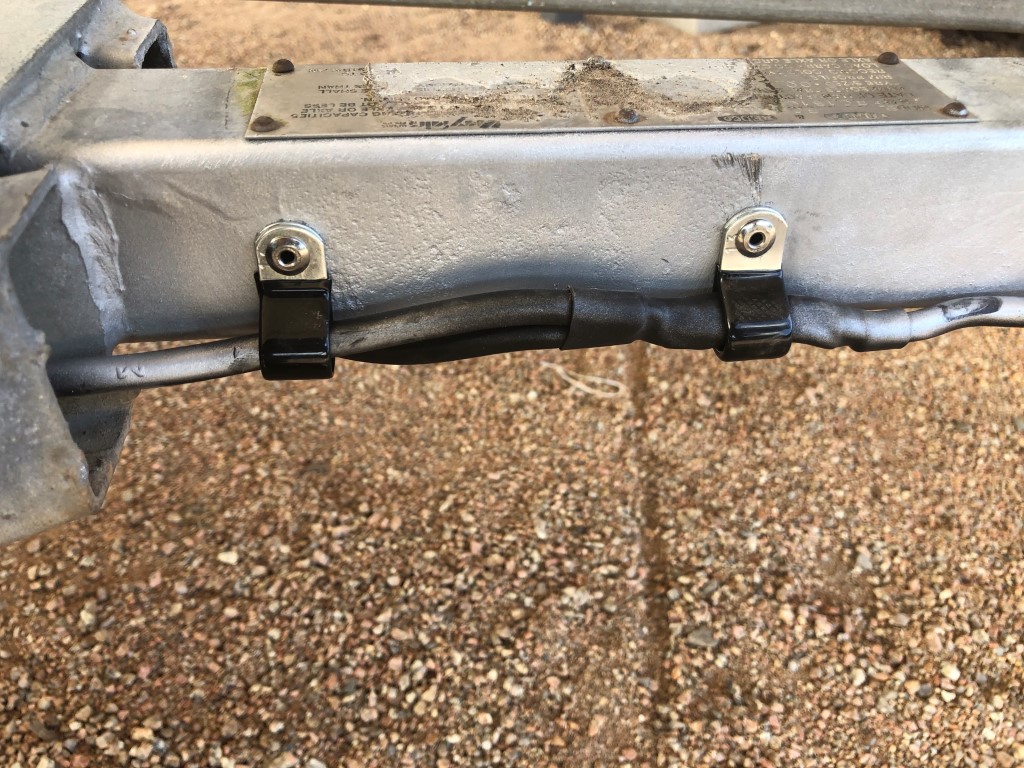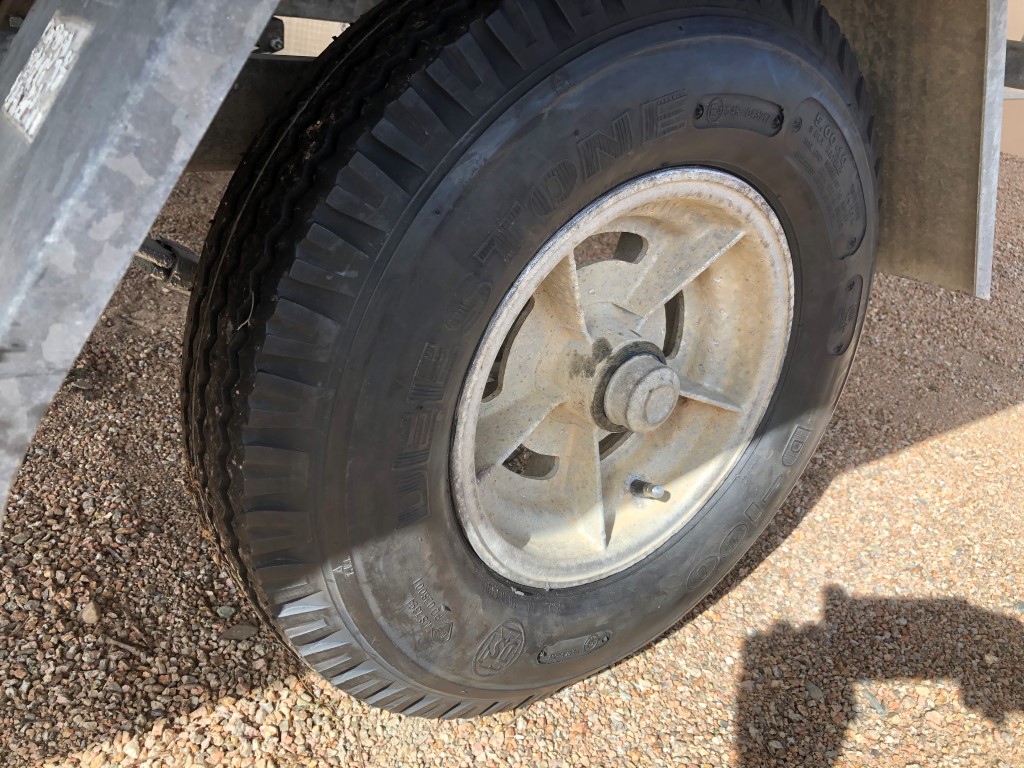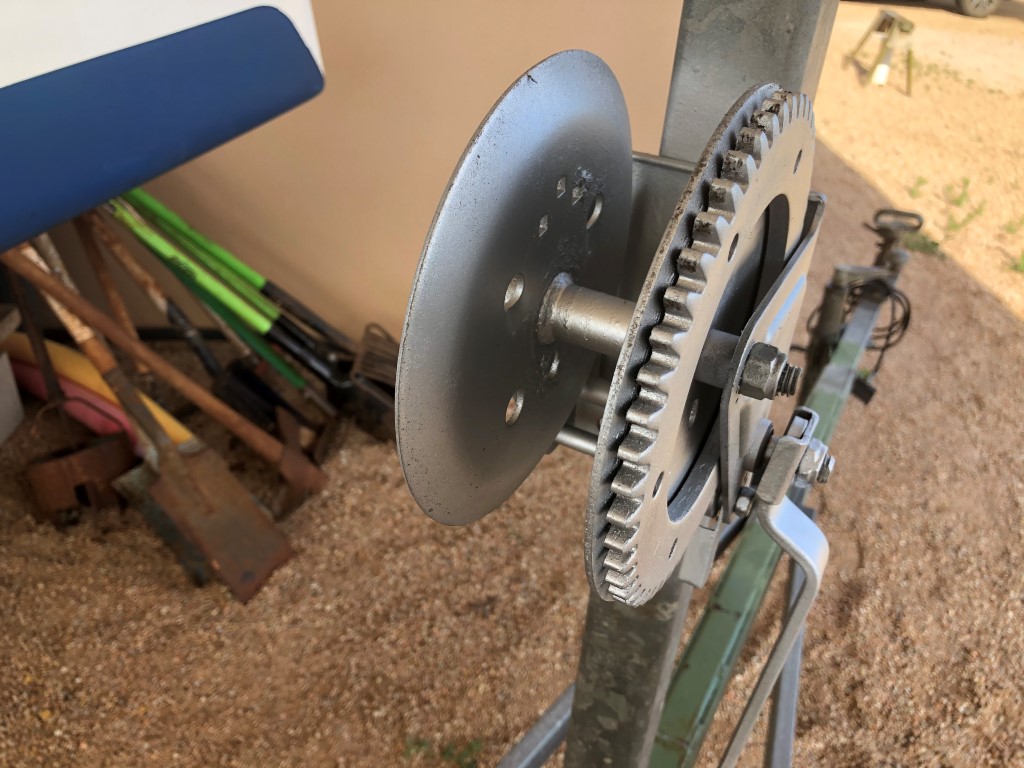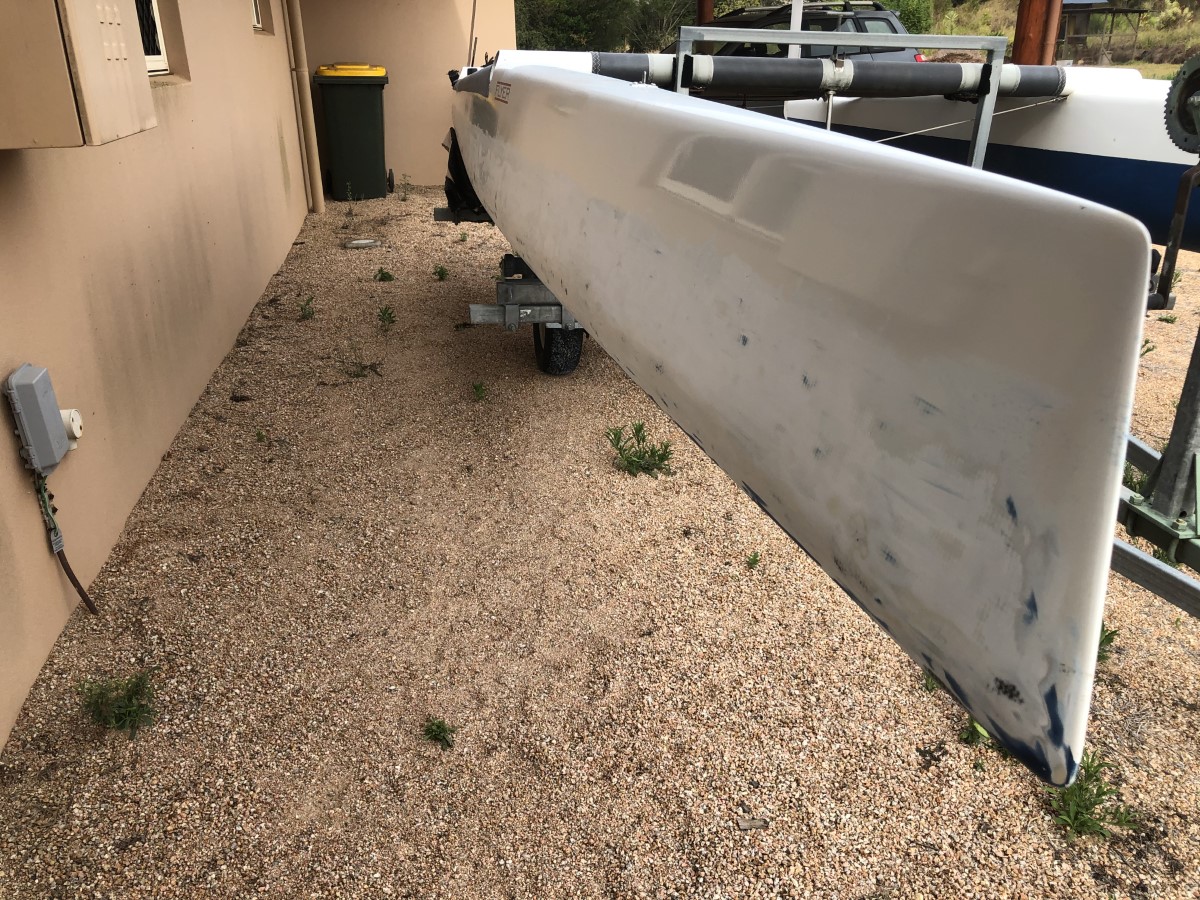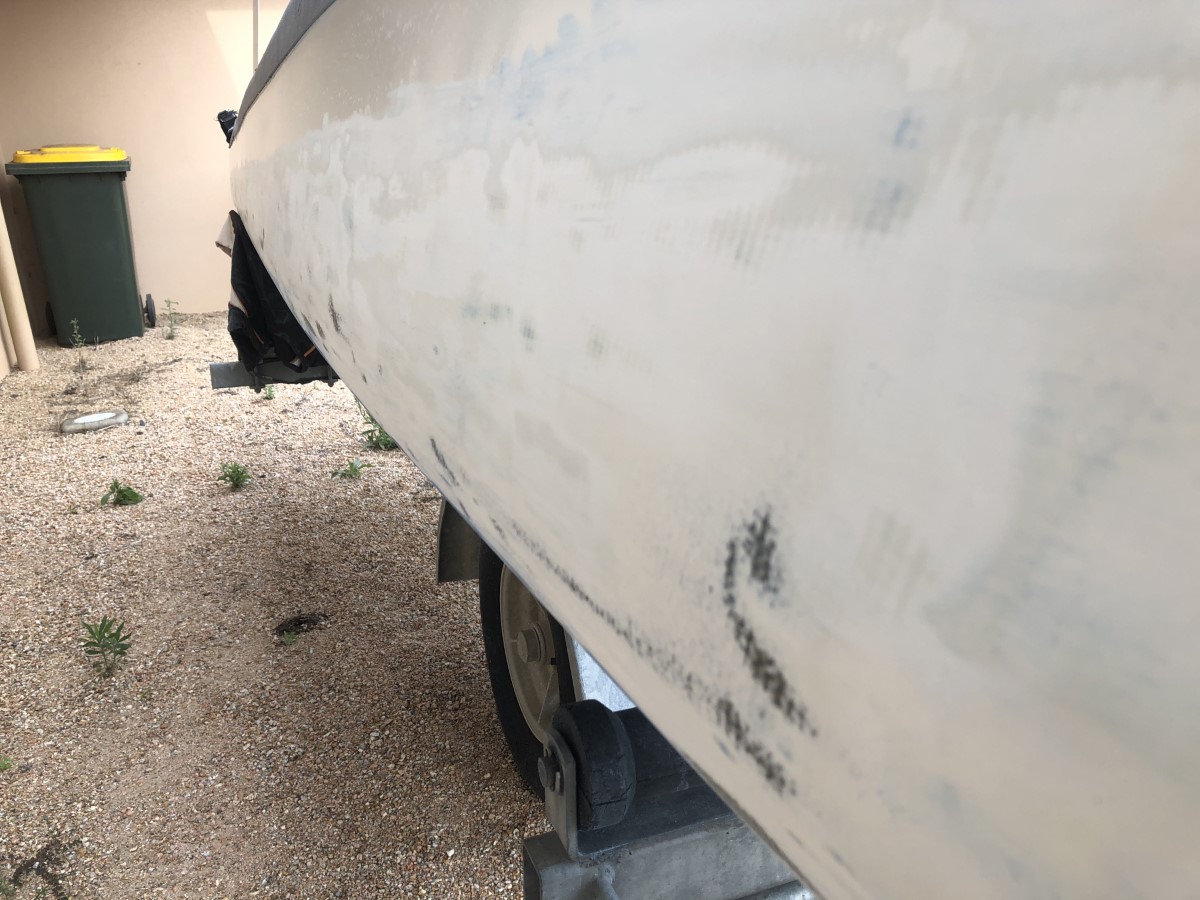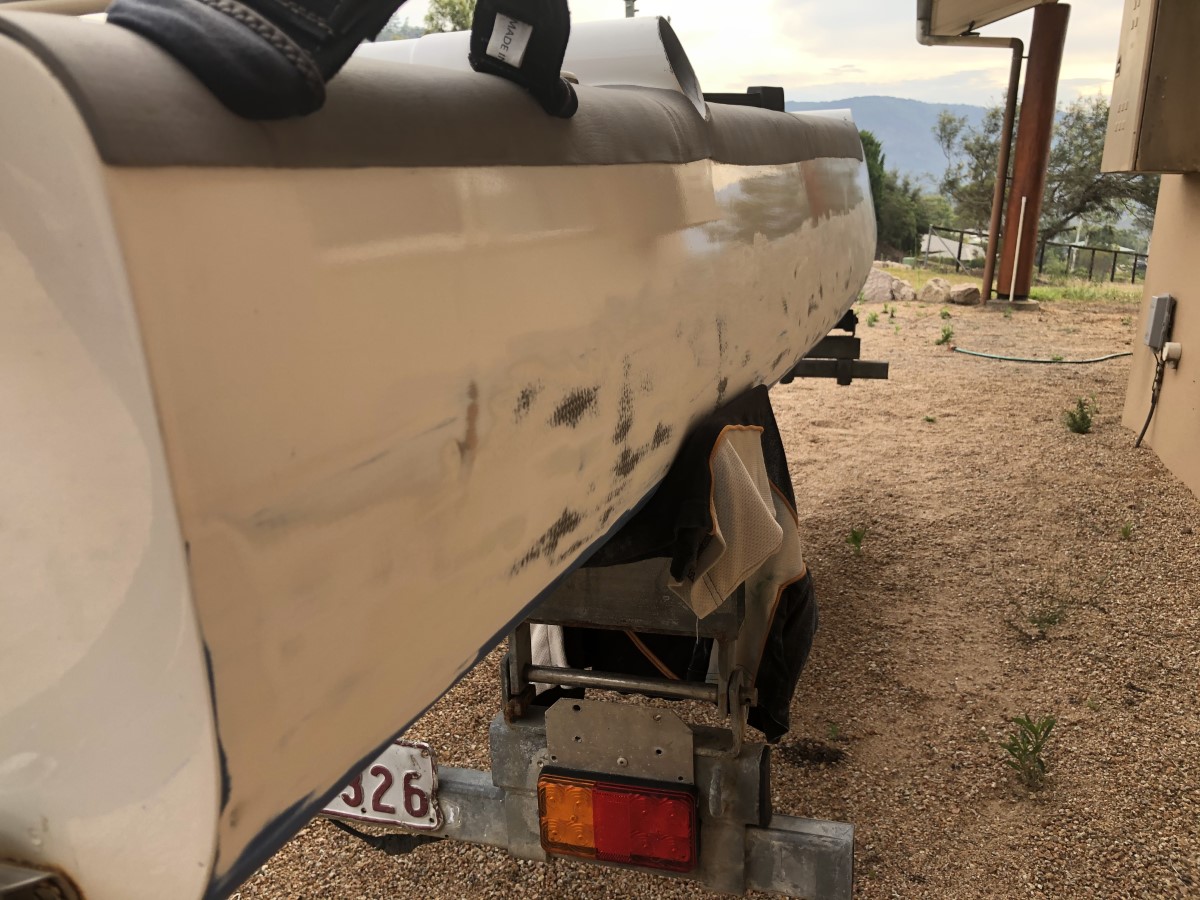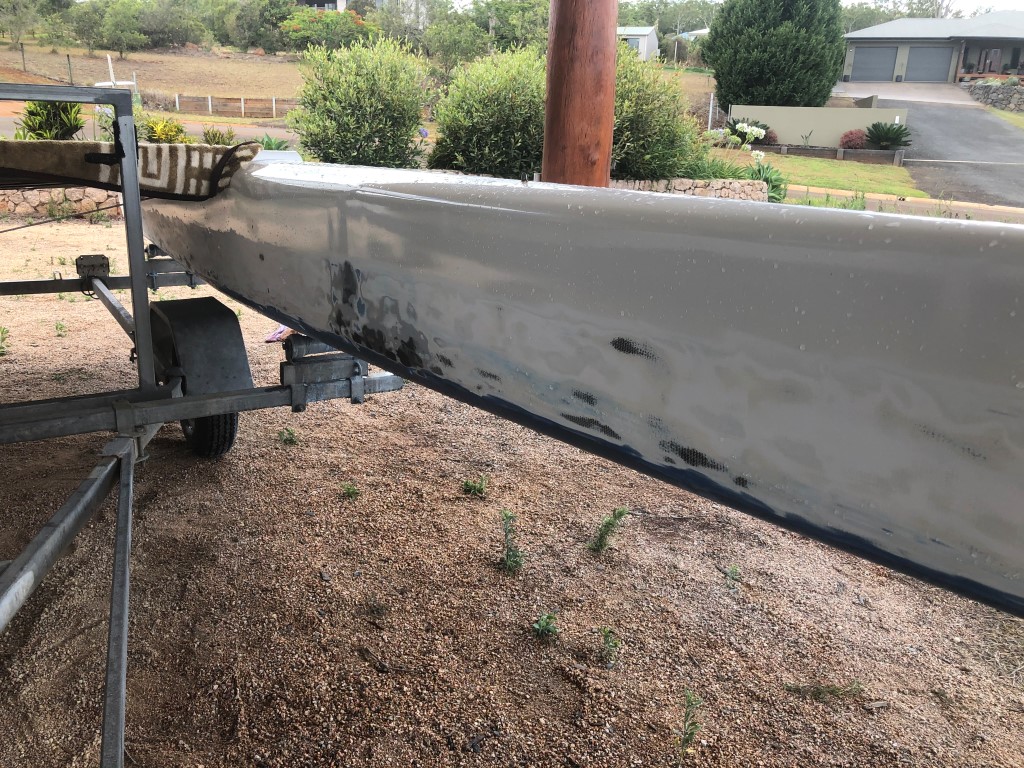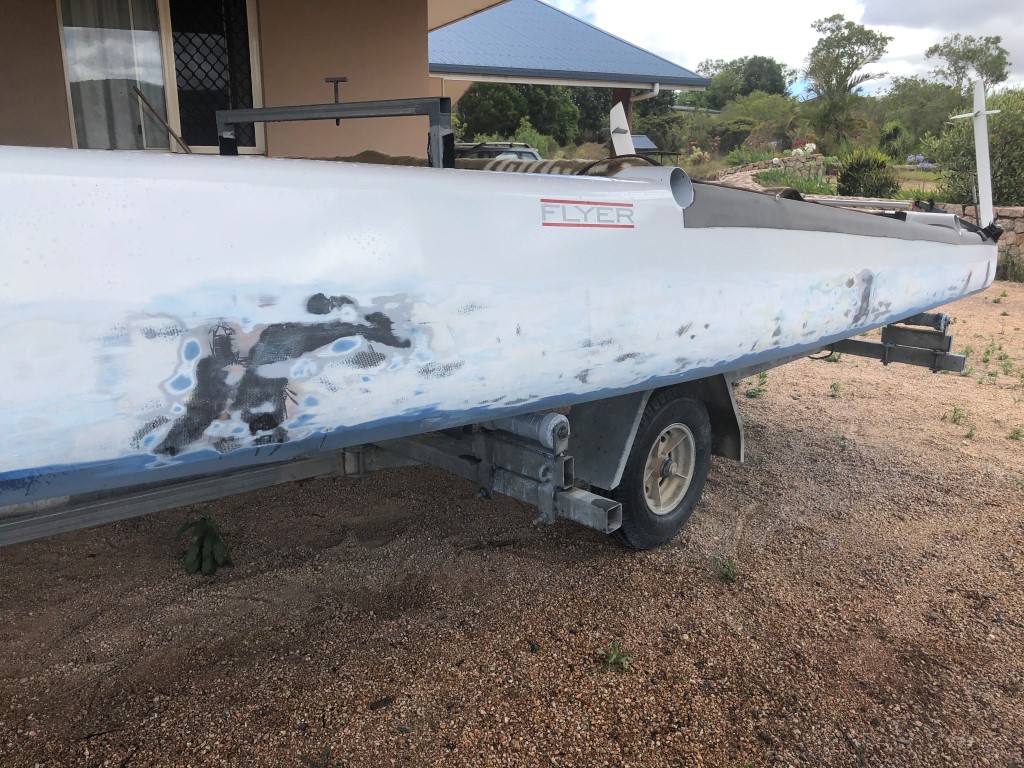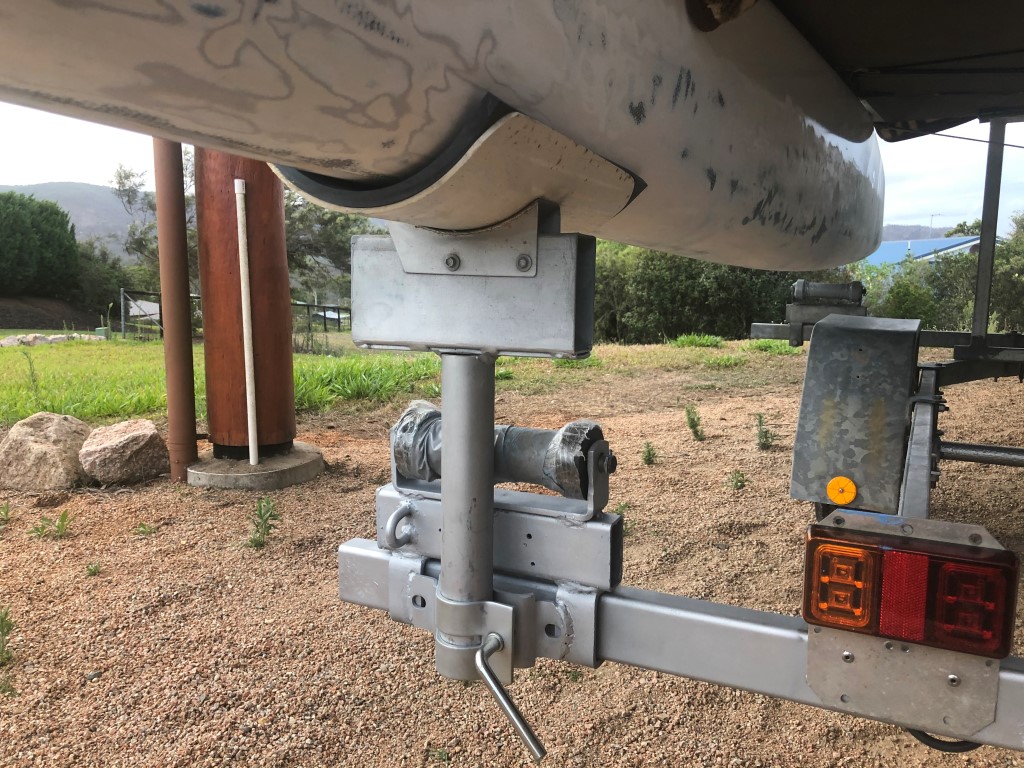 Drill 2x 2mm holes in inspection hatch cover to release pressure from when expanding when the cool hull out of the water is heated up by the sun on shore: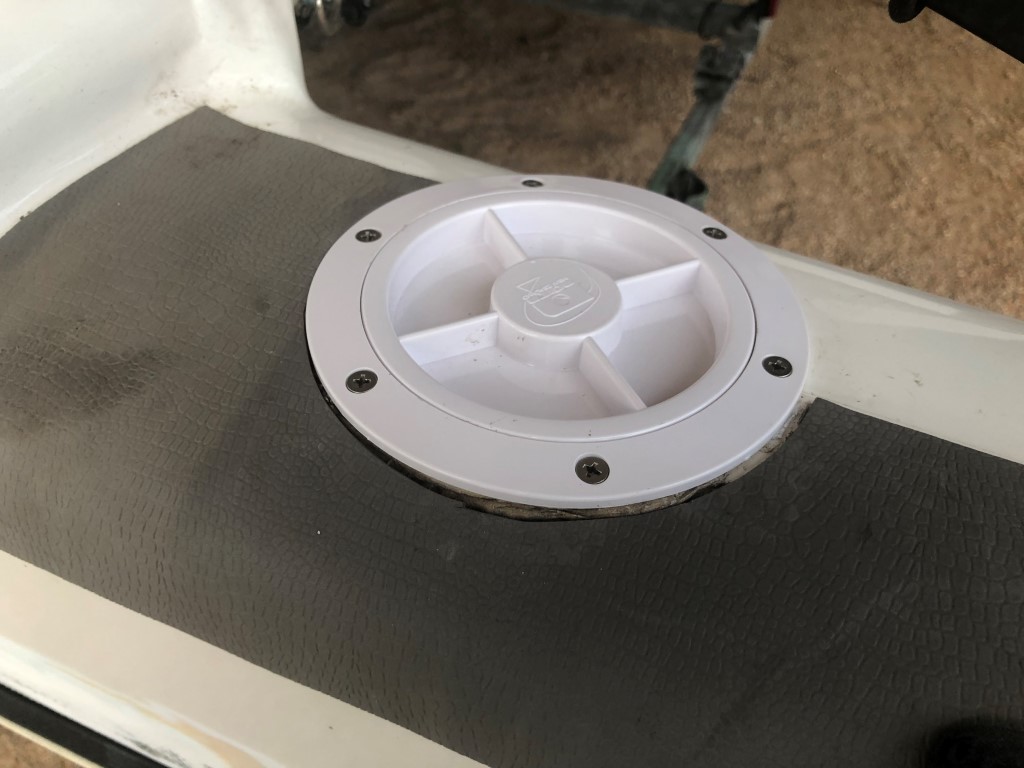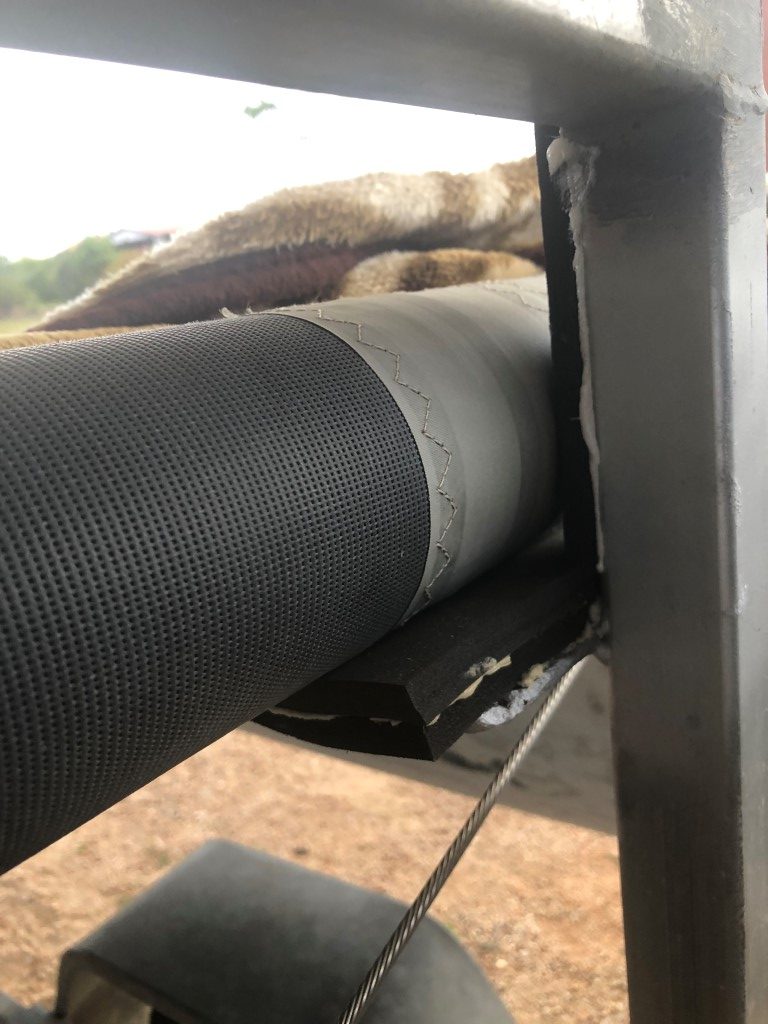 +1 Fine line tape / edge line tape.  You can't get the same result with just masking tape.  Leave in place for both primer and topcoat and remove after final coat has been applied.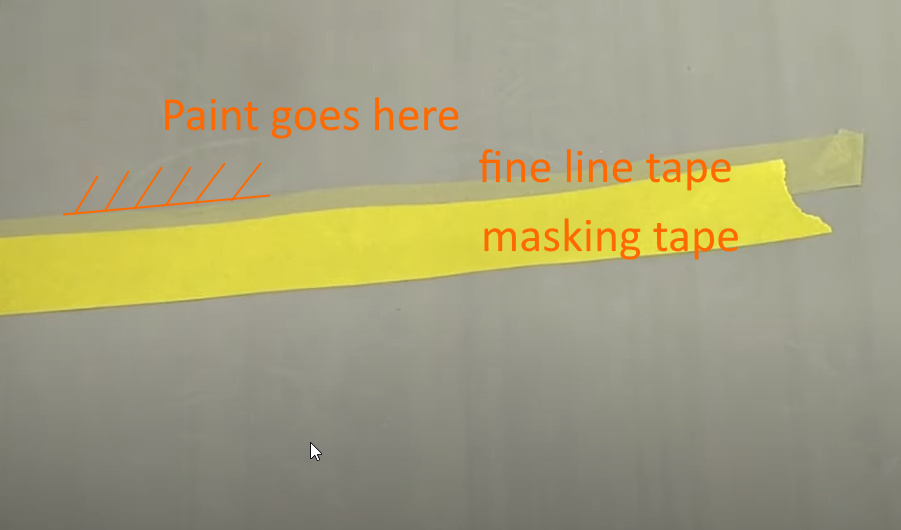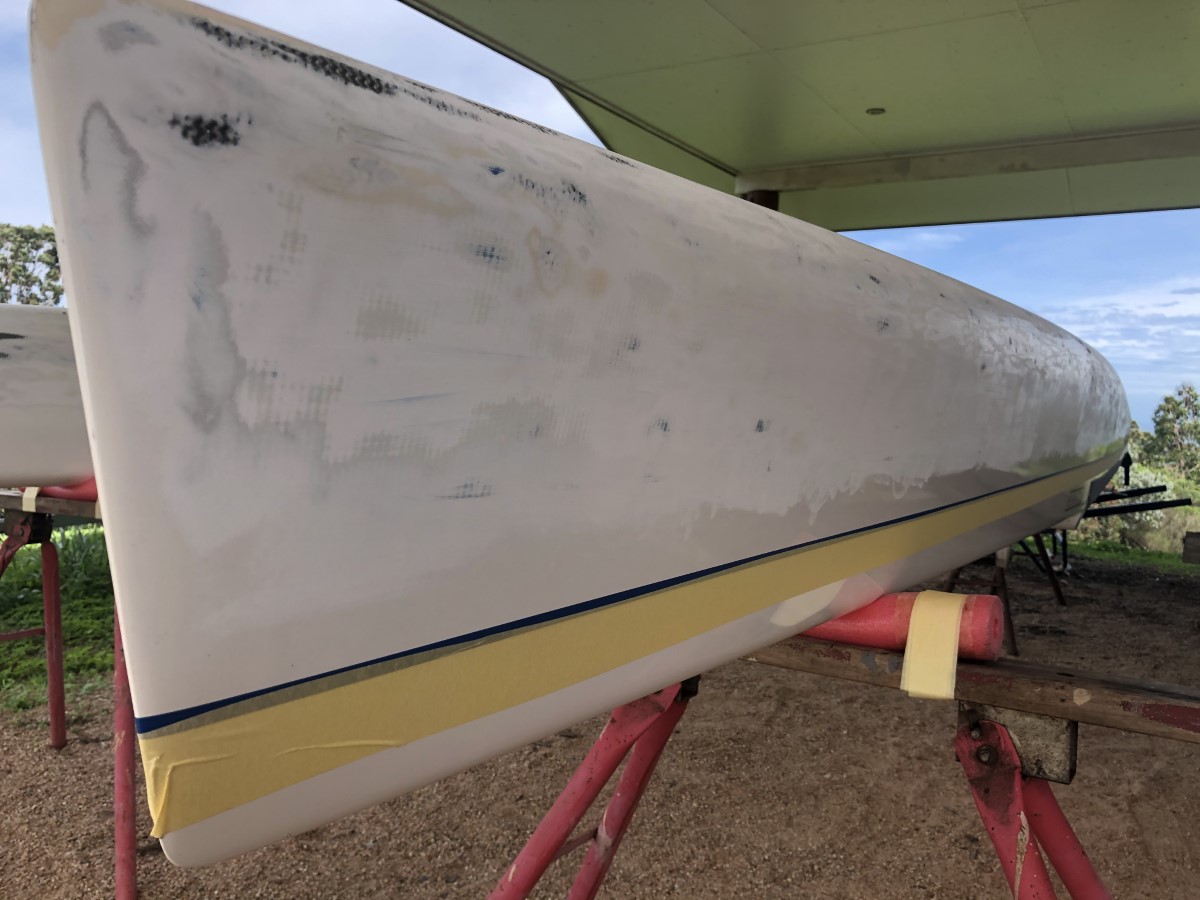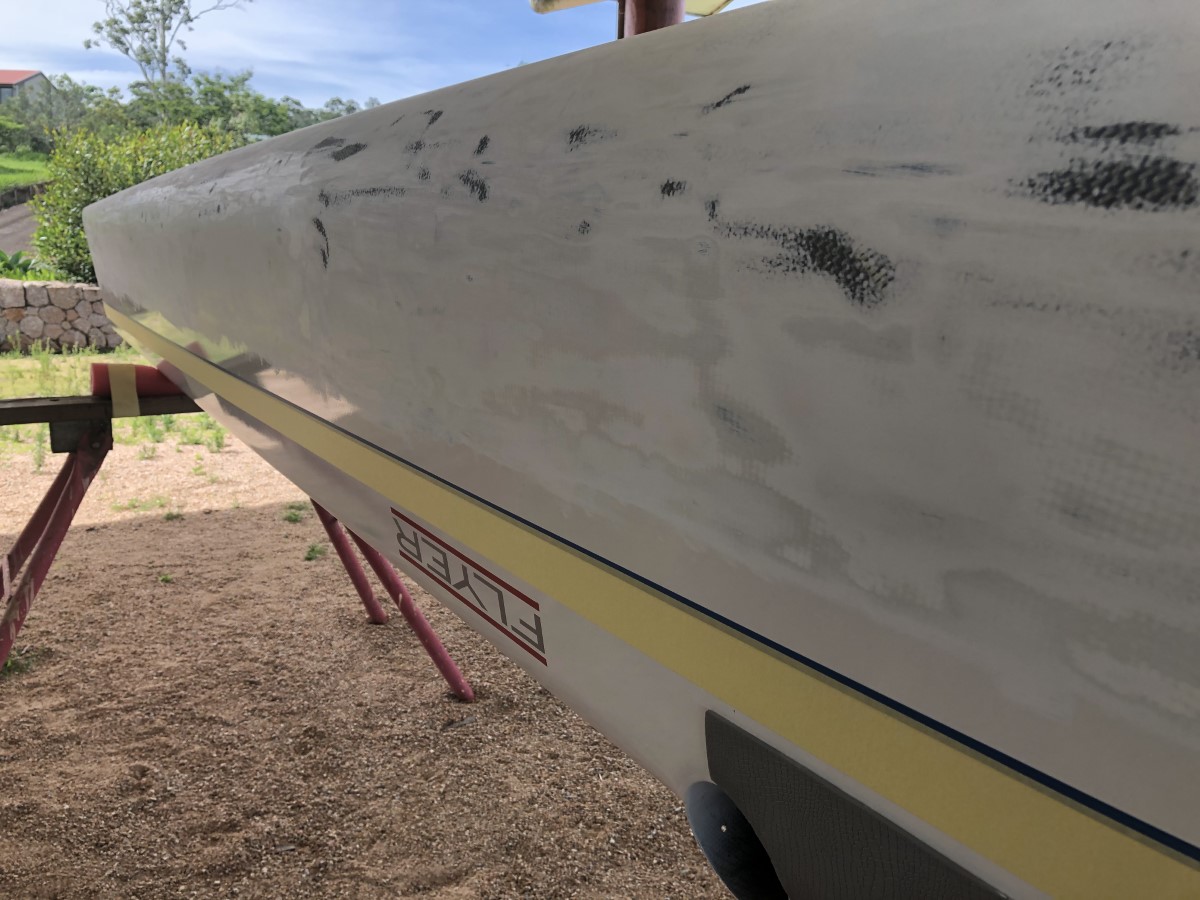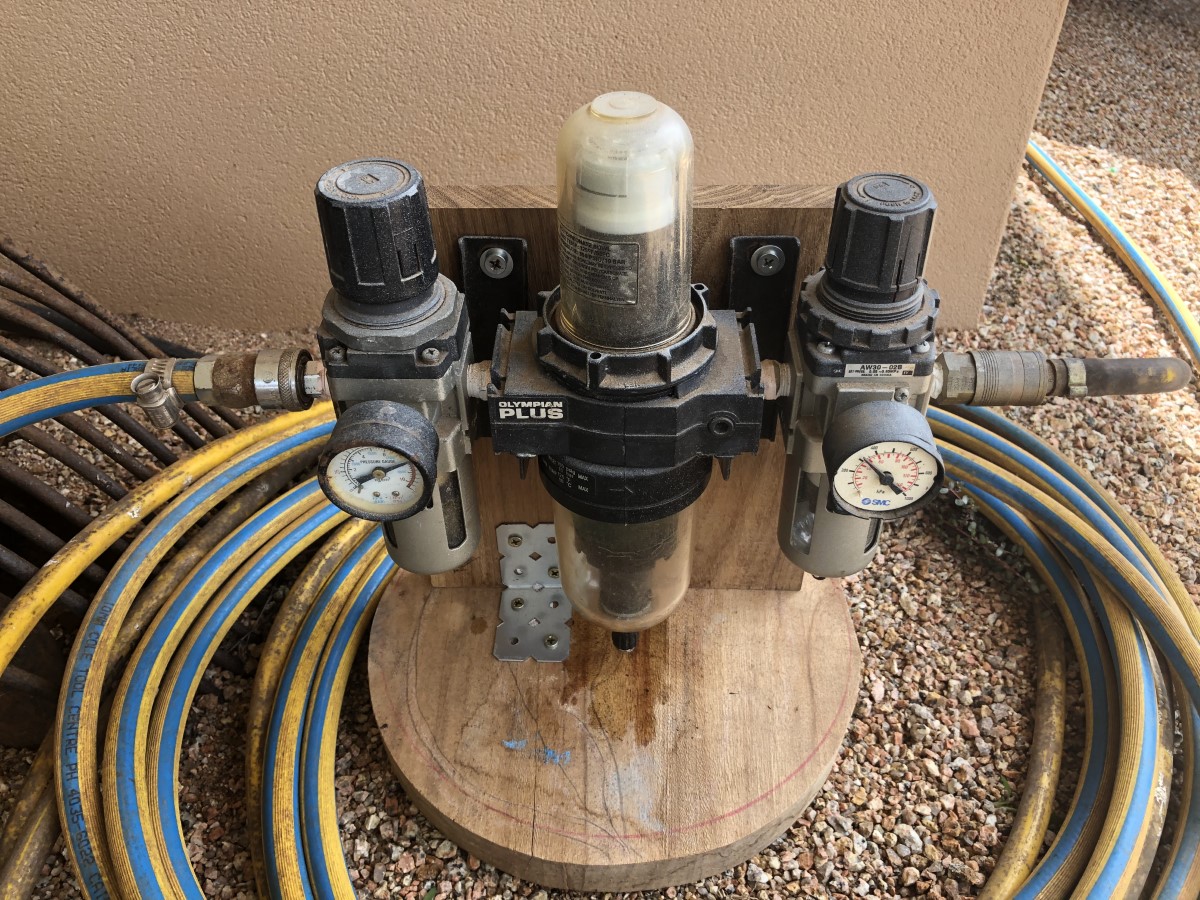 Am using marine grade 'below the waterline' 2 part epoxy primer and polyurethane topcoat.  Quality paints contain chemicals (VOC solvents) that are absorbed through skin.  Positive air pressure hood, coverall and disposable gloves mandatory.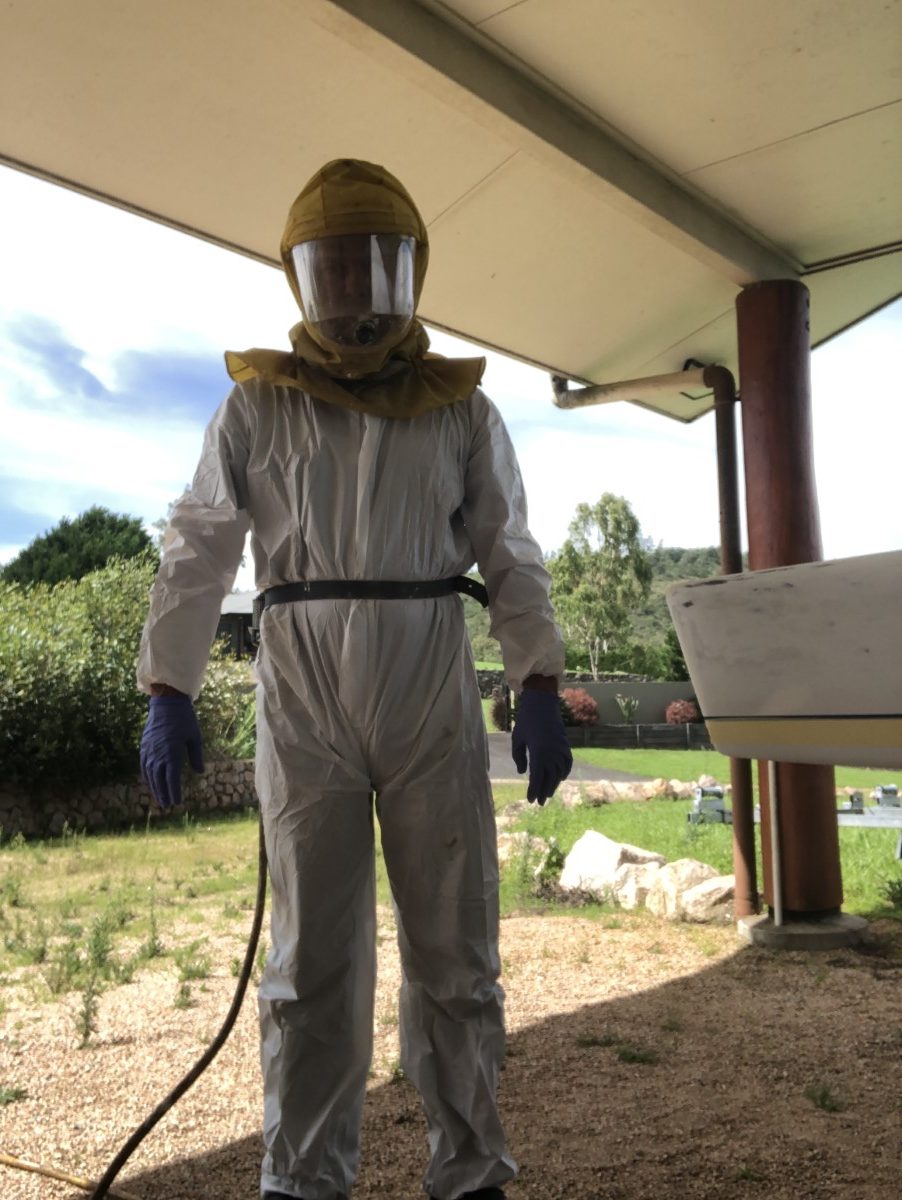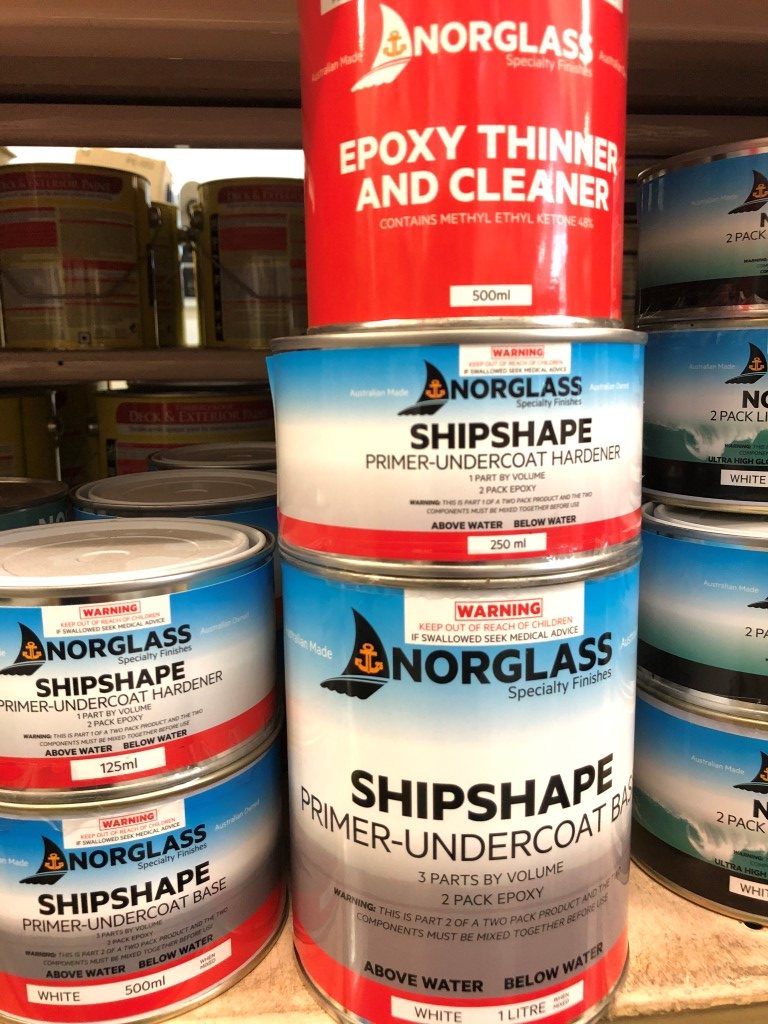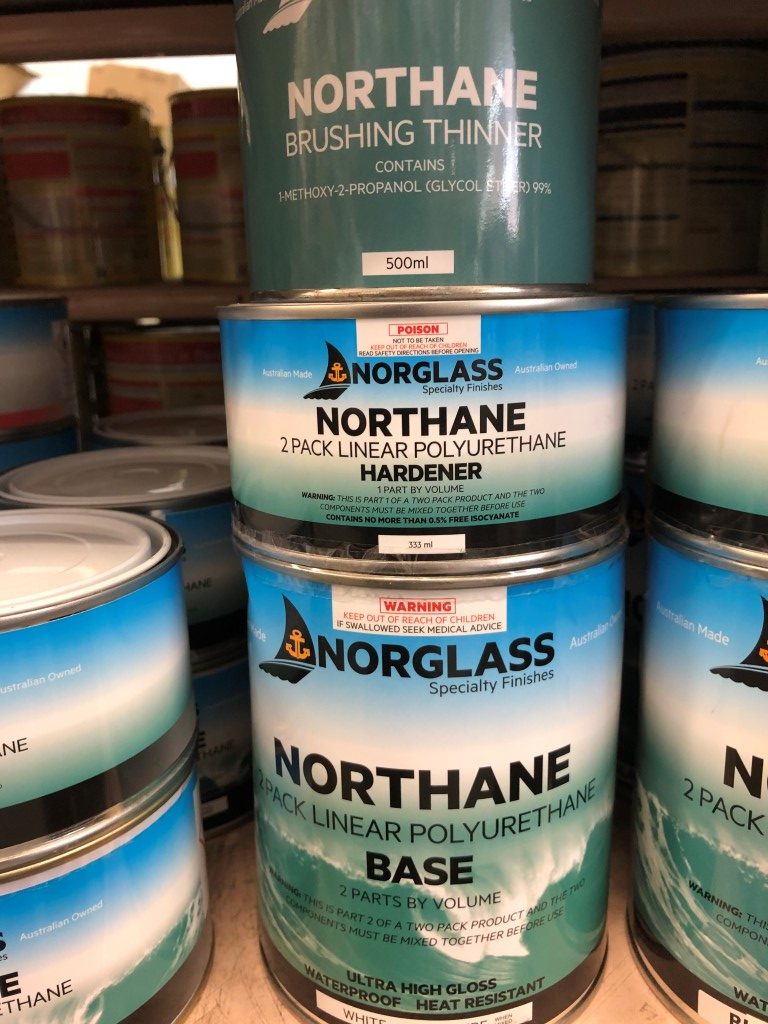 Trojan paint mixer (40cm long, small propeller).  Fits battery operated drill.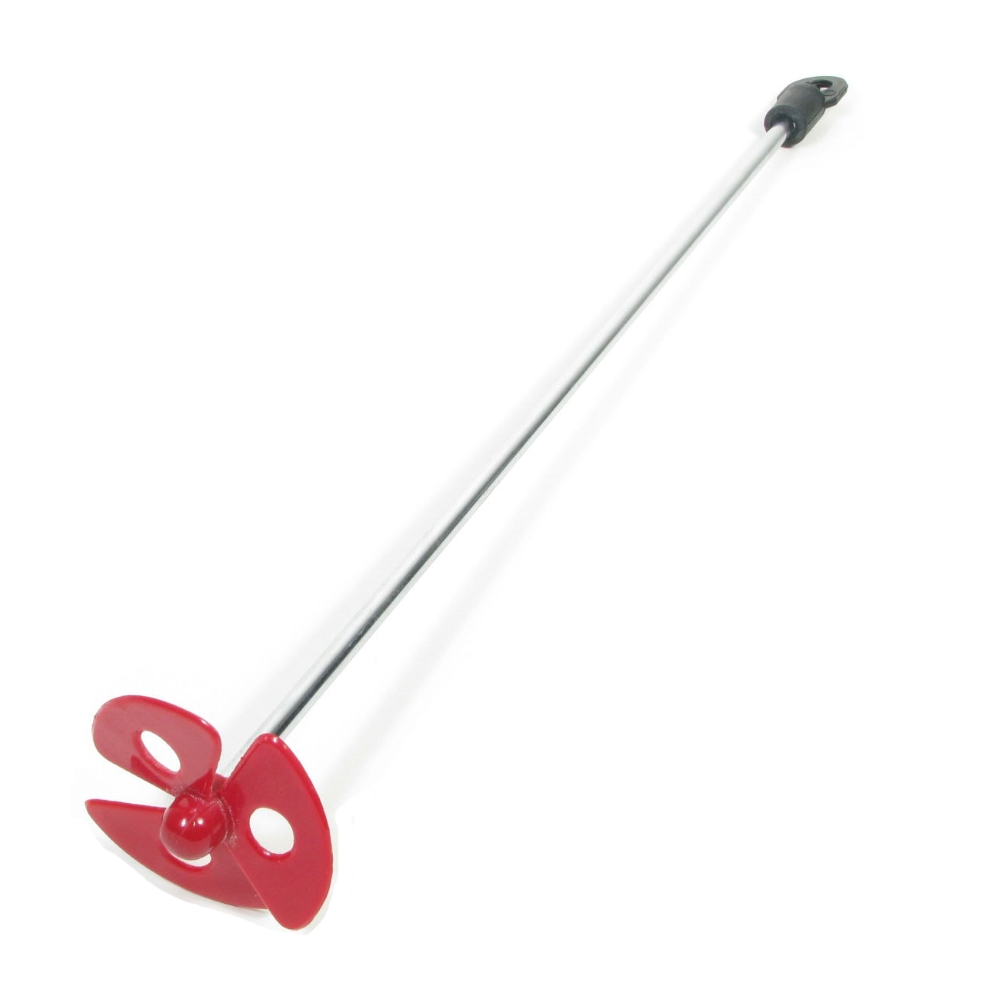 Norglass 2 part Epoxy primer.  2:1 ratio.  Makes 1 Liter combined.  10%-15% thinning.  Simply mix all together; no measuring required.  Use a mixer.  Seal container between coats.  Mohair roller.  Enough to cover both hulls bottoms and sides.
Base coat (primer).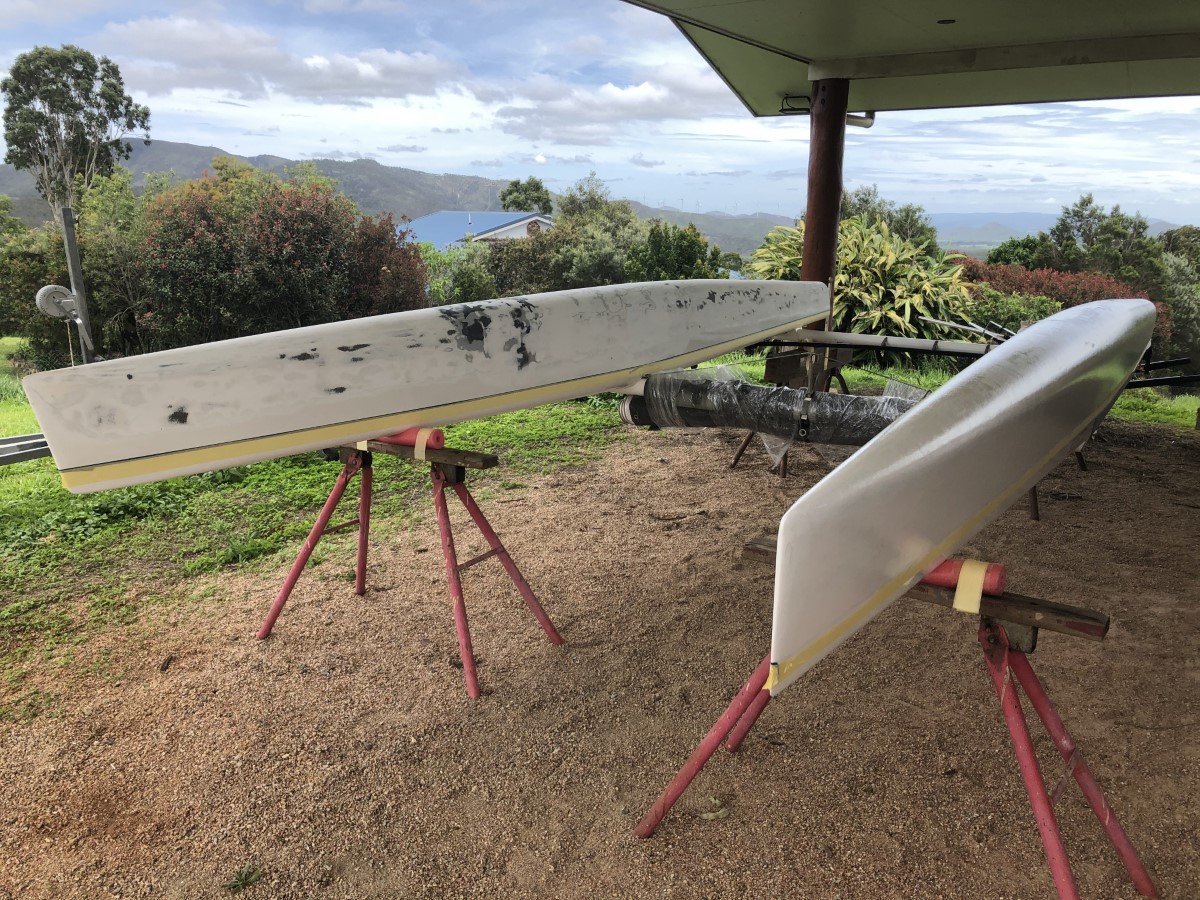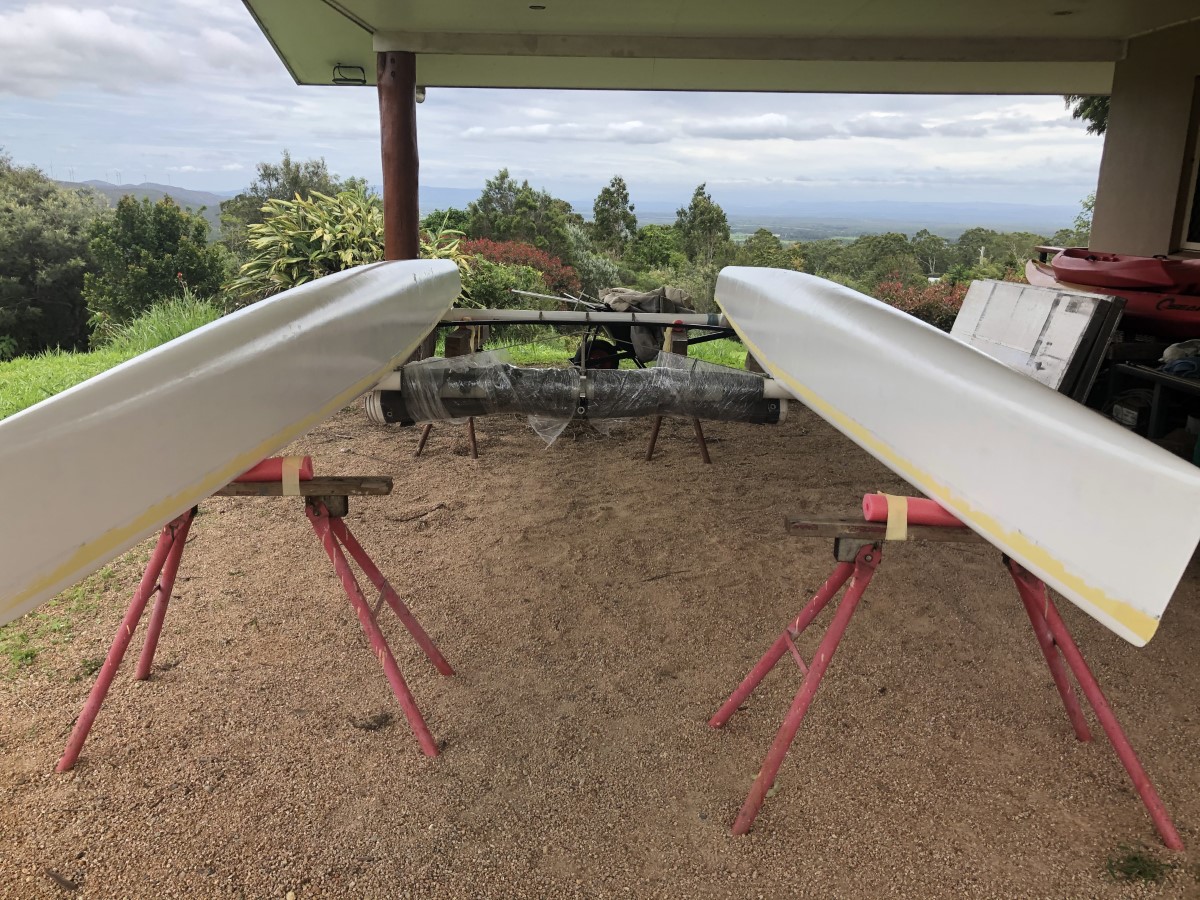 Manual wet sanding using 240 grit paper, spray water bottle and sanding block.  This only takes minutes and is actually fun to do.  Do not skip this step.  Sheet sander and orbital sander have holes in the plate to suck in dust and do not like water (damages bearing).  Also mains voltage and water = electrical hazard.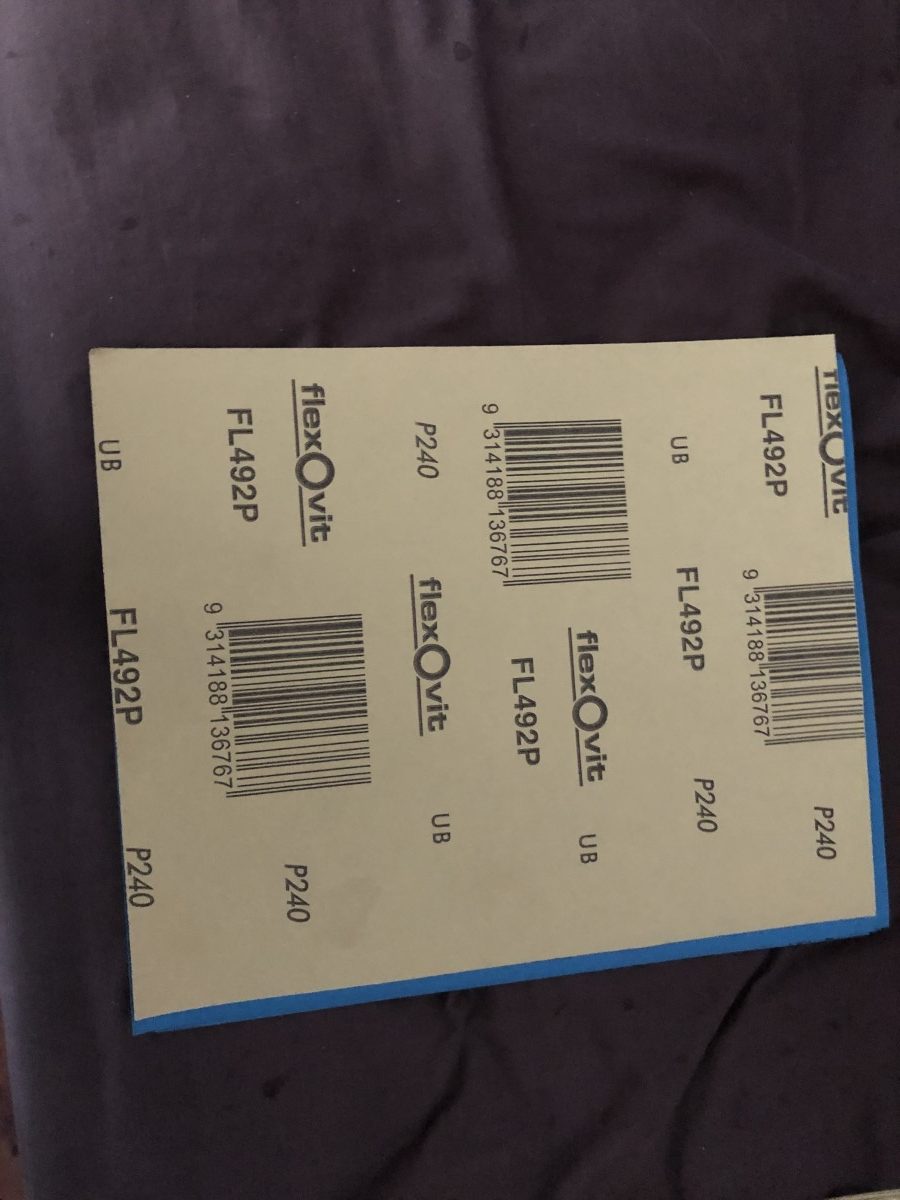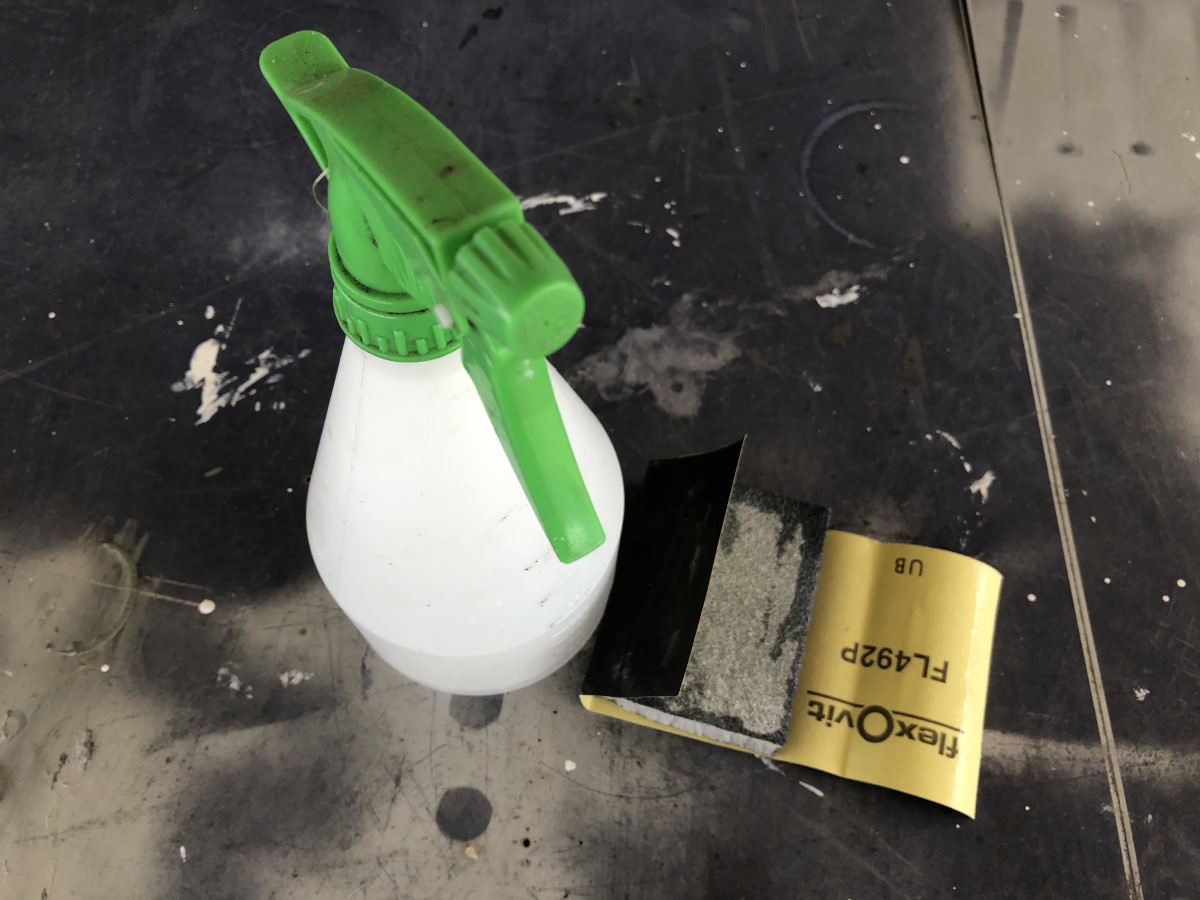 Move paint roller in slow steady movements with light pressure using short strokes keeping a wet-on-wet edge and move sideways along the hull.  Keep roller horizontal at all times (move up-down, not left-right) and avoid drips at bottom.
Apply a second coat after 1-2 hours when touch dry without sanding. Leave masking tape in place. Be careful as a still tacky first layer of topcoat can glue to a near-dry roller and take out small chunks.
First topcoat: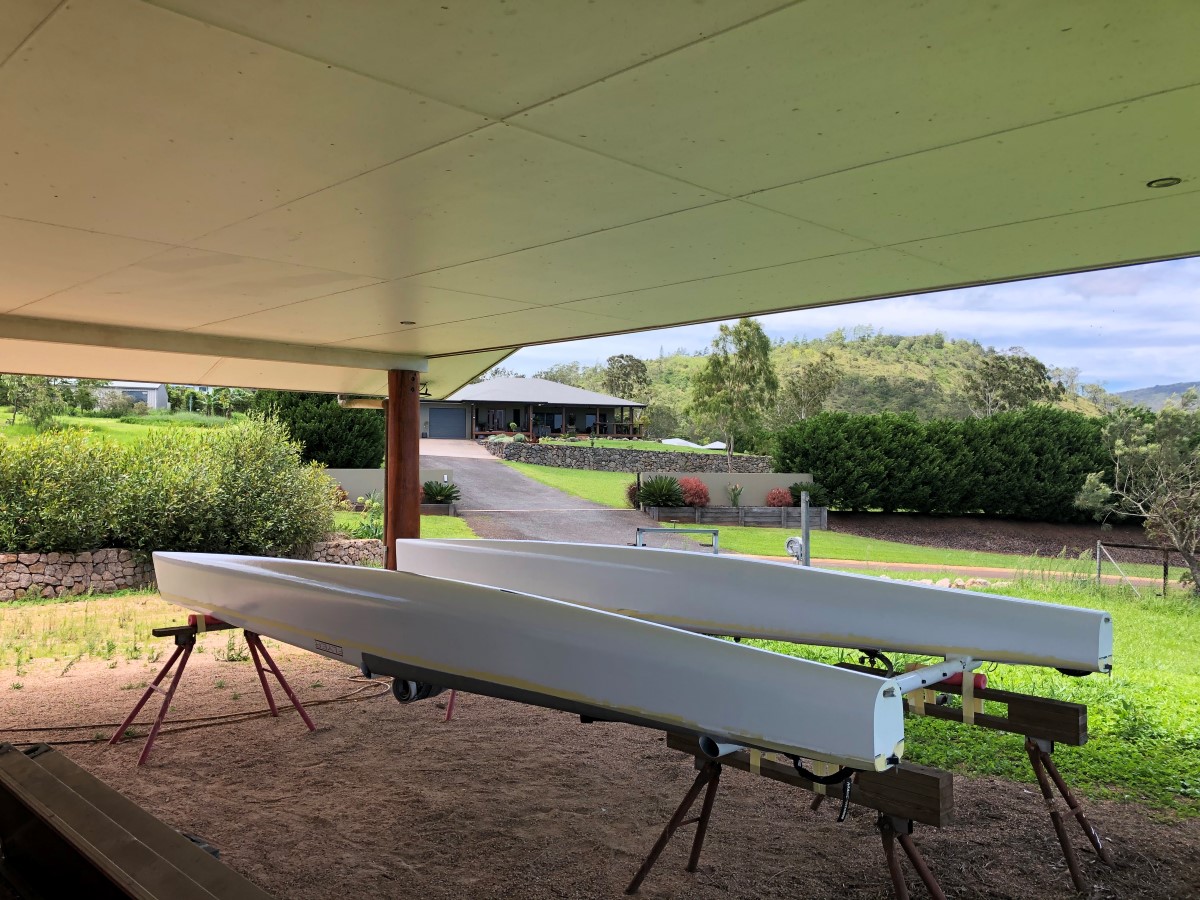 Second topcoat: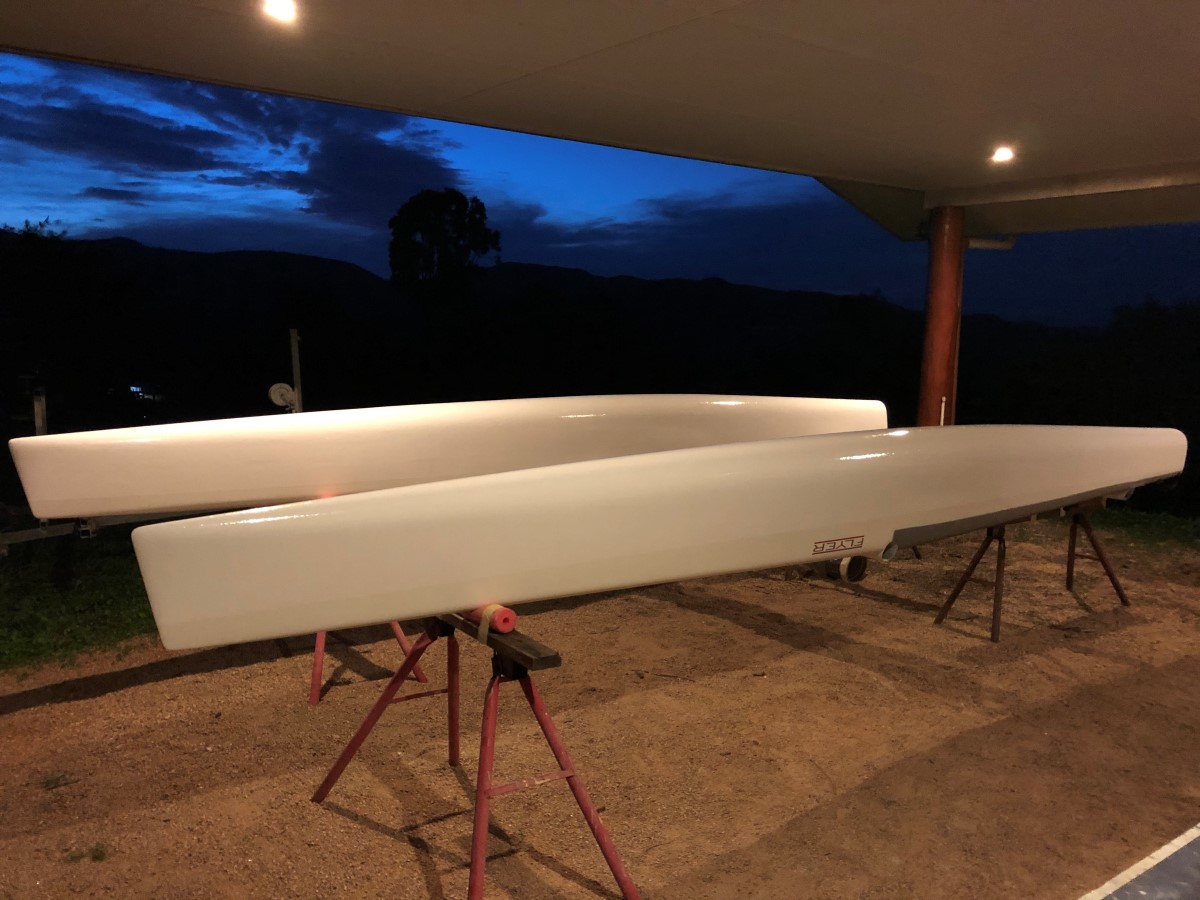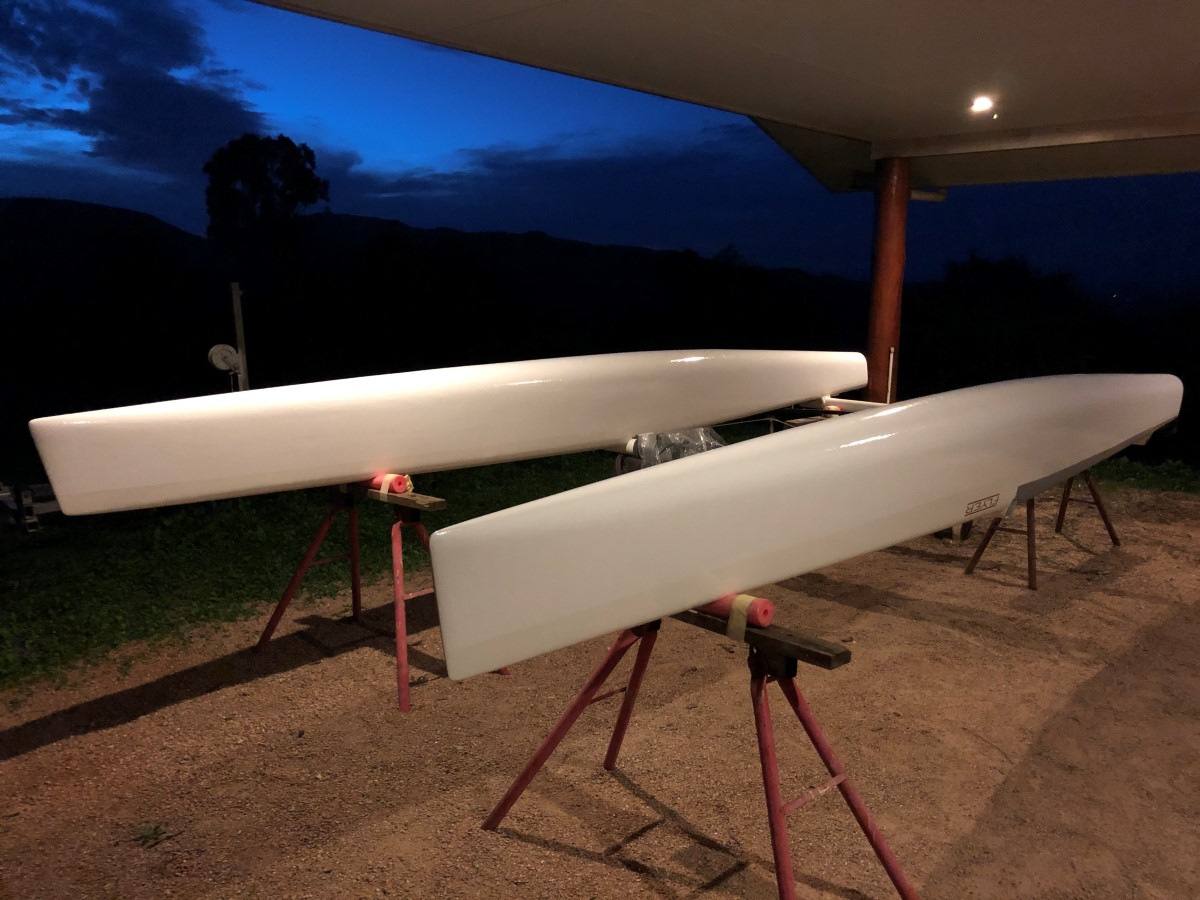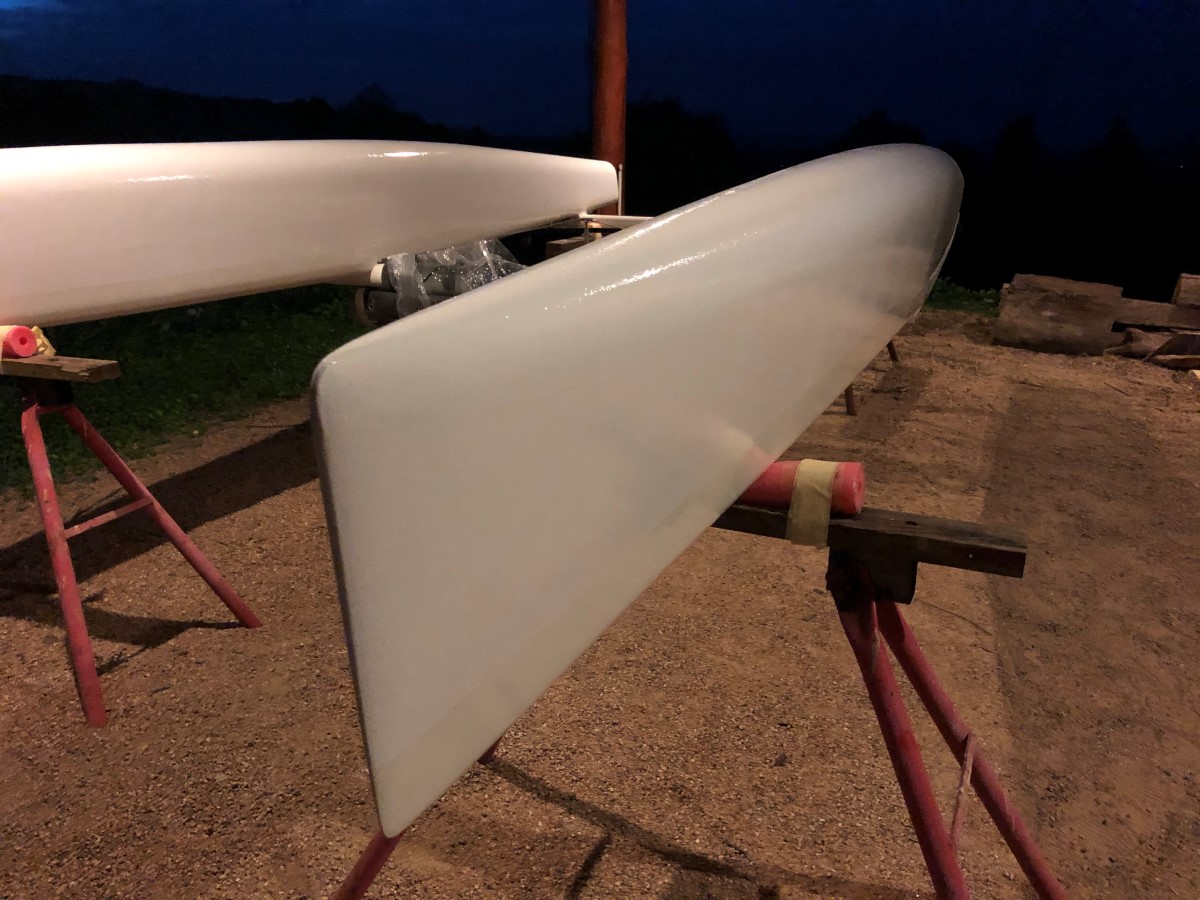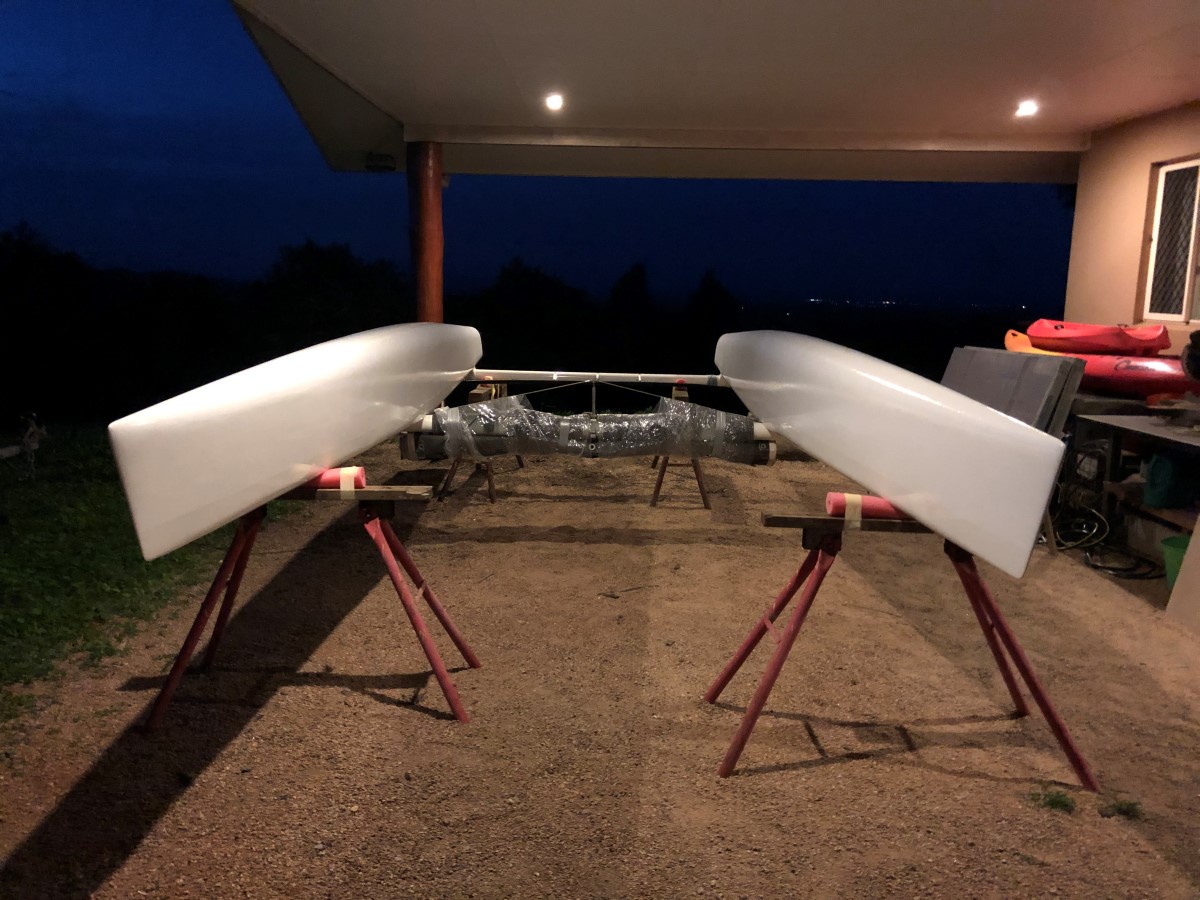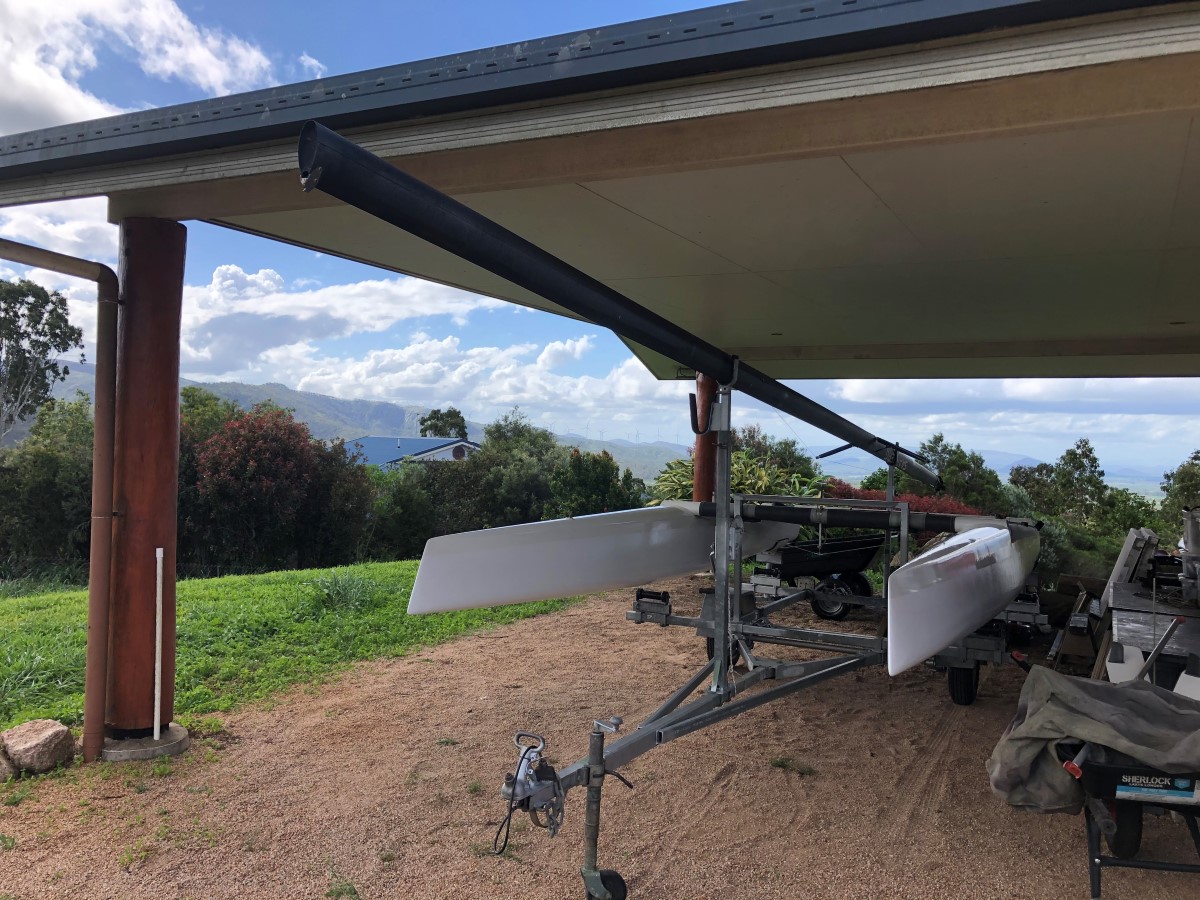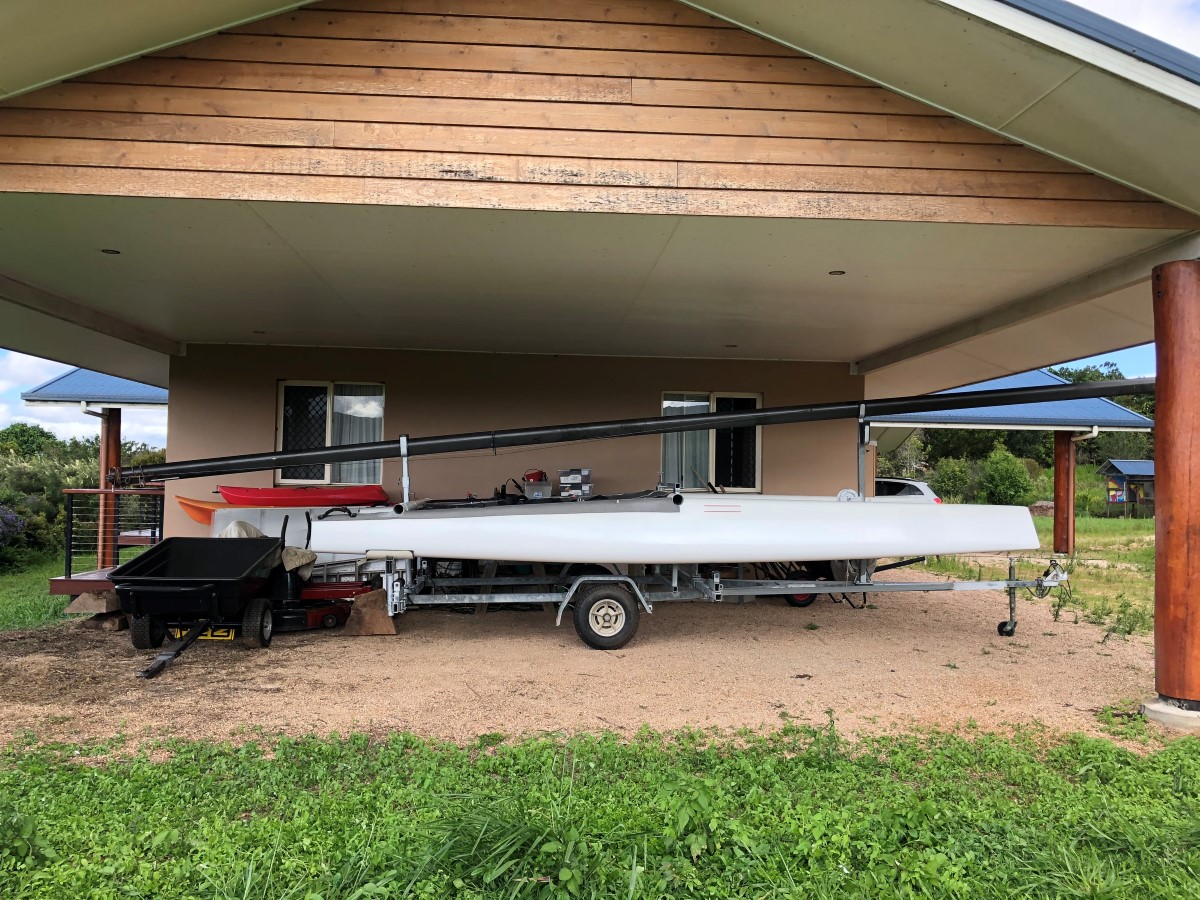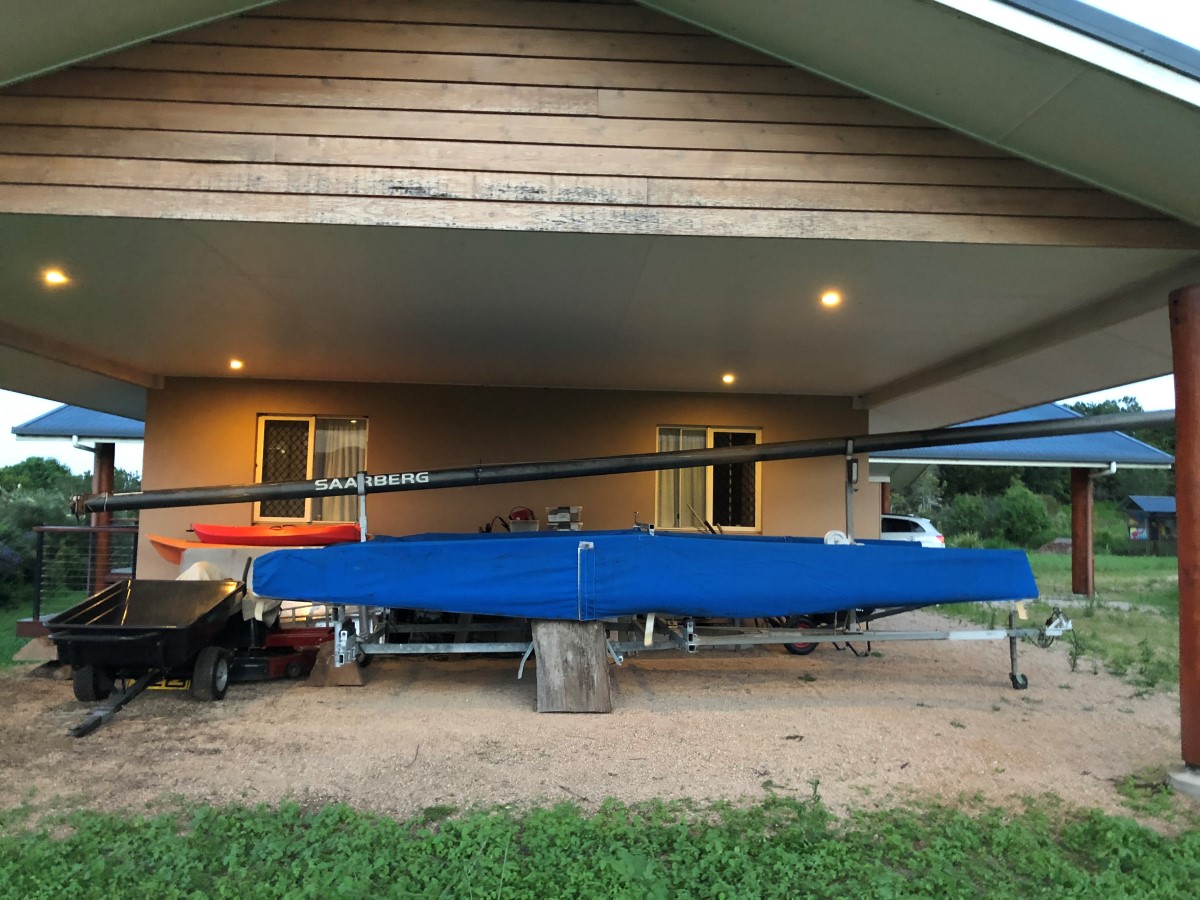 Replacing black plastic tonneau lacing buttons with stainless steel.  Stainless pop rivets M4x20 were not going to cut it.  Changed to allen key M5 bolts/nuts and drilled out lacing buttons slightly to match.
Insert nylon fishing line: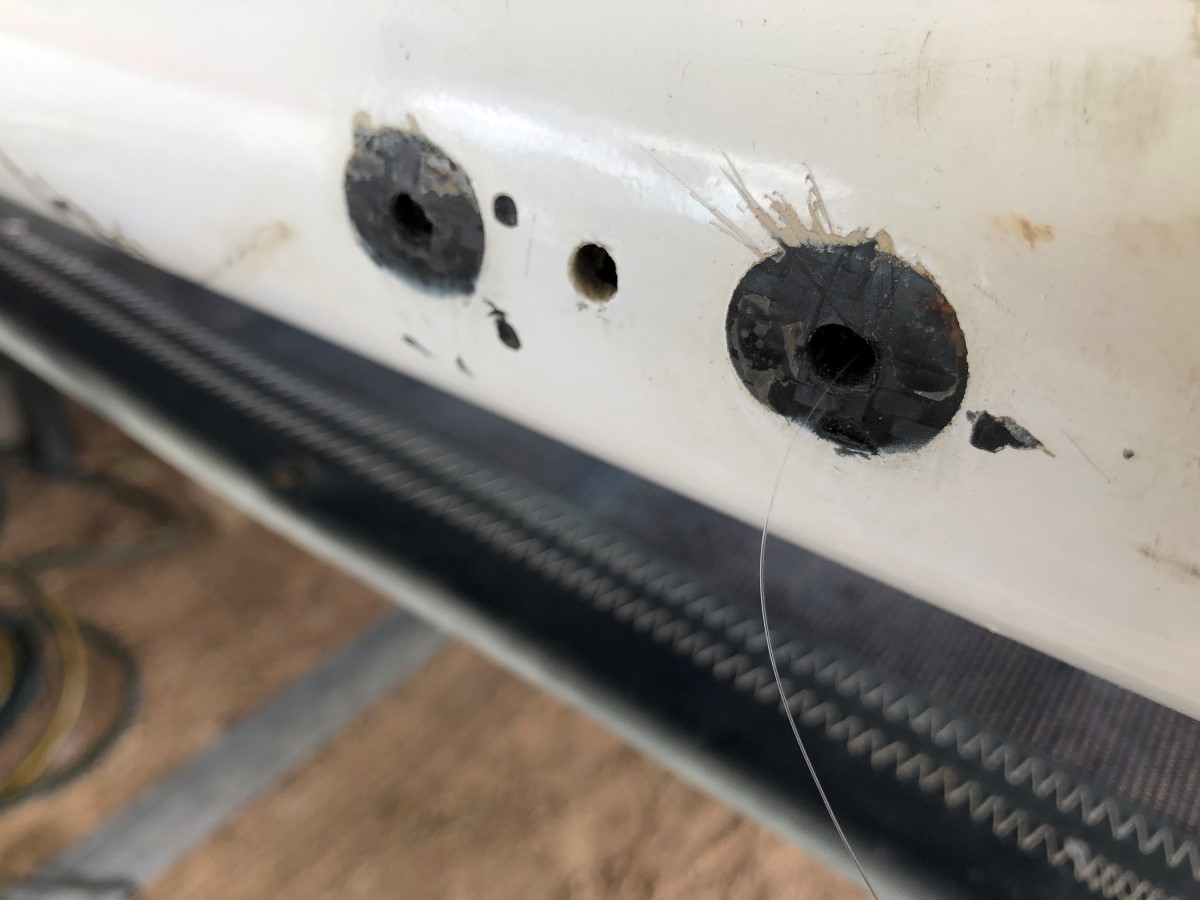 Sticky rod to pickup fishing line and pull out the side of the beam: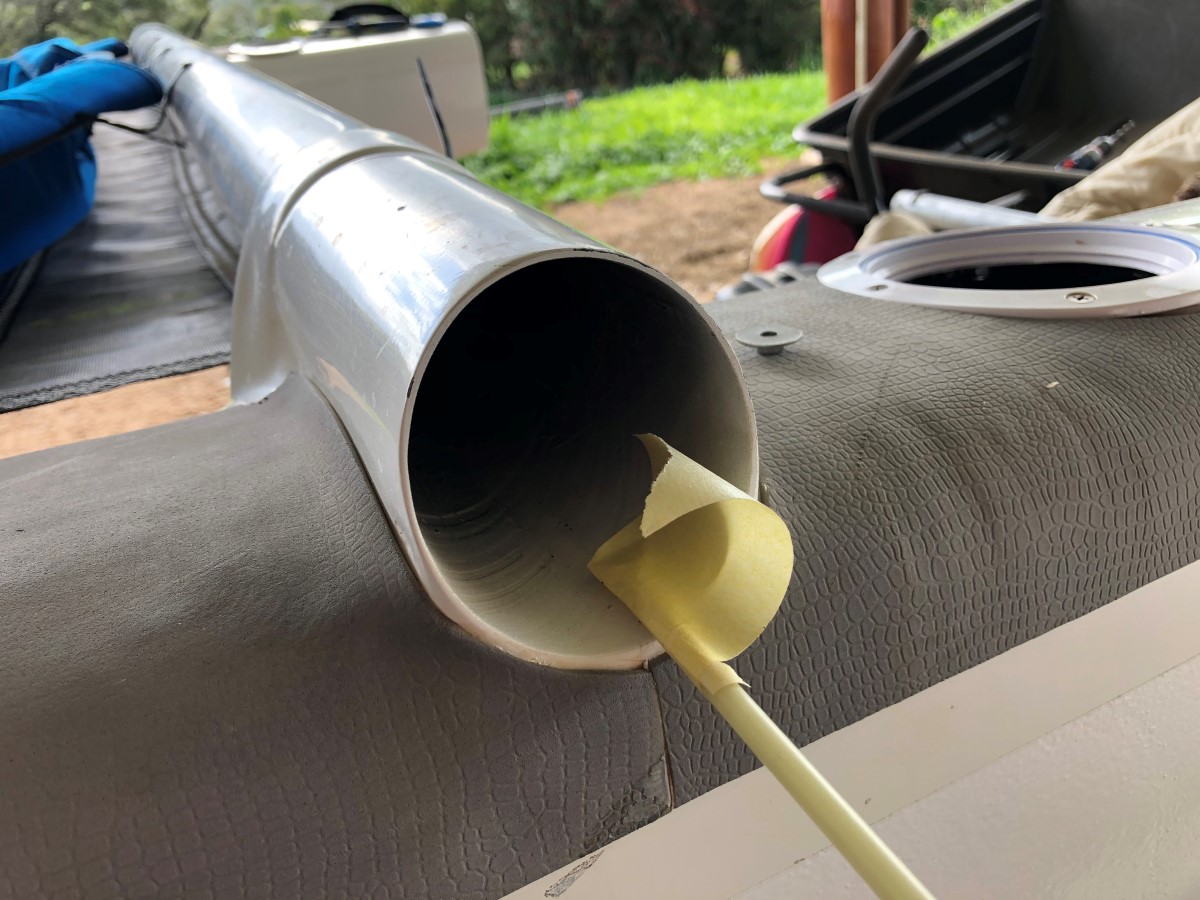 Epoxy glue nut to washer: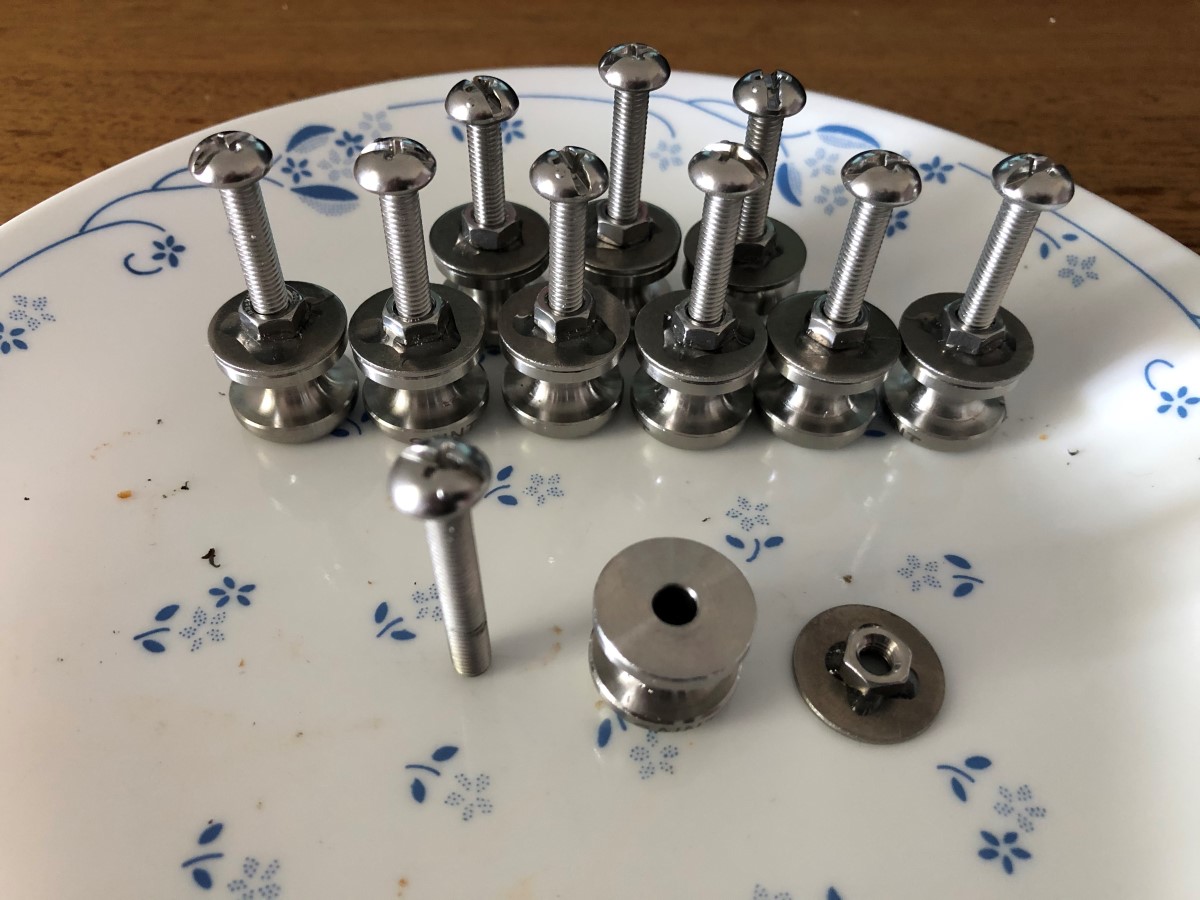 Feed through fishing line and crimp a lead pellet stopper on to fishing line.  apply epoxy glue to washer and pull fishing line from the other end all the way back through the inside of the beam to create a captive nut: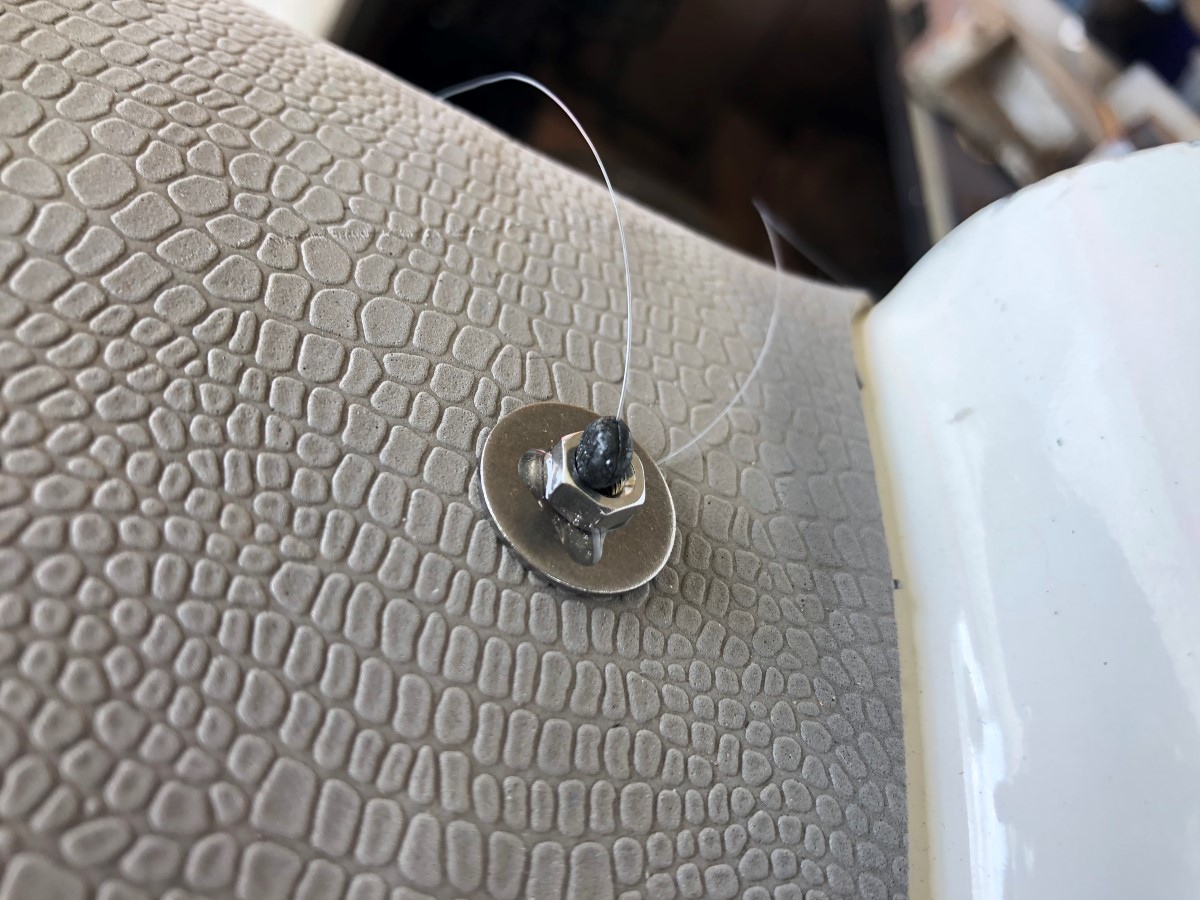 Trampolene lashing complete: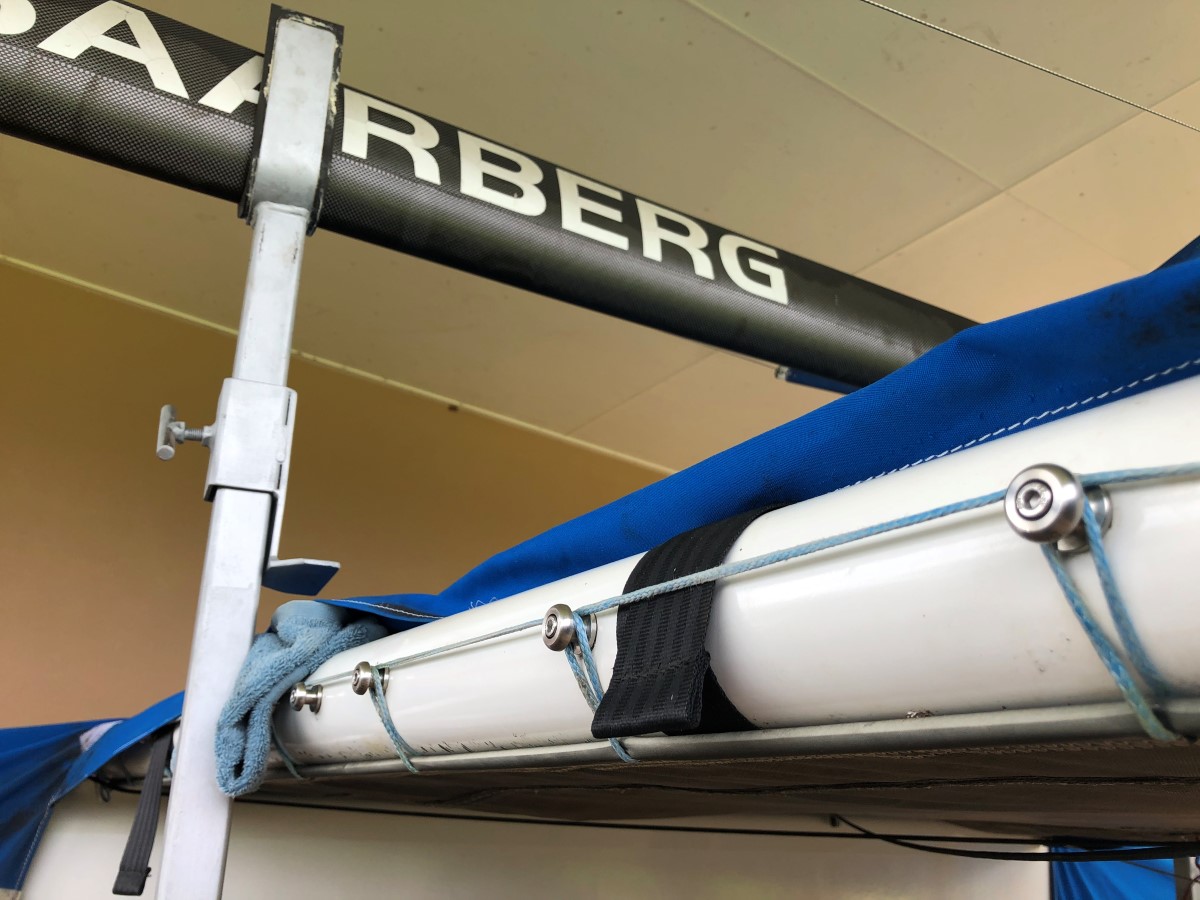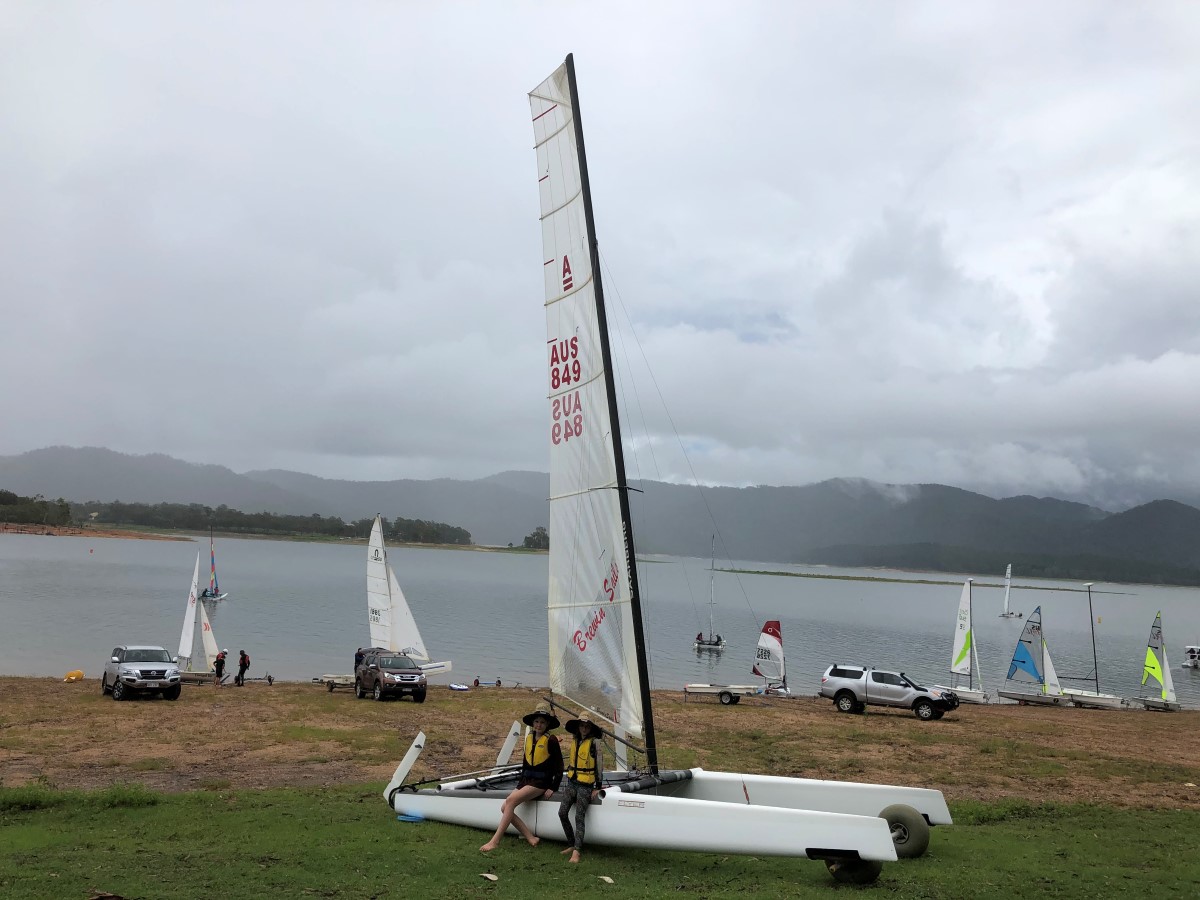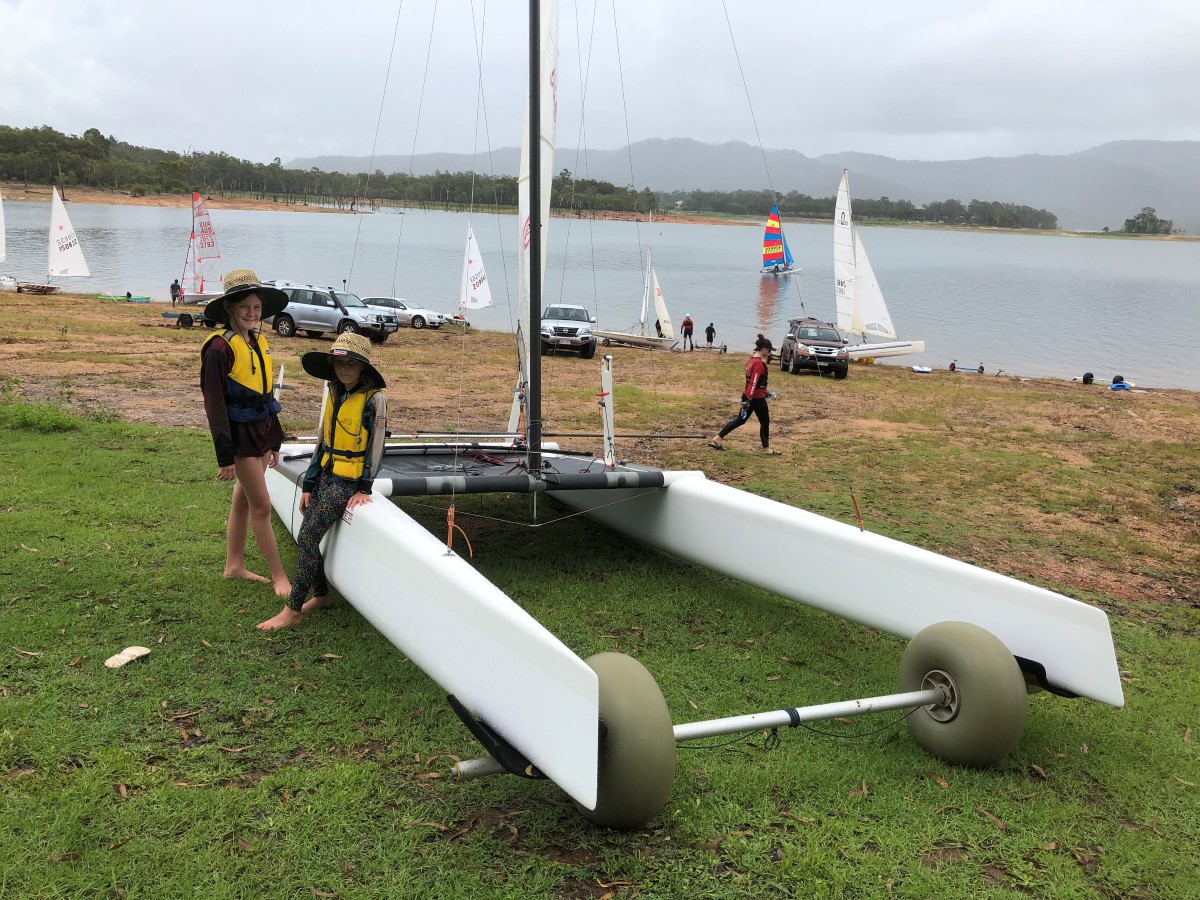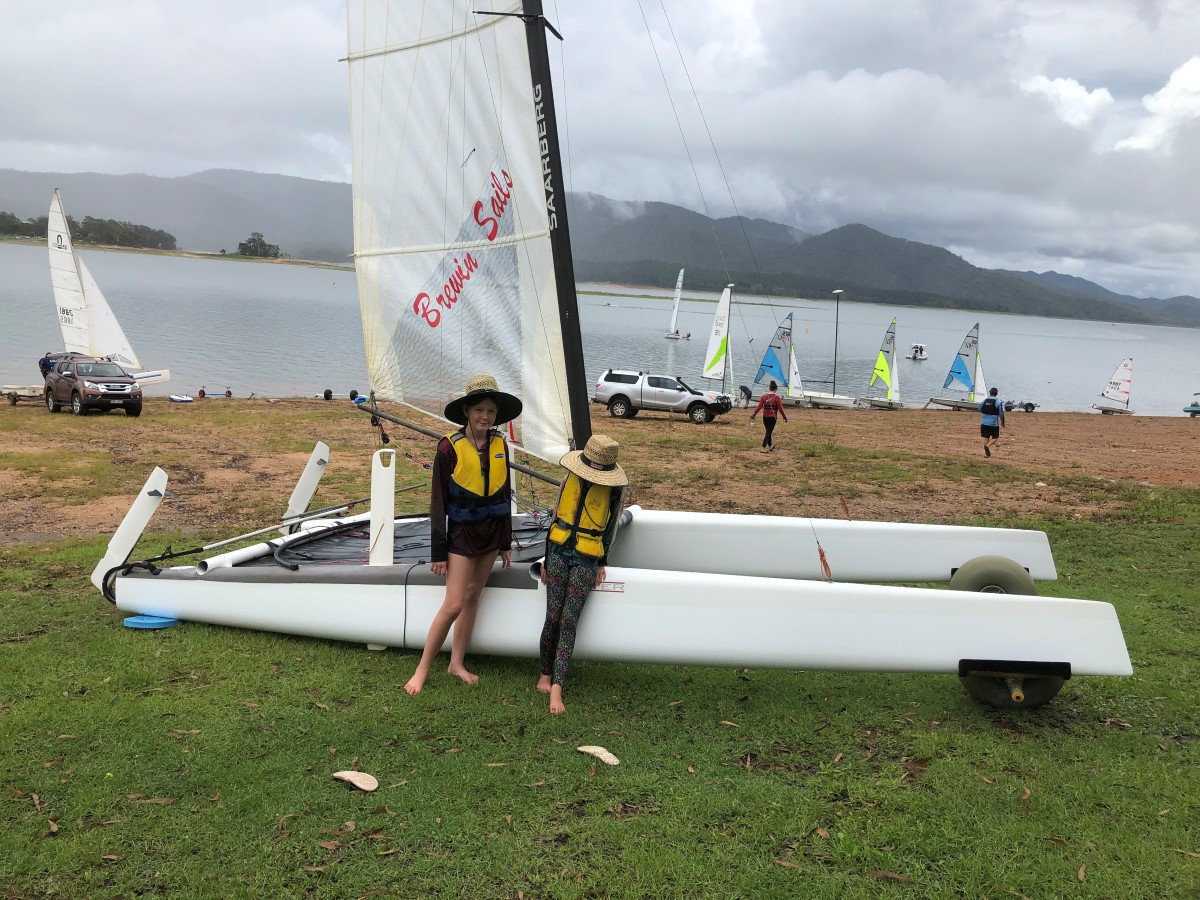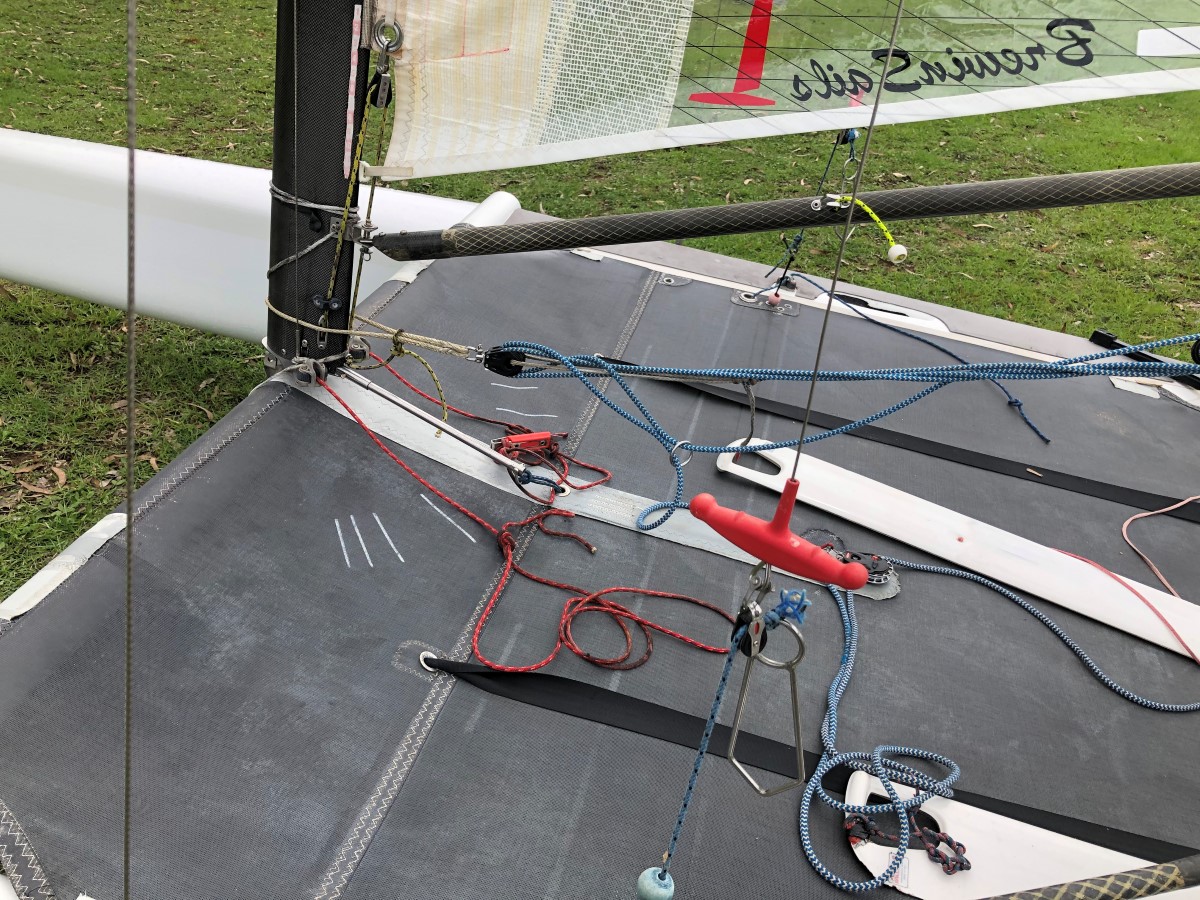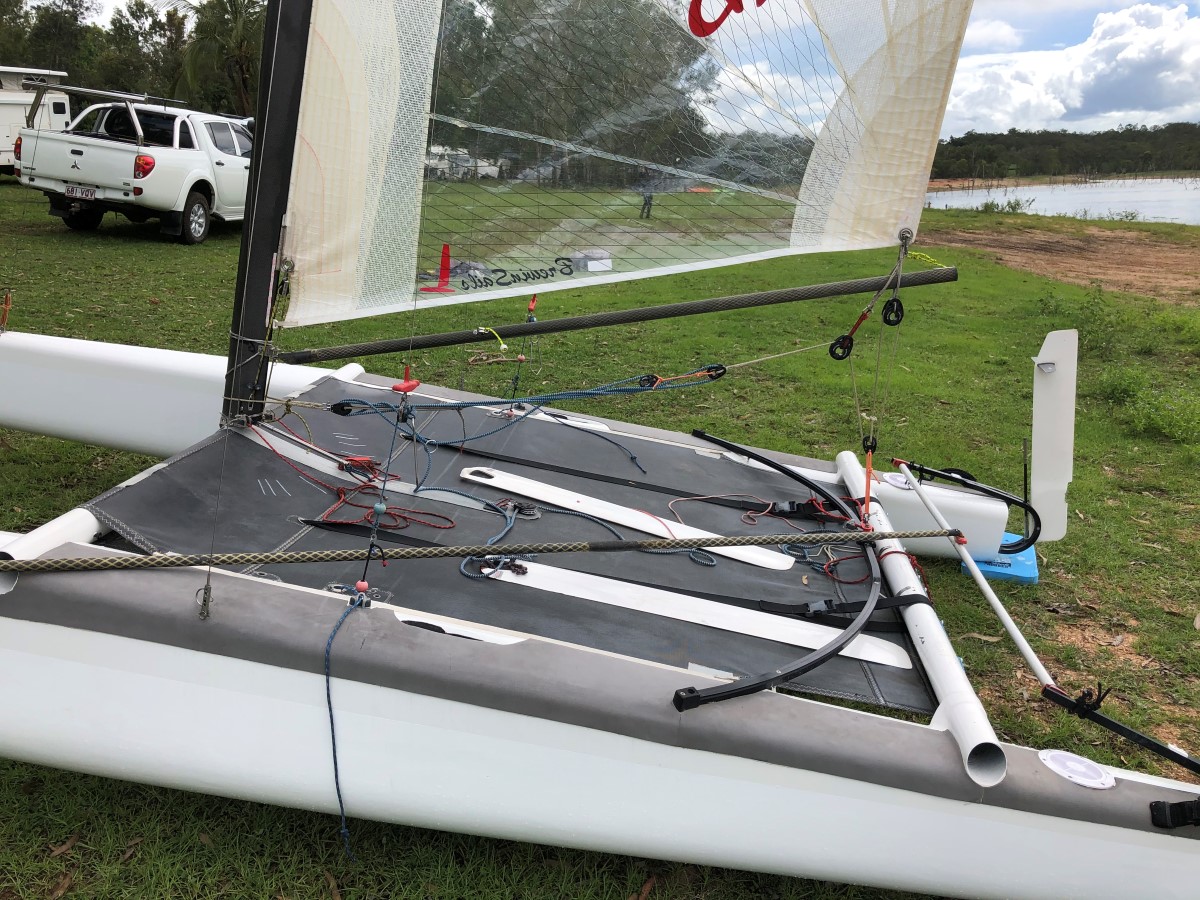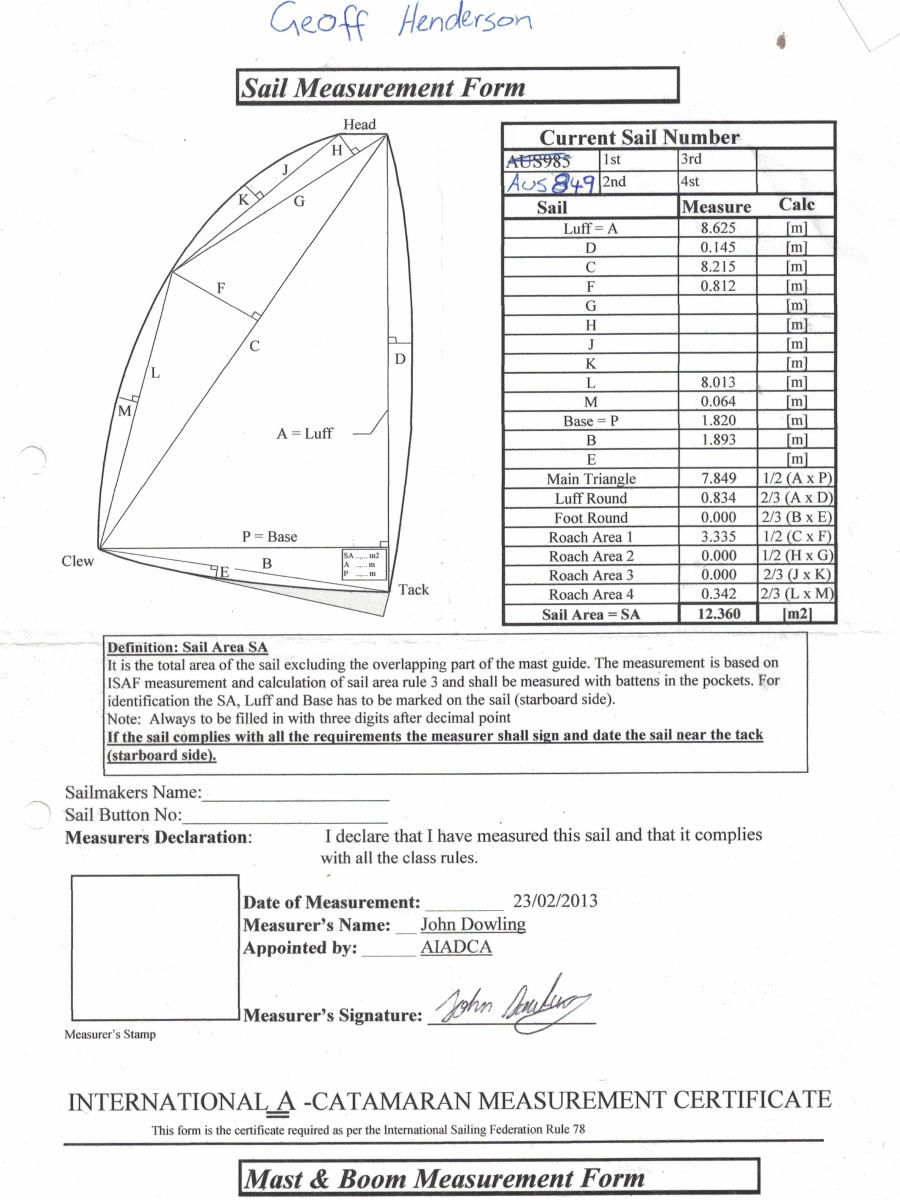 Notes
2004 German Aicher-Egner Flyer
Trailer rego: FB6556
Trailer VIN: 6FFRC181092000326
1992 REDCO ATM UP TO 1.02T BOAT TRAILER, TARE 100, ATM 750, CLASS 25
Hulls: 5.4m length
Maximum boat speed: 14 knots.
No more than 200 nautical miles
Sail number: AUS849
Australia Sailing (AS) number: 618812
4m 4m 4m = 12m 5 wire
trailer plug
brown -> 2x tail lights
yellow -> 1x left turn
white -> 2x ground
green -> 1x right turn
red -> 2x brake
Rim: Velox 3.50B x 10 cast aluminium
Tyre: Duro HF249 5.0-10c Tubeless Trailer -> change to 145/10 or 150/10 mini radials
roller pin 240x16mm
assortment cotter pins
lacing buttons / tonneau hooks
dyneema blue 2 meter
Nairn Inspection Port – Polypropylene ABS white
Outside Diameter(145 mm): Inside Diameter(102 mm): Cut out (112 mm): Mount Screws(mm): 6 countersunk
Moulded nylon construction with screw in centres
Weatherproofing 'O' ring seal and wide caulking flange
EVA foam 60-75 kg/m3 blue 10mmx330mmx300mm for cradle and front beam support.
Clark Rubber has 25mm+ thick EVA foam in fitness and learn-to-swim isles.
40mm od round tube 3mm wall + jockey wheel clamp for height adjustable cradle support post.
Bostik AVS AV515 moisture curing polyurethane adhesive for gluing EVA foam
angle grinder flapper disk
angle grinder wire wheel
+1 drill brush hard plastic (drill is more versatile than angle grinder; removes grime from cold galv steel without damaging coating).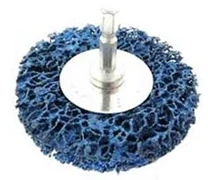 Goal
The inital goal was to sand off the blotchy faded in places blue topcoat to expose -what I thought was- white gelcoat and buff it.
Sanding
[!] Gelcoat or paint won't cover up any problems under it only highlight them. Prep is the whole / total key to a nice looking paint job.
Makita 9924DB 76mm corded belt sander 120grit belts.  Wet sanding to reduce dust.  Unclog belt with garden hose.  Alternate five belts to allow belts to cool down and dry to prevent the backing from leaving black streaks.
AEG 300W corded random orbital sander 80 grit (yes, that is what worked best for me somehow and was not too aggressive) for curved bottom of hull.  decided not to flip the boat over.  lastly a light sand with 120 grit for pre-paint finish.
Mistake #1
You can't sand off blue top coat to expose white gelcoat and then wet sand and buff it.  You will likely end up with what you see in pictures.  The correct solution would have been to roughen blue paint and add another dark blue color polyurethane top coat.  Or if you want white, very carefully (= orbital sander exclusively) only sand off the dark blue color and repaint with white polyurethane.  This is however near impossible and will take days of sanding with fine grit paper.  It is very difficult not to end up with a patchy result where the fabric weave is exposed (very bad) in places.
Boat hull layers
You start with a mold.  Then PVA mold release spray or wax.   Then a single thick layer of gelcoat that cures to tacky consistency,  Then you lay up your fibreglass or carbon fibre weave using a vinylester / polyester resin.  This will seal the tacky gelcoat, infuse the fabric weave and make it cure airtight and non-porous.
So you end up with a mix of:
Fabric weave (fiberglass or carbon fibre)
Vinylester / polyester resin.
Polyester Gelcoat
Instead of a thick layer of white gelcoat you can use clear gelcoat (or just resin) for that nice carbon fibre fabric look.  Or you can just paint your resin fabric weave.  Paint is typically used for non-mold applications.  Paint coats are thinner so less weight, don't yellow in UV, are harder, may be suitable for below the waterline (water osmosis) but are more easily scratched and scuffed and more difficult to touch up than gelcoat.
Epoxy "high build" primer
Epoxy "sealer" primer
Polyurethane top coat
The layers I can see in the pictures:
BLACK – resin infused carbon fibre
CREAM WHITE – most likely gelcoat if vinylester / polyester resin was used on carbon weave.
SALMON – bondo filler on repair jobs.
GREY – epoxy primer
WHITE – polyurethane top coat.
BLUE – original owner mentioned this was a special low friction paint, likely a polyurethane topcoat.
Carbon fibre
You aren't painting carbon fibre, you are just overcoating the resin that was used to infuse the fabric weave. Of course if you sand down to the fabric weave itself, which is to be avoided, then there is some exposed carbon fibres. Exposed carbon (graphite) fibre weave that has no resin on it is kind of slippery and does not stick well to epoxy primers.  It should stick to gelcoat:
Gelcoat
Your typical polyester gelcoat will only adhere to fiberglass / carbon fibre, previously cured gelcoat, or polyester resin.

Never use sandpaper any coarser than 320 grit to sand finishing materials between coats.
Never wet-sand any topcoat with less than 1200 grit wet/dry paper (really?)
Do not use any stripper containing methylene chloride (aka methylene dichloride or dichloromethane). It will attack gelcoat severely.
Gelcoat is a liquid that hardens to form a thick layer that is used to protect fiberglass and give it a shiny, smooth finish. As gelcoat ages, it becomes porous. The more porous it becomes, the more easily it stains, the worse it looks and the harder it is to clean.  Wet sand with soapy water to lift the dirt.
don't use:
brake fluid
paint stripper
scouring pad
steam cleaner (boiling steam bubbles gelcoat)
heat gun (can blister and discolour exposed gelcoat)
orange/citrus stripper (leaves orange peel film)
soda blasting (leaves 60 grit finish).
dustless blasting (fine 40-70 recycled glass; leaves 100 grit finish)
pressure washer with paint stripper nozzle (damages gelcoat)
do use:
belt / random orbital sander and elbow grease.
if the gel coat is sanded through and the strands of the fabric show, this needs to be sealed with resin or body filler. Repairs such as these should always be sanded and blocked smooth before laying down your first coat of primer.
Paint over gelcoat:
epoxy primer
polyurethane top coat
Gelcoat over Epoxy primer or Epoxy resin:
You should use a vinylester or polyester resin in your fabric weave if you want to bond with polyester gelcoat.  Can you use a gelcoat on an epoxy resin or epoxy primer ?  Yes, but you shouldn't.
https://www.epoxyworks.com/index.php/applying-polyester-gelcoat-over-epoxy/
you need to take extreme care about surface preparation.  water and dishwashing soap + scotchbrite to remove amine blush, dirt and grease  (no pressure clean) >  let completely dry [!] > acetone paper towel multiple passes
you are better off applying a 'below the waterline' suitable polyurethane topcoat over epoxy primer.
Gelcoat over gelcoat / gelcoat repairs:
Gelcoat is much thicker than paint, which is great for areas prone to scuffs and scratches.
Simply wet sand, buff out and scratches disappear.
Gelcoat fades in sun. Mostly noticeable when you spray fresh gelcoat.
Gelcoat is perfect for small repairs. You can dab it in with a brush or stick.
Gelcoat is used as the first layer in a waxed polished hull mould and built up with fiberglass or carbon fiber.  When the mould is 'popped' the gelcoat comes out polished shiny.
Gelcoat is really formulated for application to a contact moulding surface, not spraying.
When you (re)-apply gelcoat to a boat hull, it will cure with an orange peel skin and is not smooth.  you will need to:
wear gloves, suit, respirator
apply gelcoat (brush, roller or spray)
(sand with 180 – vacuum, random orbital sander)
wet sand with 320 – use soapy water spray bottle or garden hose nozzle.  no bucket.
wet sand with 500
wet sand with 800
polish with Strata cutting creme
Curing gelcoat:
Gelcoat is not a paint.  It is a polyester resin that uses Methyl Ethyl Ketone (MEK-p) catalyst to cure (1.5-2%)
The first layers remain tacky if exposed to open air and can be applied 20 minutes apart.
The final layer requires either PVA sealant spray, gelcoat with wax added that sits on the surface or clingfilm / mylar overhead projector sheets to form an airtight seal to aid in the curing process.
Buy gelcoat without wax so you can laminate multiple layers (tacky) and seal with PVA mold release spray for airtight curing of the final layer.
How to gelcoat:
Test the procedure on a test piece.
To get the gelcoat out of a 4L tin into a 100ml mixing cup, hold the mixing cup above the 4L tin and use a stirring stick to drizzle gelcoat into the container like you do honey in a cup of tea.  This keeps the 4L tin edge clean.  Put a bit of masking tape high up on the side and over the edge of the mixing cup, so any drizzled uncatalyzed gelcoat near the rim of the mixing cup can be removed easily.  Remember: any uncatalyzed gelcoat that has not come into contact with MEKp hardener will not set.  You want all gelcoat at the bottom of the mixing cup only.
Large areas need to be sprayed with a HVLP gun and large powerful air compressor.
Lay up multiple thin coats in short succession.  Don't apply a thick coat in one go.
If you brush, get brushable gelcoat and apply criss-cross strokes and blow air over it to flash off.
Clean with acetone. All surfaces must be clean, dry and free from grease, wax, oil, and other foreign matter.
Always mix in small batches. Generally mix one-pint batches. 100ml – 250ml with 1.5% mekp (syringe)
Buy your gelcoat from a quality composites shop and check the manufacturing date/time.
Thinning gelcoat
Don't even think about spraying it without styrene but no more than 10%.

Do not use acetone.

Do not use Duratec below water line.

You can add 10% styrene monomer (not to be confused with styrene wax) to thin gelcoat, but it is known to cause gelcoat to yellow if you go 10%-20%.  it can introduce other chemical problems like peeling from surface, shrinkage, bonding, not curing.

Alternatively you can add 5% – 10% MEK (not MEKp) to thin gelcoat.
https://blog-fgci.com/2017/09/05/how-to-apply-gelcoat-the-end-all-guide
https://www.boatus.com/magazine/2018/august/topside-gelcoat-repair.asp
Use a gelcoat cup gun to spray gelcoat.  Alternatively use a High Volume Low Pressure HVLP spray gun.
new ones come coated with oil; thoroughly clean before first use.
fan fully open, paint trigger fully open, air intake fully open.
use a pressure regulator at the gun set to 2 bar / 29psi.
will spray at around 10-12 psi at the nozzle, but still usually require 30 psi at the gun itself.
needs a serious air compressor:

1.5 Hp. single head, 20 gallon (= 75 liters), 45 psi compressor for repair work. Can barely spray continuously a 10 square foot (= 1 mtr2) panel even when the gel coat is thinned.
5 Hp two head, 100 gallon (375 liters), 90 psi compressor that can spray gel coat on 20-25 footer boat.
size tank determines how often compressor kicks in.  psi rating determines how quick the tank re-fills.
spraying with HVLP gun will put a lot of stuff in the air quick in an enclosed space.
gelcoat white
MEK-p (1% – 1.5%)
MEK or styene to thin gelcoat (8%)
2.5mm nozzle High Volume Low Pressure (HVLP) gravity fed (= reservoir sits on top) spray gun with pressure pressure gauge / regulator at the gun (2 bar / 30 psi).
large tank high pressure aircompressor
measuring cup
syringe
acetone
disposable gloves
solvent resistant paintbrush
pva mold release
glasses, suit, gloves, respirator
7-10 minutes working time
Failed attempt #1
Foam brush application of gelcoat with Mylar sheets
I used mylar A4 overhead projector sheets and foam brushes to apply polyester gelcoat.
100ml gelcoat = 122 grams = 1.5ml MEKp
Pros
Gelcoat finish as a result of mylar sheets is perfect, similar to a mold finish.
Mylar sheets would work perfect on flat surface small repair jobs.
Every batch hardened perfectly.
Cons
black carbon fibre patches would be visible through the white gelcoat when gelcoat is applied at the correct thickness.
Mylar does not wrinkle but ripples as a result of curvature and use of squeegee.
No 100% airtight seal around mylar sheet perimeter, even when covering the perimeter with masking tape: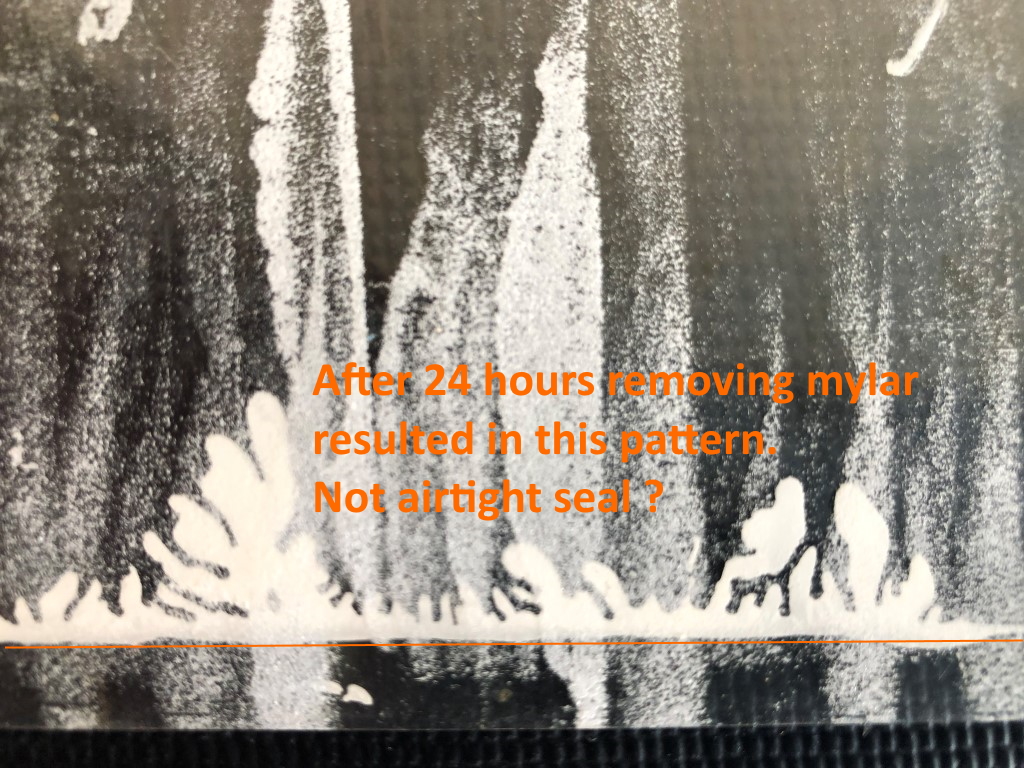 (Ignore the black suitcase background in these pictures; this is just about the used Mylar sheet only.)
I started pushing the gelcoat out from underneath the mylar sheet to compensate, which worked better but resulted in small flakes lifting from the final smooth surface when I tried to sand it down.
Foam brushes dissolve in acetone.  One-time use only.
100ml batches = lot of batches =  lot of time.
one batch covers 2 A4 size mylar sheets but is still very thick and does not flash off compared to spraying multiple tacky layers.
brush on first coat  + blow air to flash off + 3 coats criss-crossed + remove tape + place mylar sheet + squeegee air out from center to over the edges = not much time.
this is not a hole repair; gelcoat was way too thick.
1 single coat + mylar = no brush strokes anyway + more working time + thinner layer.
A 1.5% MEKp batch had hardened whilst I was still using a squeegee.  Ended up with 'tripe', a crackle pattern typically caused by undercured gelcoat.

A next 1% MEKp batch resulted in not hardening for 20 minutes instead of 10.  Mixture remained thin and the mylar sheet came off the surface frequently resulting in 'ant farm trail' small patches of crenulations / air pockets in the gelcoat.  Continued use of squeegee resulted in mylar sheet sticking but an uneven coverage of gelcoat.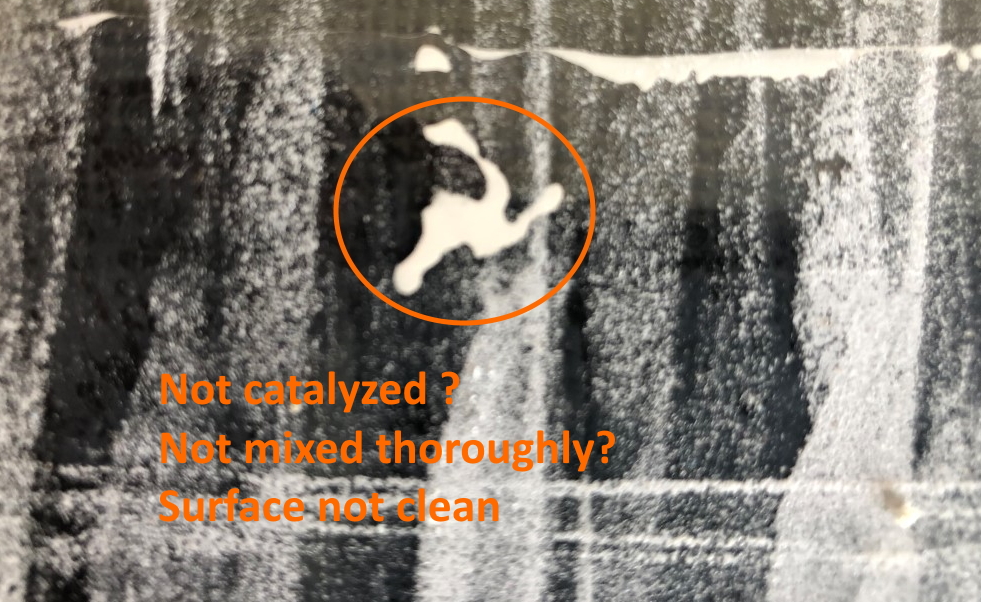 This 1% MEKp batch also showed gelcoat did not bond to blue paint and exposed carbon fibre (resin), most likely as a result of high humidity, low temperature, low catalyst amount or poor surface prep.  Mylar sheet was simply ripped off at 11:30am and surprisingly the bits sitting on exposed carbon fibre weave and blue paint had bonded poorly.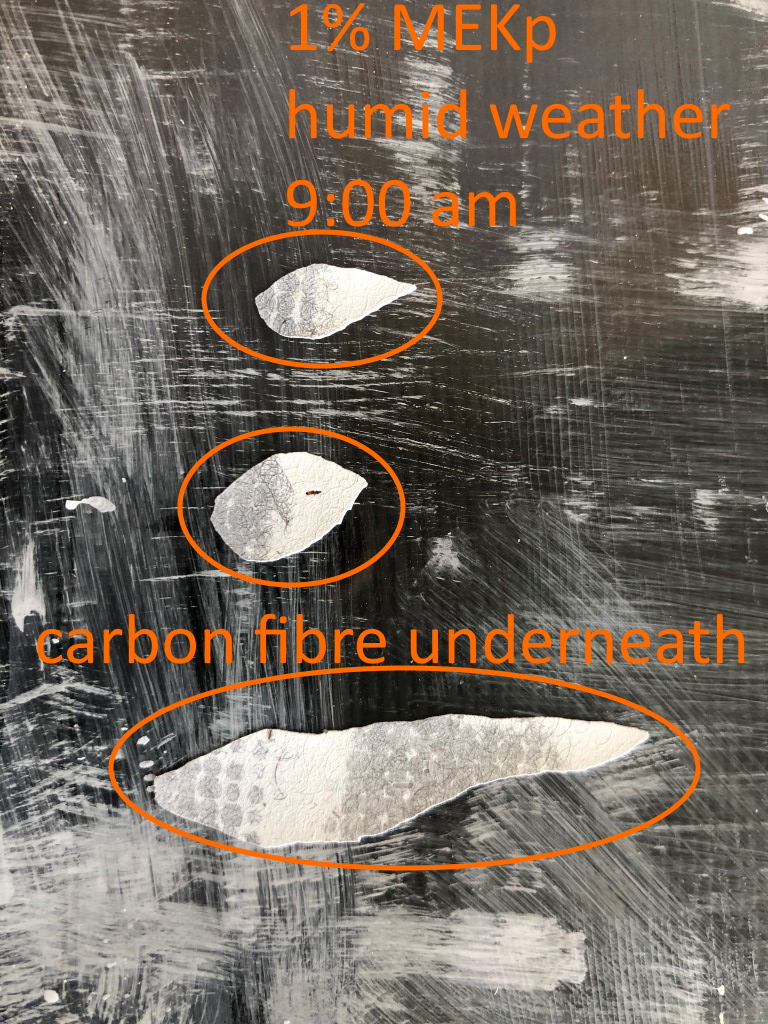 This would take way too long and not produce a good result.
Squeegee does not provide uniform thickness.  Black carbon fibre was visible through gelcoat in places.
100ml gelcoat = 120 grams = needs 1.5ml MEKp catalist applied with a small syringe from drug store / pharmacist.  Wear gloves, safety glasses and non-breathing fabric long sleeves when going near MEKp.  A single drop in your eye can cause irreversible blindness in 10 seconds.
Left and right patch still covered in mylar sheet hence the gloss and yellow tint.
After sanding it actually looked good except for some small flakes coming of near edges of mylar or where there was a poor bond.
ATTEMPT #2
2 part epoxy primer with thinner and 2 part polyurethane topcoat with thinner, mohair roller application.
"Don't cling to a mistake just because you spent a lot of time making it".
A comforting thought: you can always just sand it off again.  Decided to remove it all and sand back to where I started from.
Alexseal Topcoat Reducer Brush R5015
Alexseal Topcoat Converter Brush C5012
Alexseal 501 Topcoat White T91xx
Alexseal rolling additive A5018 (you can see the air bubbles pop for a super smooth finish).
Can't source these materials locally unfortunately.  Specialty paint store had this instead: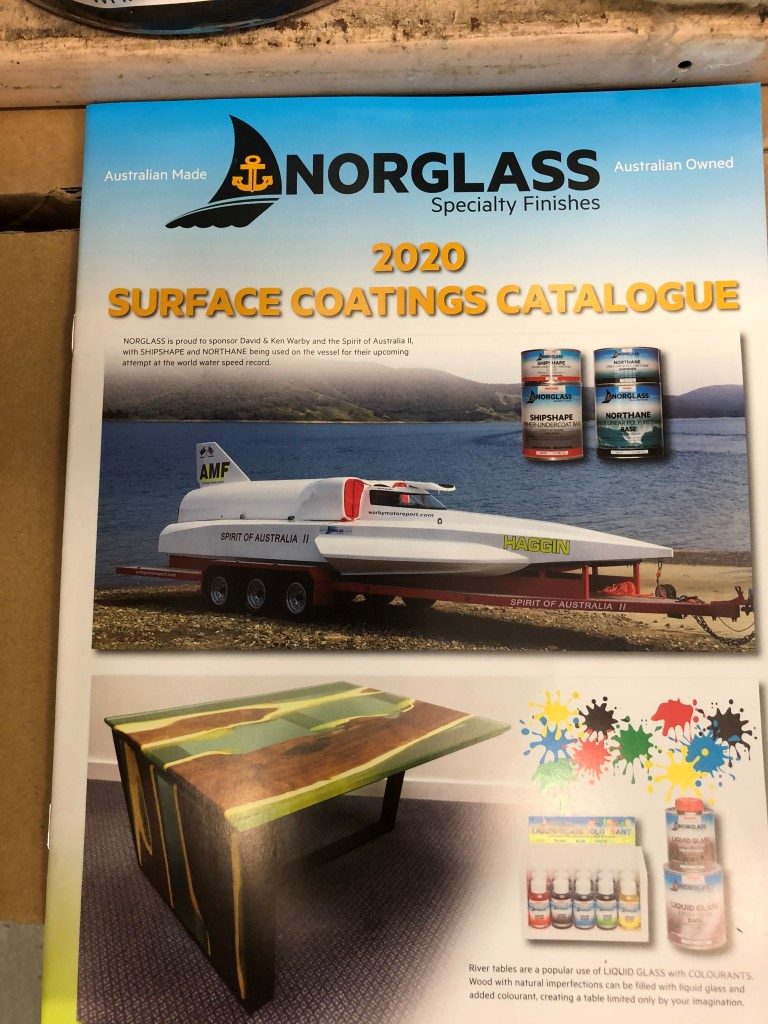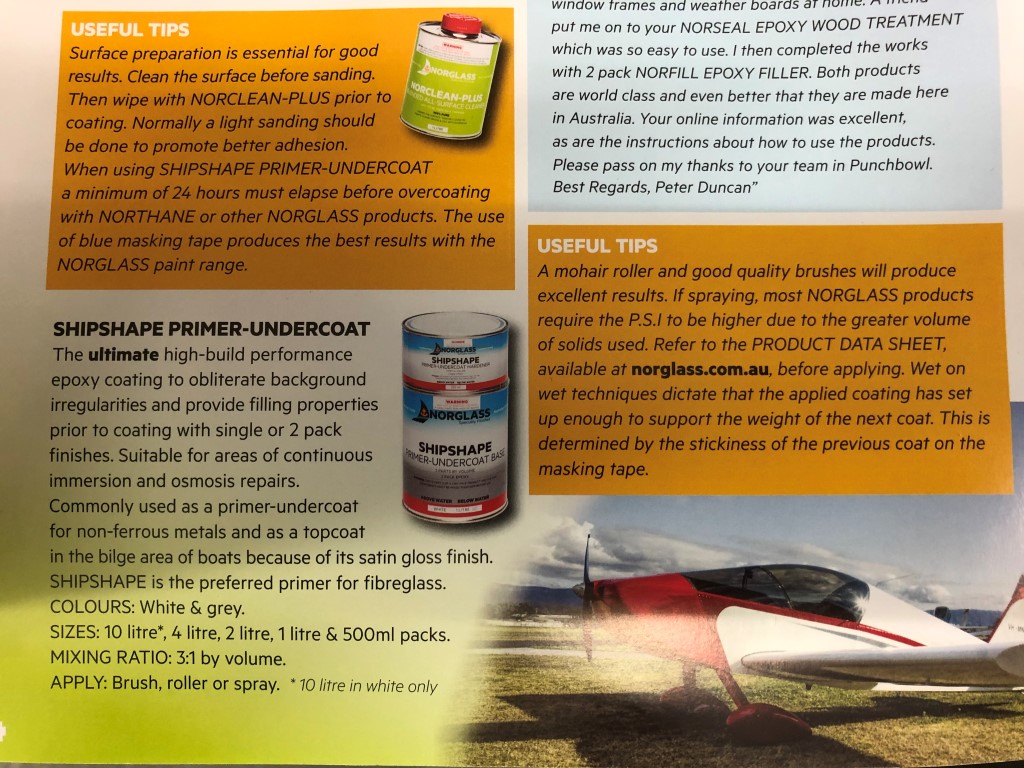 Best to buy from a shop rather than order online in case you need more.  This comes in 500ml, 1ltr and 4ltr tins that are in stock.  Thin 10% for roller application.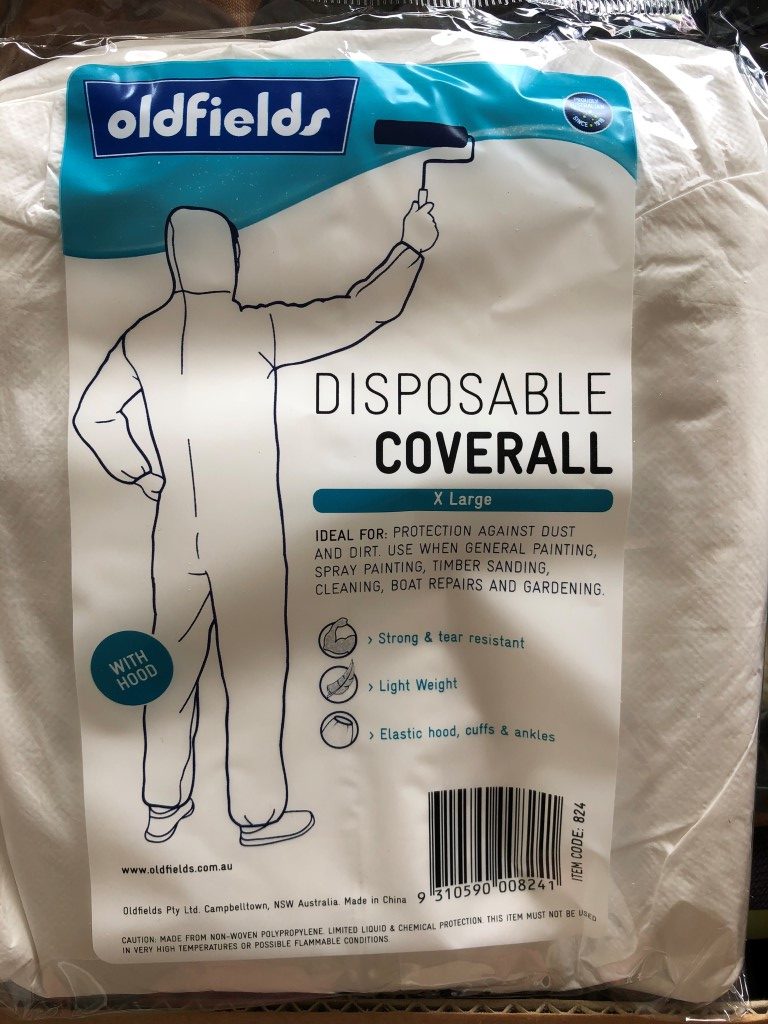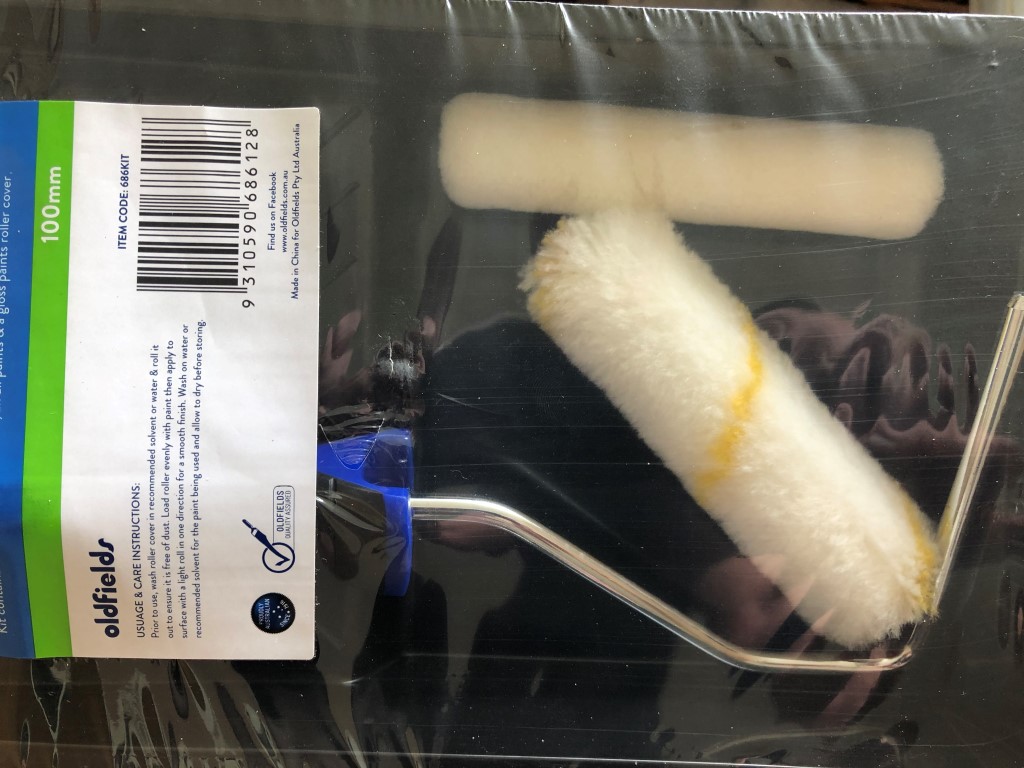 Do not use foam roller.  Do not use cloth roller.  Do not use microfibre roller.  Use mohair roller.  Wrap mohair roller in masking tape and unspool to remove lint.