Hallelujah – Leonard Cohen
Now, I've heard there was a secret chord
That David played, and it pleased the Lord
But you don't really care for music, do you?
It goes like this, the fourth, the fifth
The minor fall, the major lift
The baffled king composing hallelujah
Hallelujah
Hallelujah
Hallelujah
Hallelujah
Your faith was strong but you needed proof
You saw her bathing on the roof
Her beauty and the moonlight overthrew ya
She tied you to a kitchen chair
She broke your throne, and she cut your hair
And from your lips she drew the hallelujah
Hallelujah
Hallelujah
Hallelujah
Hallelujah
You say I took the name in vain
I don't even know the name
But if I did, well really, what's it to you?
There's a blaze of light in every word
It doesn't matter which you heard
The holy or the broken hallelujah
Hallelujah
Hallelujah
Hallelujah
Hallelujah
I did my best, it wasn't much
I couldn't feel, so I tried to touch
I've told the truth, I didn't come to fool you
And even though it all went wrong
I'll stand before the lord of song
With nothing on my tongue but hallelujah
Hallelujah
Hallelujah
Hallelujah
Hallelujah
Hallelujah
Hallelujah
Hallelujah
Hallelujah
Hallelujah
Hallelujah
Hallelujah
Hallelujah
Hallelujah
Hallelujah
Hallelujah
Hallelujah
Hallelujah
Hallelujah
---
First Book of Samuel
https://archive.org/details/firstbookofsamu00kirk/page/76/mode/2up
But the spirit of the Lord departed from Saul, and an evil spirit from the Lord troubled him. And Saul's servants said unto him. Behold now, an evil spirit from God troubleth thee.  Let our Lord now command thy servants which are before thee, to seek out a man, who is a cunning player on a harp: and it shall come to pass, when the evil spirit from God is upon thee, that he shall play with his hand, and thou shalt be well. And Saul said unto his servants, Provide me now a man that can play well, and bring him to me. Then answered one of the servants, and said. Behold, I have seen a son of Jesse the Beth-lehemite, that is cunning in playing, and a mighty valiant man, and a man of war, and prudent in matters, and a comely person, and the Lord is with him. Wherefore Saul sent messengers unto Jesse, and said. Send me David thy son, which is with the sheep. And Jesse took an ass laden with bread, and a bottle of wine, and a kid, and sent them by David his son unto Saul. And David came to Saul, and stood before him: and he loved him greatly; and he became his armour- bearer. And Saul sent to Jesse, saying, Let David, I pray thee, stand before me ; for he hath found favour in my sight. And it came to pass, when the evil spirit from God was upon Saul, that David took a harp, and played with his hand: so Saul was refreshed, and was well, and the evil spirit departed from him.
Second Book of Samuel
https://archive.org/details/secondbookofsamu1886kirk/page/120/mode/2up
Ch. XL I. The siege of Rahhah.
And it came to pass, after the year was expired, at the time when kings go forth to battle, that David sent Joab, and his servants with him, and all Israel ; and they destroyed the children of Ammon, and besieged Rabbah. But David tarried still at Jerusalem.
David's adultery with Bath-sheba.
And it came to pass in an eveningtide, that David arose from off his bed, and walked upon the roof of the king's house : and from the roof he saw a woman washing herself; and the woman was very beautiful to look upon. And David sent and inquired after the woman. And one said, Is not this Bath-sheba, the daughter of Eliam, the wife of Uriah the Hittite? And David sent messengers, and took her; and she came in unto him, and he lay with her; for she was purified from her uncleanness : and she returned unto her house. And the woman conceived, and sent and told David, and said, I am with child.
Uriah summoned to Jerusalem.
And David sent to Joab, saying: Send me Uriah the Hittite. And Joab sent Uriah to David. And when Uriah was come unto him, David demanded of him how Joab did, and how the people did, and how the war prospered. And David said to Uriah, Go down to thy house, and wash thy feet. And Uriah departed out of the king's house, and there followed him a mess of meat from the king. But Uriah slept at the door of the king's house with all the servants of his lord, and went not down to his house. And when they had told David, saying, Uriah went not down unto his house, David said unto Uriah, Camest thou not from thy journey? why then didst thou not go down unto thine house? And Uriah said unto David, The ark, and Israel, and Judah, abide in tents; and my lord Joab, and the servants of my lord, are encamped in the open fields ; shall I then go into mine house, to eat and to drink, and to lie with my wife? as thou livest, and as thy soul liveth, I will not do this thing. And David said to Uriah, Tarry here to day also, and tomorrow I will let thee depart. So Uriah abode in Jerusalem that day, and the morrow. And when David had called him, he did eat and drink before him ; and he made him drunk : and at even he went out to lie on his bed with the servants of his lord, but went not down to his house.
David's letter to Joah. Uriah's death.
And it came to pass in the morning, that David wrote a letter to Joab, and sent it by the hand of Uriah. And he wrote in the letter, saying, Set ye Uriah in the forefront of the hottest battle, and retire ye from him, that he may be smitten, and die. And it came to pass, when Joab observed the city, that he assigned Uriah unto a place where he knew that valiant men were. And the men of the city went out, and fought with Joab : and there fell some of the people of the servants of David ; and Uriah the Hittite died also.
News of Uriah's death carried to David.
Then Joab sent and told David all the things concerning the war; and charged the messenger, saying, When thou hast made an end of telling the matters of the war unto the king, and if so be that the king's wrath arise, and he say unto thee, Wherefore approached ye so nigh unto the city when ye did fight? knew ye not that they would shoot from the wall? Who smote Abimelech the son of Jerubbesheth ? did not a woman cast a piece of a millstone upon him from the wall, that he died in Thebez? why went ye nigh the wall? then say thou, Thy servant Uriah the Hittite is dead also. So the messenger went, and came and shewed David all that Joab had sent him for. And the messenger said unto David, Surely the men prevailed against us, and came out unto us into the field, and we were upon them even unto the entering of the gate. And the shooters shot from off the wall upon thy servants ; and some of the king's servants be dead, and thy servant Uriah the Hittite is dead also. Then David said unto the messenger. Thus shalt thou say unto Joab, Let not this thing displease thee, for the sword devoureth one as well as another : make thy battle more strong against the city, and overthrow it : and encourage thou him.
Bath'Sheba becomes David's wife.
And when the wife of Uriah heard that Uriah her husband was dead, she mourned for her husband. And when the mourning was past, David sent and fet her to his house, and she became his wife, and bare him a son. But the thing that David had done displeased the Lord.
Samson and Delilah
The Philistines amassed a great army and camped by the Judean town of Lehi, where Samson was hiding out. They sent a message to the Jews threatening them to either hand Samson over or be killed
When the frightened men of Judah related to Samson the Philistines' threat, he was unperturbed. At Samson's own suggestion, they bound him and brought him to the Philistine camp. The joyful Philistines rose to capture him, but at that moment he tore off the cords as though they were burnt flax. Grabbing the first thing he saw, a donkey's jawbone, he killed a thousand men.
After that spectacular victory, the Jews realized that Samson was chosen by God to lead them, and they appointed him as judge over them.
One day, the Philistine lords came to Delilah and offered her great wealth if she were to discover the secret to her husband's strength. If she would aid them in capturing him, they would reward her handsomely. Delilah agreed.  Every day, Delilah would torment her husband, trying to lure his secret from him. A few times, Samson gave her made up explanations, but Delilah was relentless.
"If you bind me with seven moist ropes, then my strength will dissipate," Samson told her. "If you bind me with new ropes that were never used, I will become like an ordinary man." "If you place my hair on a weaving rod, I will become weak." Each time, Delilah would try the methods on Samson while he slept. Each time, she would cry, "Samson, the Philistines are upon you!" and Samson would rise to his full might, completely unaffected by whatever she tried.
Tearfully, Delilah told him, "How can you say 'I love you,' while your heart is not with me? These three times you have mocked me, and you have not told me wherein is your strength so great."
Finally, Samson told her the secret of his strength. "A razor has never come upon my head, for I am a nazirite to God from my mother's womb. If I will be shaven, then my strength will leave me, and I shall become weak and be like any man."
This time, the treacherous Delilah knew that Samson was telling her the truth. She hastened to summon the Philistine lords to her house. When Samson was asleep, one of the men cut his locks off, and then Delilah cried: "Samson, the Philistines are upon you!"
Samson jumped up, prepared to defend himself. But the Divine strength he had possessed had departed from him, and the men who lay in wait easily overcame him. The heartless Philistines gouged out his eyes and led him to Gaza in chains.
The Talmud teaches that Samson was punished in his eyes because he looked at the Philistine women and desired them. Although God desired that he marry them, nevertheless, his personal motives were not entirely pure, as he also desired them for himself.
Secret Chord
The line 'the fourth, the fifth / the minor fall, the major lift' is in fact a description of the chord sequence taking place under those words. Here's the breakdown: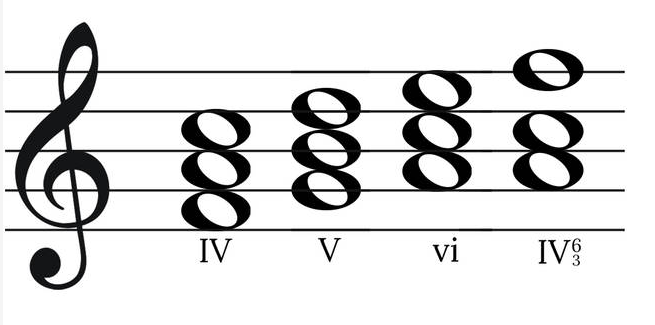 – 'The fourth': This phrase sits on the fourth chord of the scale, or sub-dominant chord (IV) of F major.
– 'The fifth': The melody moves up one note to the fifth chord of the scale, the dominant (V) of G major.
–'The minor fall': Again, the melody moves up one note here to the sixth chord, the submediant (vi) of A minor. The 'fall' in this phrase is referring to the minor, or 'fallen' third of the chord.
–'The major lift': This is a first inversion chord of the fourth, or sub-dominant (IV) of F major. The 'lift' refers to the chord changing from a minor to a major chord, and in the process 'lifting' the harmony. There is only one changing notes in this chord, it moves from A–C–E to A–C–F.
https://www.rollingstone.com/feature/how-leonard-cohens-hallelujah-brilliantly-mingled-sex-religion-194516/
Baffled King
Reverend Scott calls the choice of the word baffled to describe this David "an obvious understatement on Cohen's part. David is God's chosen one, the righteous king who would rule Israel as God's servant. The great King David becomes no more than a baffled king when he starts to live for himself.
"But even after the drama, the grasping, conniving, sinful King David is still Israel's greatest poet, warrior and hope," Scott continued. "There is so much brokenness in David's life, only God can redeem and reconcile this complicated personality. That is why the baffled and wounded David lifts up to God a painful hallelujah."
Kitchen chair
Following the David and Bathsheba reference, the sexuality of the lyrics is drawn further forward and then reinforced in an image of torture and lust taken from the story of Samson and Delilah – "She tied you to a kitchen chair / she broke your throne, she cut your hair" – before resolving with a vision of sexual release: "and from your lips she drew the Hallelujah!" Both biblical heroes are brought down to earth, and risk surrendering their authority, because of the allure of forbidden love. Even for larger-than-life figures and leaders of nations, the greatest physical pleasure can lead to disaster.
The power of David and the strength of Samson are cut away; the two are stripped of their facile certainties, and their promising lives topple into the dust.
Both repent and seek divine favor after their transgressions.
Hallelujah
You say I took the name in vain
I don't even know the name
But if I did, well really, what's it to you?
There's a blaze of light in every word
It doesn't matter which you heard
The holy or the broken hallelujah
Religious Hallelujah
Hallelujah means 'Praise ye Yahweh', frequently transliterated 'Praise ye the Lord,'
Hallelujah' is comprised of two Hebrew words, namely 'Halal' and 'Yahh'. 'Yahh' a shortened version of God's name – Yhwh.
While we do not know with all certainty exactly how Yhwh is properly pronounced; the most popular pronunciation is Yahweh and Jehovah.
Broken Hallelujah
"You shall not take the name of the Lord your God in vain, for the Lord will not hold him guiltless who takes His name in vain.(Exodus 20:7)
A Hallelujah is meant as a praise to God. Yet many Christians today use it as a generic term of praise. Often personal, in agreement with others, or as a mere exclamatory expression.
"The baffled king composing hallelujah" is where David selfishly plays the secret chord not to please the Lord, but Bath-sheba.  "And from your lips she drew the hallelujah" is a reference to sexual release.
These are vain or broken use of Hallelujah. This is not praise, endearment and entitlement to the Lord.  In a purely religious context these would be considered blasphemous.
Secular Hallelujah
'secular'.  meaning: not connected with religious or spiritual matters.
There's a blaze of light in every word; it doesn't matter which you heard, the holy, or the broken Hallelujah".  Hallelujah is about praise/worship, atonement, acceptance and hope.
"He's (Leonard Cohen) rescued the word hallelujah from being just a religious word," said the Right Reverend Nick Baines, Bishop of Croydon, in the BBC radio documentary. "We're broken human beings, all of us, so stop pretending, and we can all use the word hallelujah because what it comes from is being open and transparent before God and the world and saying, 'This is how it is, mate.' "
Conclusion
Leonard Cohen's 'Hallelujah' is about how even a vain / broken / secular Hallelujah can be as true as a holy / religious Hallelujah, if it is honest and pure.
I've told the truth, I didn't come to fool you
And even though it all went wrong
I'll stand before the lord of song
With nothing on my tongue but hallelujah
---
Come on – any musician knows what it's about:
* You play music which elevates your soul;
* You meet the girl of your dreams;
* She wants you to sell your gear and get a mortgage –
The rest is just decoration.