AS 3740 – Waterproofing of domestic wet areas
Australian Standards AS 3740 states that:
in the shower, the whole floor must be waterproof and the shower walls should be waterproofed up to 1800mm.
The walls need to be waterproofed up to 150mm.
If the bathroom floor is made of or contains wood or if the bathroom is on the second story or higher, the whole floor must be waterproofed.
Over the step down to the floor should be waterproofed to 100mm.
So what does this look like for a typical bathroom?
Bathroom shower base drain
A common misconception is that the wall / floor tiles and grout are waterproof.  This is not correct.  A separate waterproofing membrane underneath the tiles and grout is required.  A puddle flange is installed to prevent water from seeping in between the floor boards and the vertical PVC drain pipe.  It is important the puddle flange sits flush (not proud) with the floor surface so there is no lip.  Note the waterproof membrane sits on top of the puddle flange and extends all the way into the drain pipe past the PVC glue joint.
Bathroom shower base wall-to-floor joint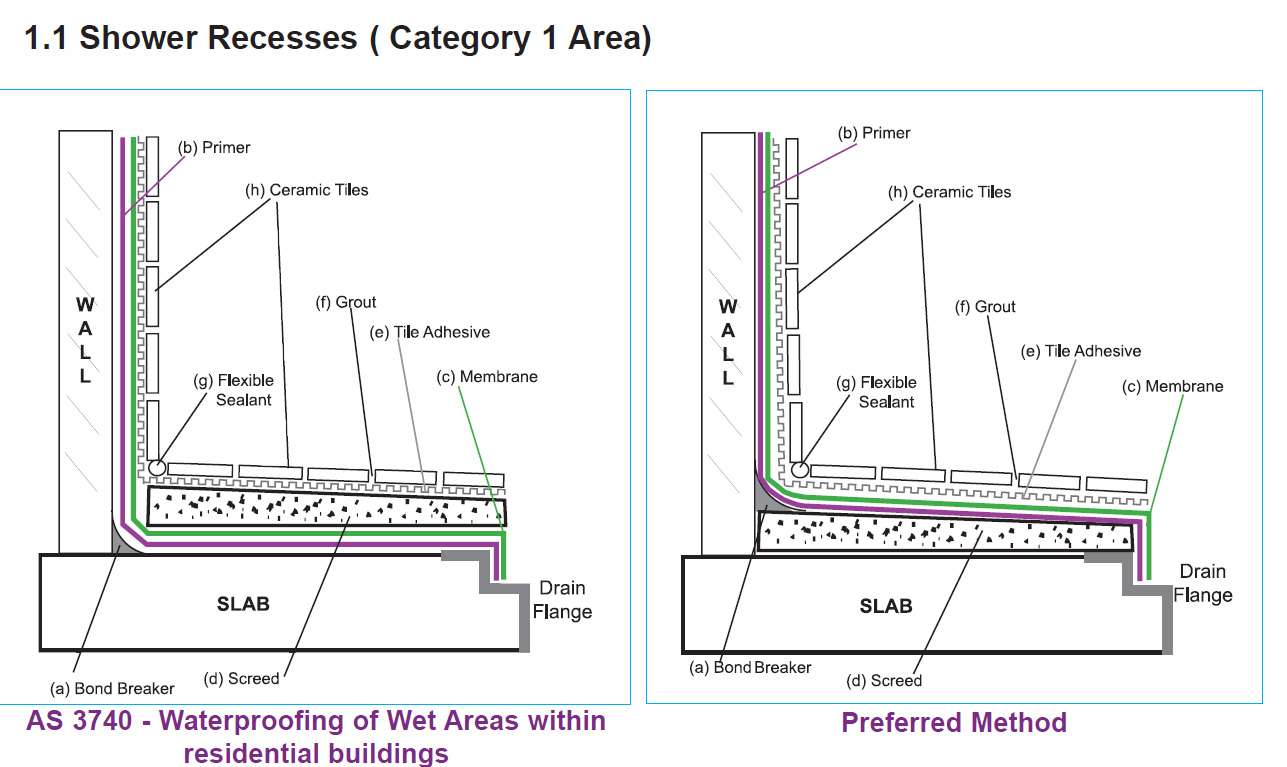 Screed above or below waterproofing?
Note the waterproofing membrane can be installed on top of the screed, below the screed or both.  This is a much discussed topic.  Waterproofing below and above the screed is the preferred solution/  Click picture to enlarge.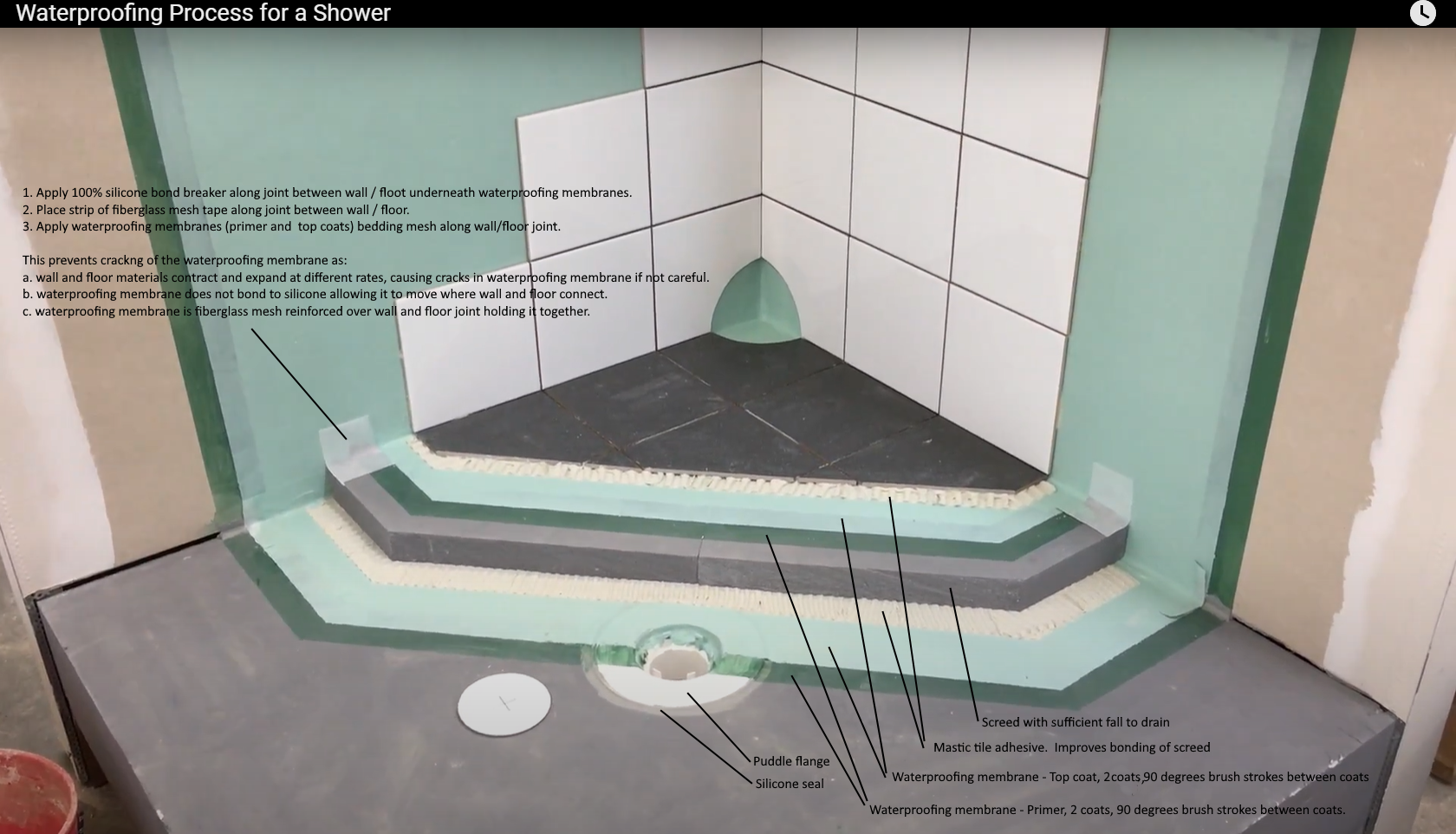 Recommended minimum fall is 1:80, or 12.5mm over 1 metre.  A pingpong ball should roll towards the drain.
What you should look out for is the waterproofing membrane should be tested by CSIRO (or similar) to be AS4858 compliant. A class III waterproofing membrane (over 300% elasticity) is recommended.
All surfaces receiving a waterproofing membrane require a primer.
Bond breaker
Movement joints need a bond breaker applied – either silicone or butyl tape, before the class III waterproofing membrane is applied.
The principle of a bond-breaker system is to cater for building joint movement without breaching the waterproofing membrane. The objective is to maintain the waterproofing membrane system so that it remains an impervious barrier.
You can use 100% pure silicone or Gripset Elastoproof B10/B50 tape as bond breaker.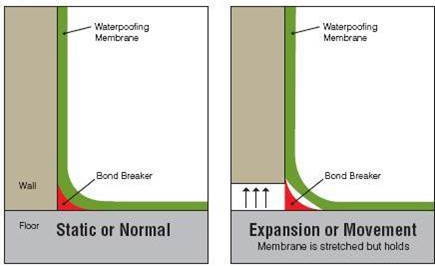 Products
PUDDLE FLANGE

100mm pvc waste pipe
100mm puddle flange with screw in funnel to 80mm pipe
80mm outlet + grate
DAVCO

Davco 1L PrimeX Surface Primer (Red)
Silicone bond breaker
Davco K10 waterproofing brush + roller coat #1
Davco K10 waterproofing brush + roller coat #2
https://www.bunnings.com.au/brands/d/davco
GRIPSET
Gripset GP Primer
Gripset 38FC (waterproofing membrane)
Gripset Elastoproof B10/B50 tape
Gripset Butyl Square (if needed for going over leak control flange interfaces)
Gripset Collars (for use around tap & shower head penetrations)
https://www.bunnings.com.au/brands/g/gripset-betta
Beaumont tiles carries full Gripset range.
DAVCO or GRIPSET?
Irrespective of what you choose, following the manufacturer's instructions is vital as often times people will use a good membrane but fail to adhere to the instructions on how to install it. The Gripset range incorporates a butyl rubber tape which is both a bond breaker and reinforcing system in one capable of absorbing a great deal of potential movement in areas prone to such.
Application
1. Finish Gyprock Aquachek plasterboard all the way down into shower base
2. Finish plasterboard in entire room ready for paint (Tape and mud plaster all panel seams and screws)
3. Install puddle flange flush with recessed shower base

note there is no preslope towards the puddle flange. this is not ideal but common and acceptable for monolithic concrete slab recesses.
4. protect puddle flange against moisture ingress, vibration and flexing:
https://gripset.com/products/elastoproof-butyl-square/
When complete you can now screed and then waterproof (or the other way around if so inclined) with waterproofing going all the way into the puddle flange.
Beware wall to floor joints (bondbreaker).
5. Screed


mix water + cement into slurry in bucket.  pour and broom sweep into shower base for slab adhesion to screed.
wheelbarrow 'packing mix' coarse river bed sand ('plaster sand') to cement ratio 6:1.
mix dry and add only enough water so it only just sticks into a ball when compressed in your hand.
rather than sticks cut at angle I would put 'training wheel' timber strips along outside perimeter and a pvc ring in center.
go clockwise or counterclockwise in a circle to level screed.
remove outer perimeter strips and fill in.
Screed needs to be fully cured before waterproofing on top.
Screeds take up to 1 day per 1mm of screed thickness to cure as per Australian Standards.
5. Primer
6. Bond breaker
All joints and corners (especially wall to floor) will need bond breaker and reinforcement
– Silicone or Gripset Elastoproof B10/B50 tape
– Gripset Collar for tap and shower head penetration
7. Waterproofing

wear gloves
brush all seams first
roller for large areas
apply coats in different orientation (left/right <> up/down) to properly seal very small holes.
can use different color for coat #1 and coat #2
coats need to cure for one day left undisturbed.
8. Bellessi polymer splashback
https://bellessi.com
Build log
We start with a concrete slab that has all the under slab plumbing put in.  We have a 40mm deep 1200 x 900 shower base recess with a 100mm ID PVC waste pipe (110mm OD).