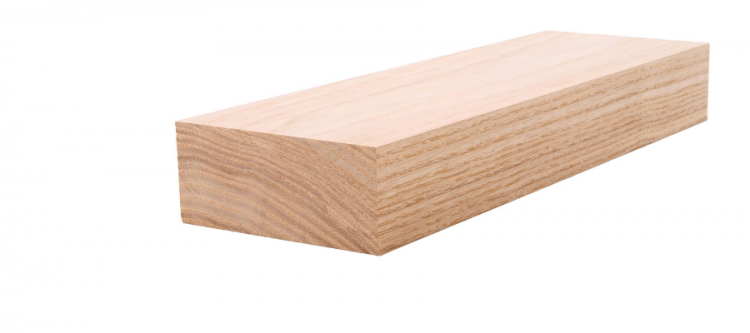 Imperial and metric
Common imperial sizes in mm:
1 inch = 25.4mm
1/2 inch = 12.5mm
1/4 inch = 6.35mm
1/8 inch = 3.17mm
Fasteners (bolts/nuts)
This table may be used to find the nearest matching bolt / nut sizes in either imperial or metric.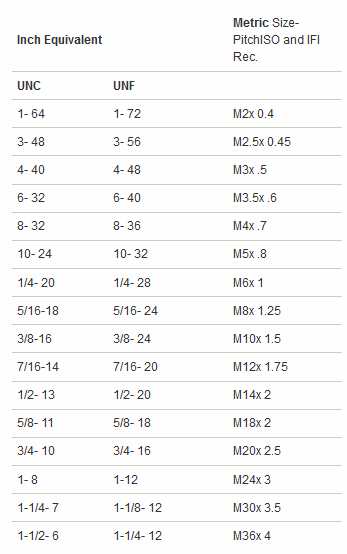 Sheet metal
https://en.wikipedia.org/wiki/Sheet_metal#Gauge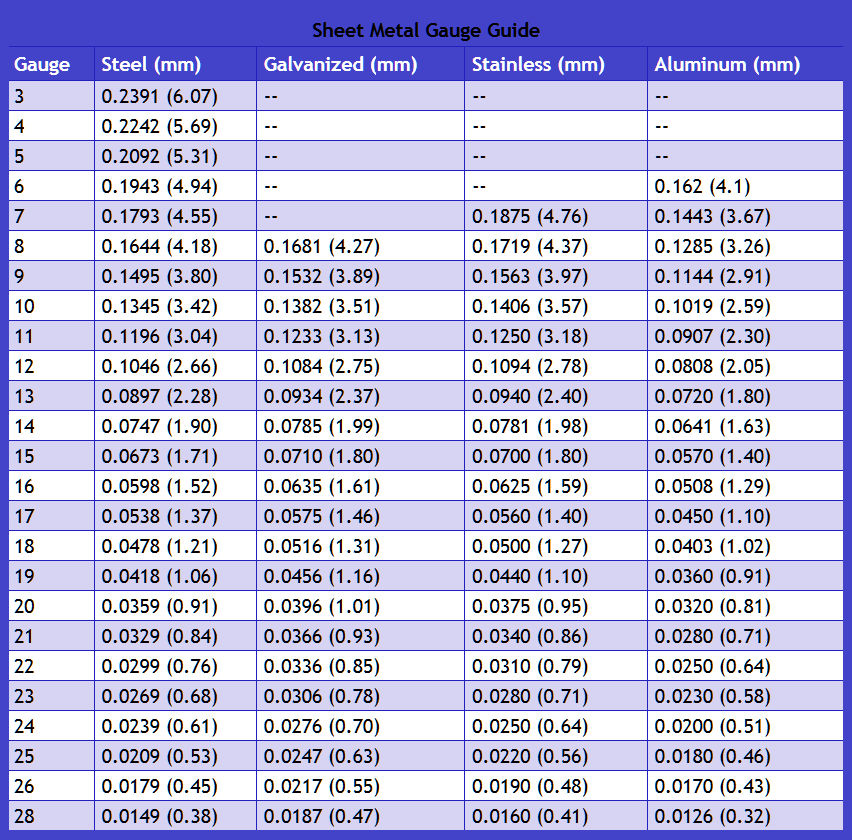 American Wire Gauge (AWG)
I'm not even going to attempt to explain:
https://en.wikipedia.org/wiki/American_wire_gauge#Tables_of_AWG_wire_sizes
Lumber sizes
2x4s are not actually 2 inches by 4 inches. When the board is first rough sawn from the log, it is a true 2×4, but the drying process and planing of the board reduce it to the finished 1.5×3.5 size. Here are the common sizes of lumber, and their actual sizes.
| Nominal | Actual | Actual – Metric |
| --- | --- | --- |
| 1″ x 2″ | 3/4″ x 1-1/2″ | 19 x 38 mm |
| 1″ x 3″ | 3/4″ x 2-1/2″ | 19 x 64 mm |
| 1″ x 4″ | 3/4″ x 3-1/2″ | 19 x 89 mm |
| 1″ x 5″ | 3/4″ x 4-1/2″ | 19 x 114 mm |
| 1″ x 6″ | 3/4″ x 5-1/2″ | 19 x 140 mm |
| 1″ x 7″ | 3/4″ x 6-1/4″ | 19 x 159 mm |
| 1″ x 8″ | 3/4″ x 7-1/4″ | 19 x 184 mm |
| 1″ x 10″ | 3/4″ x 9-1/4″ | 19 x 235 mm |
| 1″ x 12″ | 3/4″ x 11-1/4″ | 19 x 286 mm |
| 1-1/4″ x 4″ | 1″ x 3-1/2″ | 25 x 89 mm |
| 1-1/4″ x 6″ | 1″ x 5-1/2″ | 25 x 140 mm |
| 1-1/4″ x 8″ | 1″ x 7-1/4″ | 25 x 184 mm |
| 1-1/4″ x 10″ | 1″ x 9-1/4″ | 25 x 235 mm |
| 1-1/4″ x 12″ | 1″ x 11-1/4″ | 25 x 286 mm |
| 1-1/2″ x 4″ | 1-1/4″ x 3-1/2″ | 32 x 89 mm |
| 1-1/2″ x 6″ | 1-1/4″ x 5-1/2″ | 32 x 140 mm |
| 1-1/2″ x 8″ | 1-1/4″ x 7-1/4″ | 32 x 184 mm |
| 1-1/2″ x 10″ | 1-1/4″ x 9-1/4″ | 32 x 235 mm |
| 1-1/2″ x 12″ | 1-1/4″ x 11-1/4″ | 32 x 286 mm |
| 2″ x 2″ | 1-1/2″ x 1-1/2″ | 38 x 38 mm |
| 2″ x 4″ | 1-1/2″ x 3-1/2″ | 38 x 89 mm |
| 2″ x 6″ | 1-1/2″ x 5-1/2″ | 38 x 140 mm |
| 2″ x 8″ | 1-1/2″ x 7-1/4″ | 38 x 184 mm |
| 2″ x 10″ | 1-1/2″ x 9-1/4″ | 38 x 235 mm |
| 2″ x 12″ | 1-1/2″ x 11-1/4″ | 38 x 286 mm |
| 3″ x 6″ | 2-1/2″ x 5-1/2″ | 64 x 140 mm |
| 4″ x 4″ | 3-1/2″ x 3-1/2″ | 89 x 89 mm |
| 4″ x 6″ | 3-1/2″ x 5-1/2″ | 89 x 140 mm |
When you visit your local hardware shop:
1×4 = 19mm x 90mm
1×5 = 19mm x 120mm
1×6 = 19mm x 140mm
1×8 = 19mm x 190mm
1×10 = 19mm x 240mm
2×4 = 35mm x 90mm
2×5 = 35mm x 120mm
2×6 = 35mm x 140mm
2×8 = 35mm x 190mm
2×10 = 35mm x 240mm