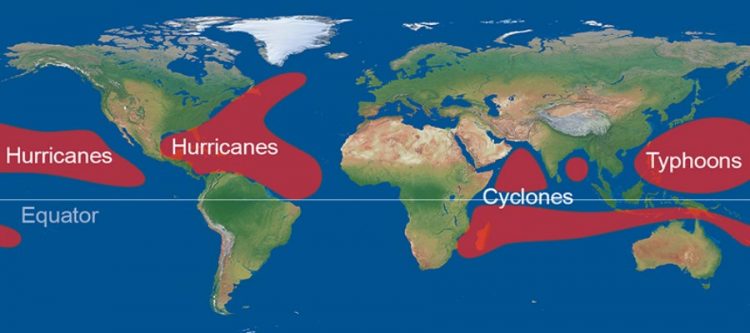 Tropical Cyclone Debbie (March 2017)
Tornadoes and twisters
Tornado and twister are different names for the same type of storm—a violently rotating column of air over land associated with a severe thunderstorm. Tornadoes range in diameter from metres to hundreds of metres and generally last from a few seconds up to half an hour. They have an intense updraught near their centre, capable of lifting heavy objects such as cars and trees and causing enormous damage.
Tornadoes are not uncommon in Australia. They typically occur in late spring and summer, but can also happen at other times of the year.
Tropical cyclones, hurricanes and typhoons
In Australia we call these large-scale storms tropical cyclones. In the USA they talk of hurricanes and in Asia, typhoons. Cyclones form over warm tropical waters where the sea's surface temperature is above 26° C. They are typically hundreds of kilometres in diameter and can last for many days, with maximum winds greater than 62 km/h, or for severe cyclones, greater than 116 km/h. Strong winds, heavy rain, flooding and storm surges can cause major damage.  Tropical cyclones are rated as category 1 being the weakest to category 5 being the strongest.  Tropical cyclones start as a Tropical Low (L) storm over sea.
Cyclone rotation
Tropical cyclones rotate in a counter-clockwise spin in the northern hemisphere.
Tropical cyclones rotate in a clockwise rotation in the southern hemishere.
This is because of the Coriolis Effect responsible for the prevailing winds ('trade winds') affecting the spin direction of a cyclone.
Tropical cyclones in the southern hemisphere (Australia)
We live in tropical Far North Queensland on the east coast of Australia.  Life is good except for the occasional cyclone.
Tropical Cyclone Yasi (3 February 2011)
The tropical cyclone season in northern Australia is normally between November and April, with most cyclones occurring from January to March.
Cyclone Debbie
Legend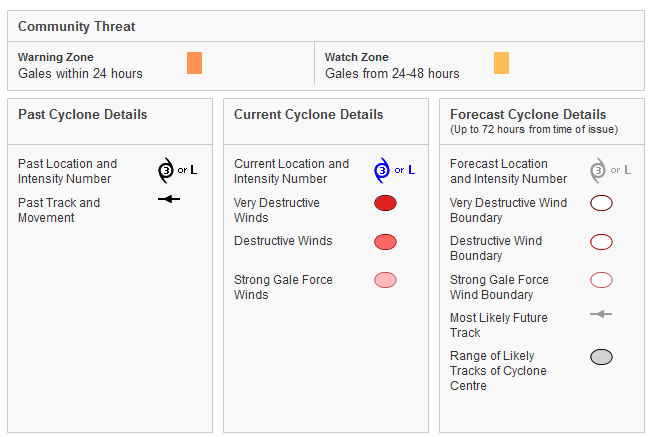 Sat 25 March 2017 4am AEST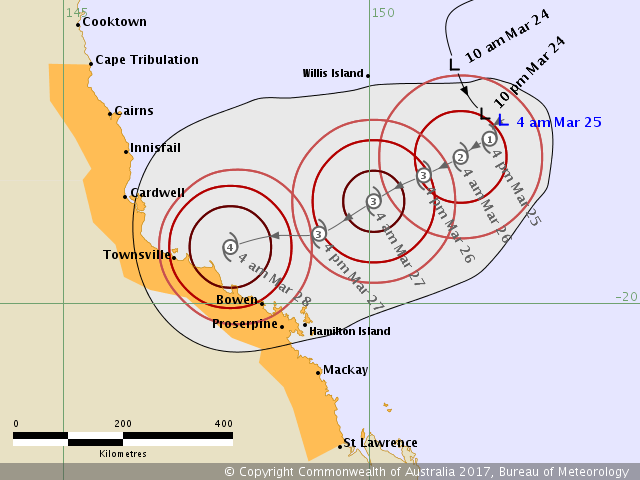 Sun 26 March 2017 1:30am AEST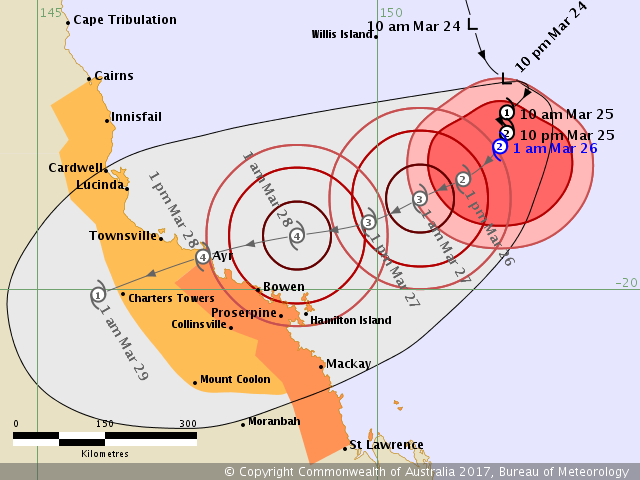 Mon 27 March 2017 2am AEST
Fell asleep…

Updates are now coming in every hour….
Tue 27 March 2017 7am AEST